I have an infusion of pure romance for you today as I take you to Iscoyd Park for an August wedding full of pastel shades, blowsy roses and soft candlelight. And lovelies, if you haven't already discovered our superb Little Book Wedding Directory, then I'm sure that this wedding will be the perfect introduction.
I'm delighted to see the work of some of our wonderful Little Book members in this wedding, including fine art photographer Jade Osborne.
Jade Osborne Photography

+ Follow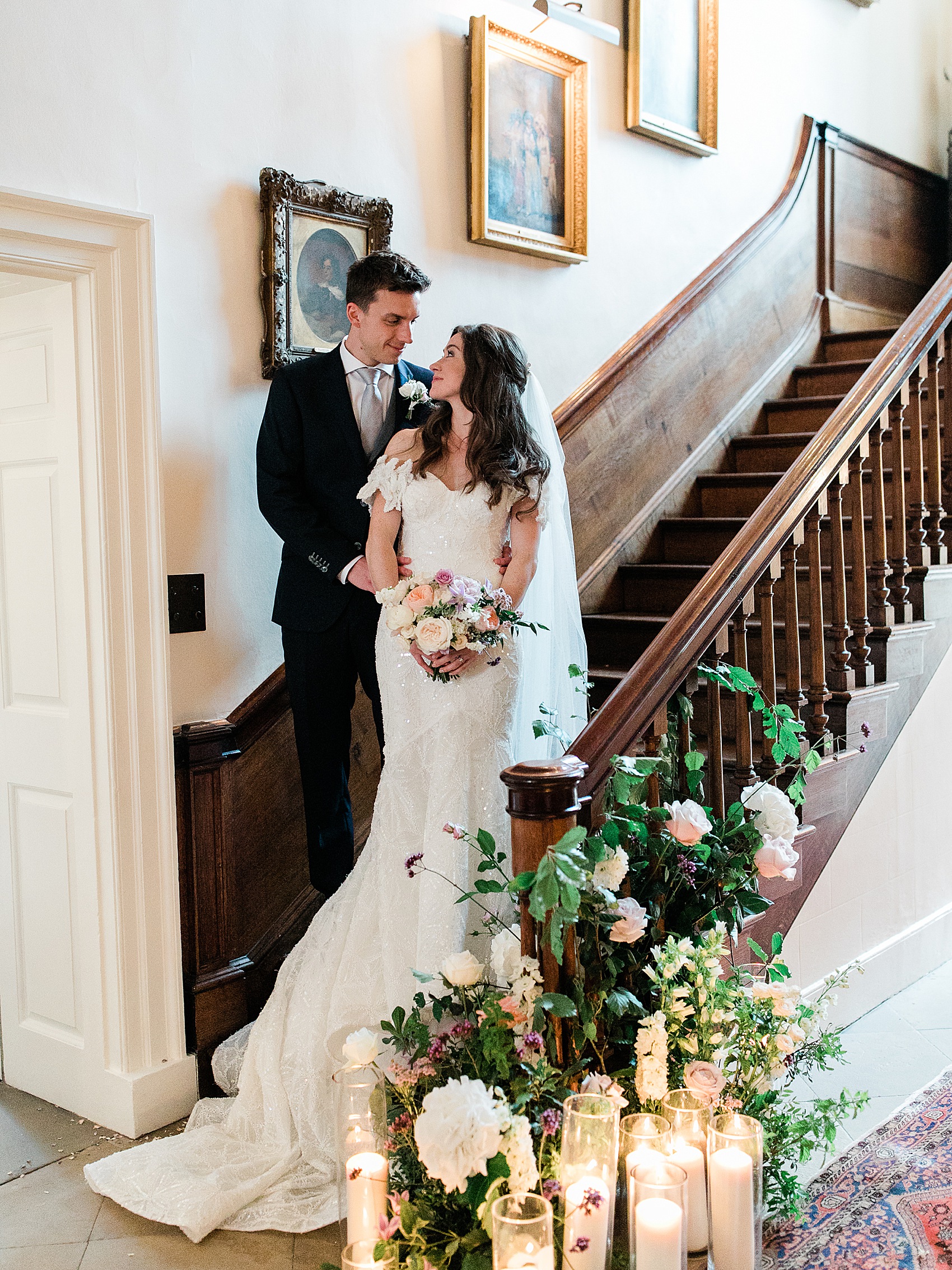 Please meet healthcare innovation consultant Rosalind and senior project manager Darren, who chose Shropshire venue Iscoyd Park for their relaxed and romantic wedding. Having fallen in love with its elegant décor and breathtaking gardens, they booked the hall for 16 August 2019. We are so happy to count this venue as a member of our Little Book, and you can find more details about this exquisite country house venue by following this link.
Rosalind wore a heavily-embellished gown from Pronovias Atelier which she found at Knutsford Wedding Gallery. What do you think about the statement, leaf-inspired off-the-shoulder sleeves?
"It was the first shop that I visited. I made a spur of the moment appointment when I was visiting my mum. I didn't really know what I wanted but Caroline had me try on a load of different styles to help me understand what to look for and then said to have a good look around at different designers and styles."
The bride wore a pair of open-toed court shoes from Freya Rose London, another fabulous Little Book supplier.
Ros wore her hair down in luscious, relaxed waves, styled by Nikki Swingewood at Liberty Hair, and her make-up was flawlessly natural, applied by Maxine Smith Hair & Makeup.
The soft peachy-pink of the roses influenced the hue of the bridesmaids' Maids To Measure gowns. I'm so pleased to say you can find out more about Maids To Measure and their impeccable service on our Little Book here.
"As my dress was very detailed, we wanted bridesmaid dresses with no pattern or lace so they wouldn't clash. I had wanted very pale peach dresses or a soft off-white, but really struggled to find the right colour and dress combination."
"My bridesmaid Susan was pregnant when we were dress shopping, so it fell to Sarah to try on tonnes of dresses – she was incredibly patient! The ones we went with were from Maids To Measure. I thought the girls looked absolutely stunning in them."
"After a few weeks of looking, I still hadn't found quite the right thing. On another visit to Mum's I went back to try on some slightly more adventurous choices. When I tried my dress on, I fell in love with it. I was so surprised to have suddenly found it!"
"I loved everything about my dress, it felt so exciting to wear but at the same time I felt like myself and completely comfortable in it. All of the ladies at Knutsford are lovely, kind and welcoming and I wouldn't hesitate to recommend visiting."
The gown was completed by a fluid veil from Knutsford Wedding Gallery, an Ivory & Co hair piece.
"I borrowed my mum's necklace. I didn't have a 'something blue' and had asked Breige to sew a blue bow on to my bouquet. On the day, Darren surprised me with a beautiful, delicate bracelet with an aquamarine stone."
"My mum was in charge of flower girl outfits and picked out the beautiful Sarah Louise dresses from Children Salon."
Six years from getting together when their eyes met on a badminton court, Darren proposed on a trip to New York.
"Our eyes first met across a sweaty sports hall and after a few weeks we went on our first date. We got engaged in New York six years later. Darren booked a meal in Brooklyn and suggested we could walk back across Brooklyn Bridge afterwards. He proposed on Brooklyn Heights promenade which overlooks the New York skyline. It was very late and almost deserted; definitely Darren's most romantic moment to date! We got married a little under eleven months later."
I love the contrast of the deep navy suit and pale sky blue waistcoat which Darren wore. It was from Trotter & Deane in Cambridge and he added Reiss accessories and one of Ros's dad's watches.
"We had originally planned to hold the reception at my family home in North Staffordshire. My Dad passed away shortly before we got engaged so it would have been lovely to hold the Wedding and reception there."
"Unfortunately, the logistics of getting a marquee onto the only flat area of my parents' garden became prohibitive and we had to look elsewhere."
"Darren's family are from the North West and our friends are spread all over, so we wanted somewhere that most people could get to without an enormous journey and that wasn't too far for our elderly relatives."
When we visited Iscoyd we were struck with how friendly and relaxed everyone was. We really liked that it would be our house for the wedding."
We loved the décor; the guest rooms were beautiful and there were so many lovely indoor and outdoor spaces. We planned our wedding in August as we were hopeful for beautiful weather."
"We wanted to have games on the lawn and outdoor jazz for the drinks reception, but as worst case scenario planners we wanted to be somewhere that was equally as lovely inside. On the day it rained all day long – we were so pleased we had picked Iscoyd."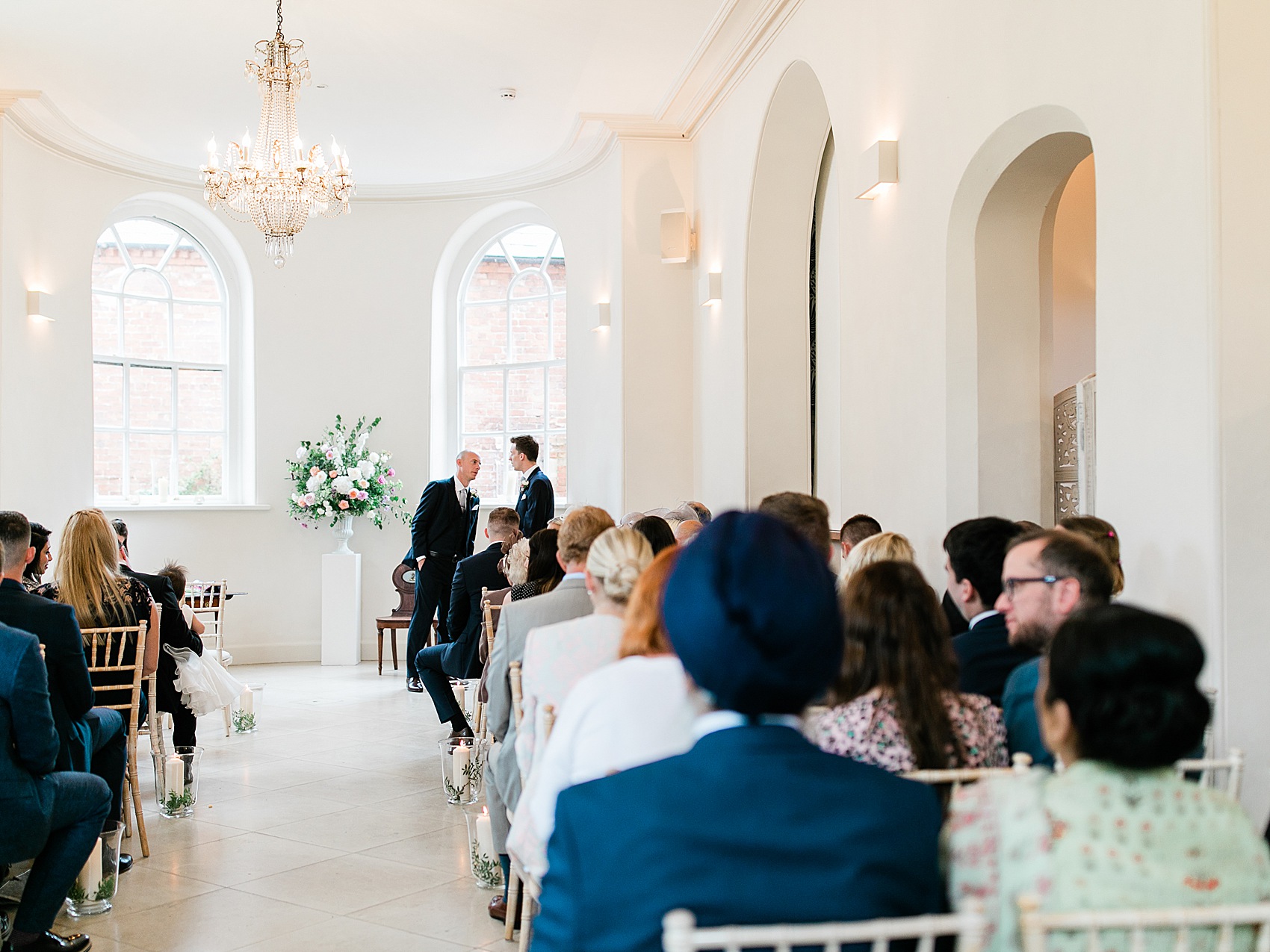 Before Ros and her mum walked down the aisle to Debussy's 'Arabesque No.1', the adorable group of flower girls and the two grown-up bridesmaids entered the ceremony room.
"My mum was the only person that I wanted to walk me down the aisle. Getting ready, I had been quite emotional and I was worried I might get upset, but when it was time to go downstairs Mum was completely calm and amazing. Walking down the aisle together was really special, I know that my dad would have been proud of both of us. It is a memory I will always treasure."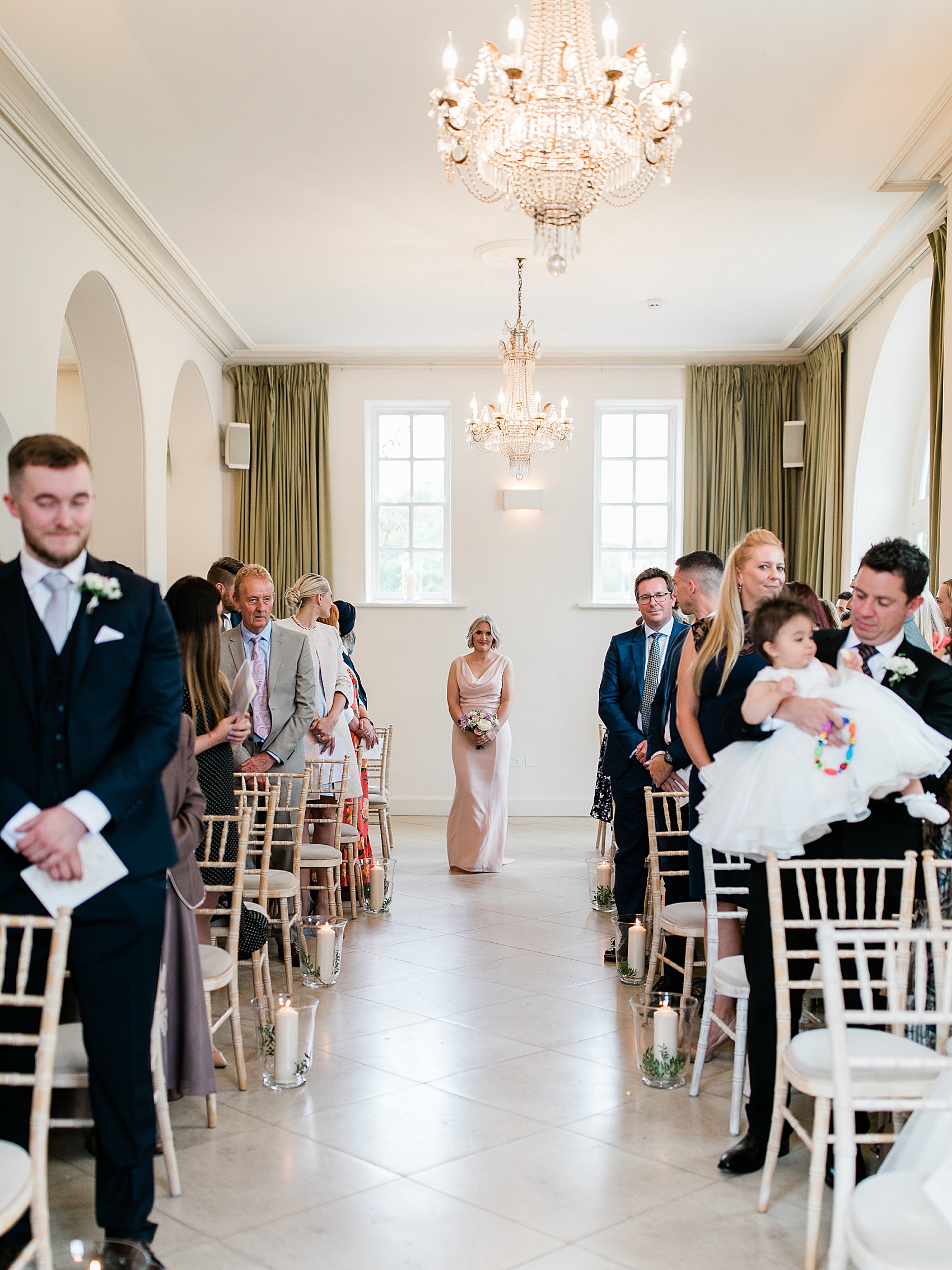 During the intimate ceremony, the couple gave each other rings from Hatton Garden.
"Darren knew I love emerald cut diamonds but struggled to find the right thing anywhere. He had my engagement ring made in Hatton Garden. We took a day off work and went back together to pick our wedding rings from here too."
Recording the day and all of its emotions and detail was our very own Little Book member Jade Osborne Photography, whose fine art art style is full of timeless grace with a light, airy feel that is so elegant. I invite you to meet Jade and find out more about her work on the Little Book here.
"Jade was recommended through Iscoyd Park and we loved her style of photography. When we met we immediately felt that she was the right choice for us. She is warm, friendly and very calm. As two people that can be a little camera shy this was 100% what we needed! We loved working with Jade and are absolutely thrilled with the final photos."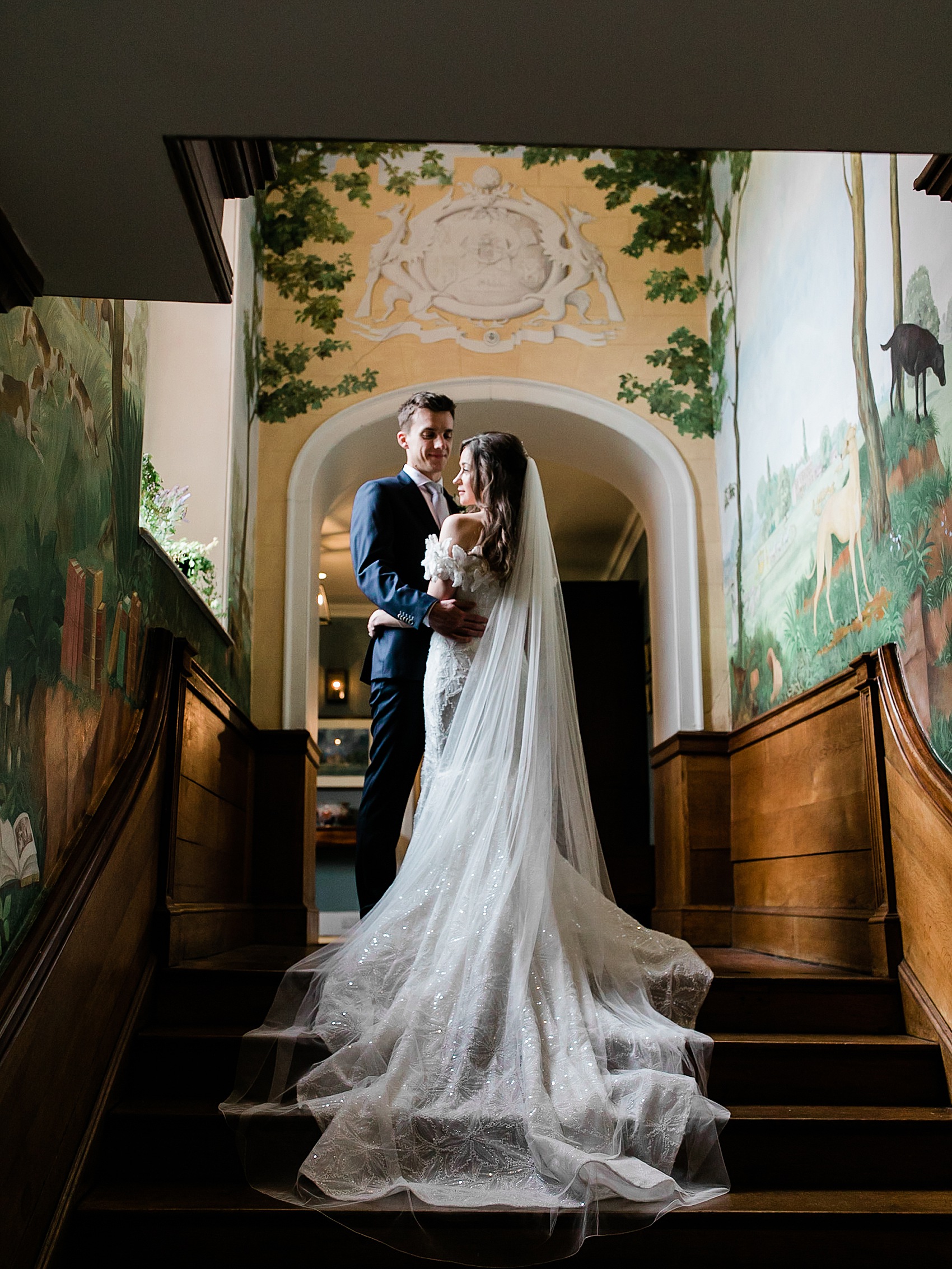 With such a beautiful and elegant setting, the couple wisely chose to add just lots and lots of flowers and candles to elevate its look and create a romantic vibe. Flowers by Breige created a wonderful look, full of soft romance and dreamy texture.
"When I was looking around for flowers our photographer Jade recommended Flowers by Breige. I had a look on the website and absolutely loved everything on there! We have some peachy pink David Austin roses in our garden that my parents had bought for us the year before."
"I really wanted to incorporate these into the wedding, so the main colour inspiration came from them. I wanted everything to be soft and romantic, with roses everywhere and pops of colours from other flowers."
Breige really took the time to understand and to suggest the perfect colours and additional flowers that would tie in with everything, from my dress and Darren's suit, to the venue. I was over the moon with the final result."
The summer rain meant that the drinks reception and newly-weds photographs had to happen inside but with such a comfortable venue there was plenty of space for the guests to relax. I also love how unusual the portrait shots are with Iscoyd's unique decor as a backdrop.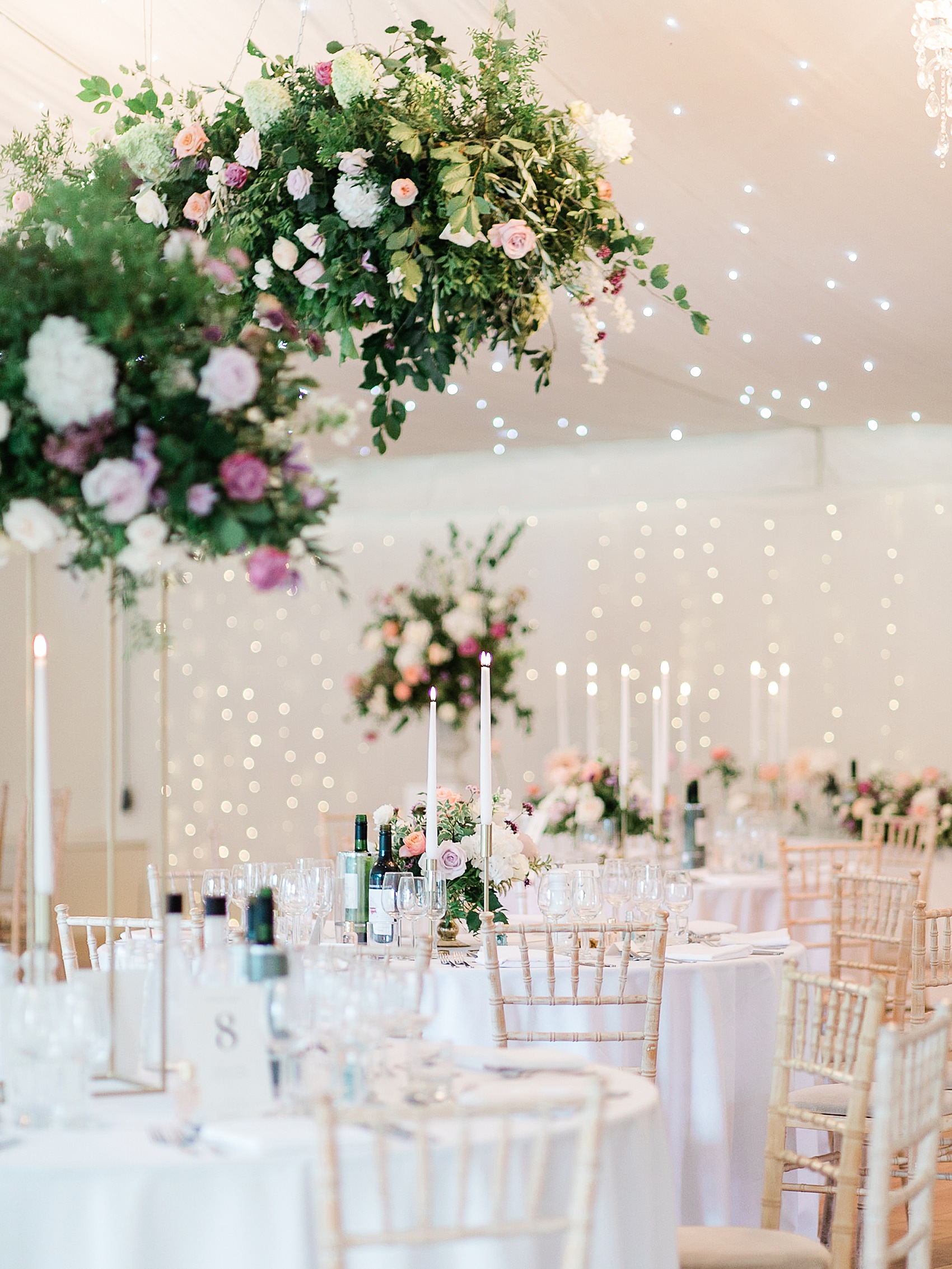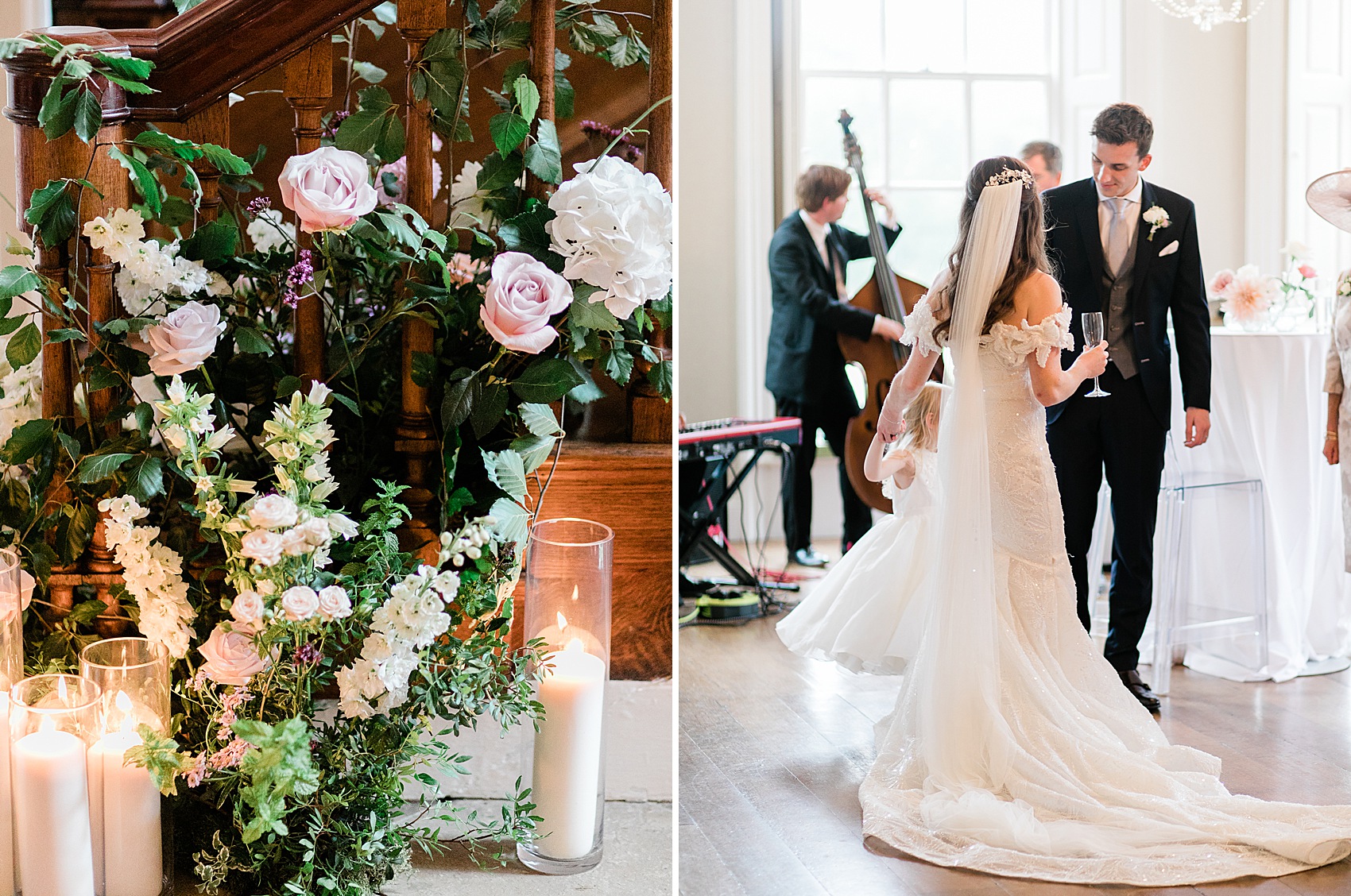 Oh, and the couple chose their drinks reception band and evening DJ through Alive Network, found via Love My Dress and our Little Book.
"We booked a jazz and blues band – The Quartones – for the drinks reception."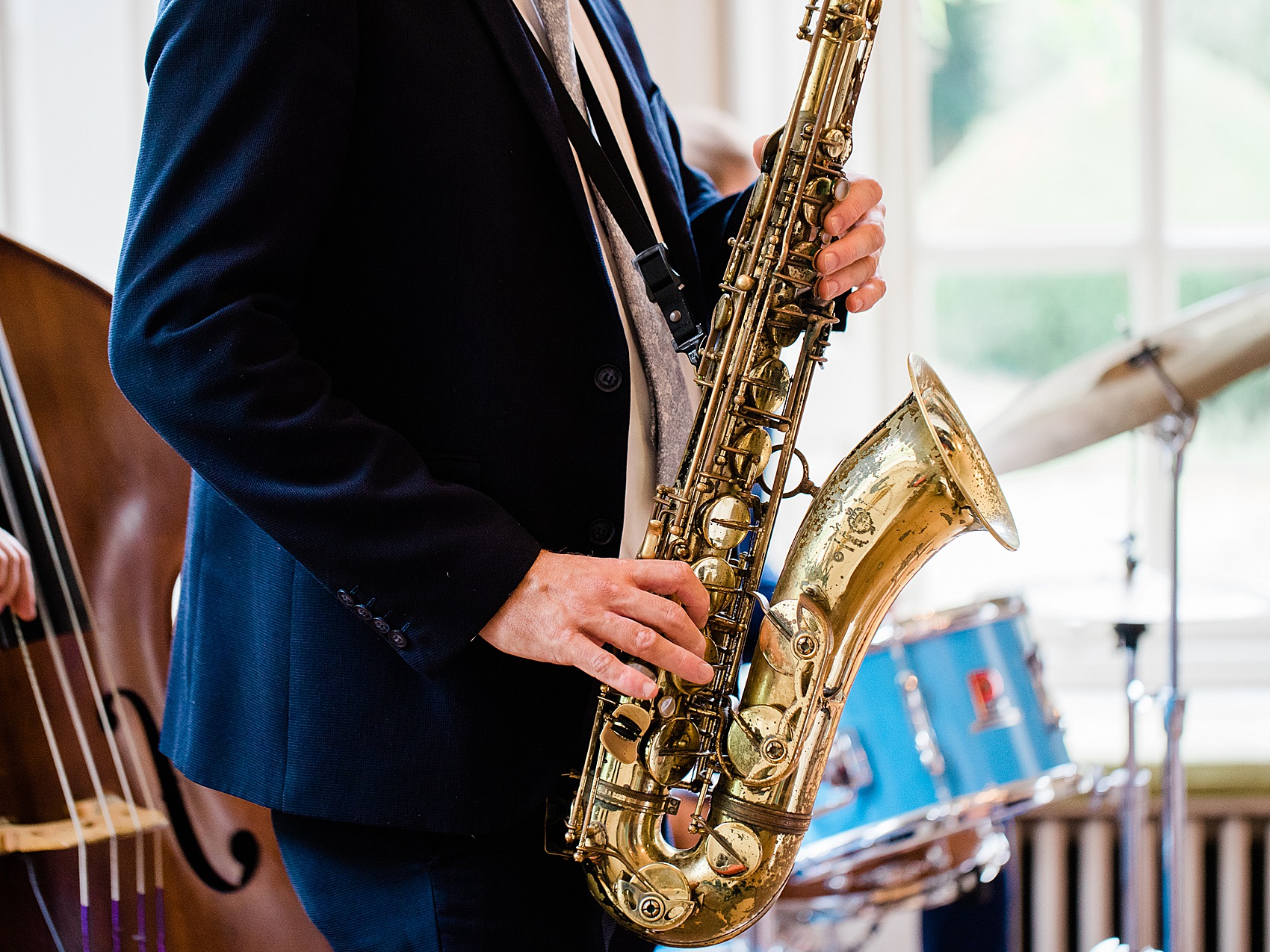 The sit-down wedding breakfast was catered by Iscoyd Park's in-house team and having all of their friends and family in one room together was a real highlight for Ros and Darren. I love the simply elegance of the dining tables, laden with candles, flowers and elegant stationery from Papier.
"Everything came through Papier. The quality and service is excellent. We decided on having the order of service booklets at the last minute and these actually arrived the morning of the wedding!"
The couple had chosen a simple, stacked cake from Bloomsbury Cakes, made oh-so special by its cascade of pastel flowers.
As night fell, the newly-weds had a romantic first dance to Etta James' 'At Last' before inviting their guests on to the floor for dancing to a set from DJ Anthony Parella.
Words of Wedded Wisdom
"A really good piece of advice that we received was to just relax and be present on the day, because it really does fly by. It is so easy to get swept up with wedding fever and agonise over every single detail. Try not to worry too much, go with your gut instinct, and enjoy the process. Keep in mind that the only thing anyone really cares about is being there for you both on your big day."
"It's practically impossible to single out a favourite part of the day. There were so many wonderful moments. We both remember when we had just signed the register and walked back down the aisle together just feeling so happy and excited. Having all our family and friends together in one place was wonderful. Walking into the wedding breakfast with everyone clapping and cheering is also a moment we will never forget."
Well lovelies, could you have asked for a more romantic day? Thank you Darren and Ros, and happy first anniversary to you both. Jade Osborne, as every it's been such a pleasure to publish your sublime photographs again. We've got more of Jade's beautiful work here on Love My Dress, and for more brides wearing Pronovias, I invite you to follow this link.
Ele xx