At this time of year, the sight of lush grasses and pretty wildflowers really lifts my heart. I hope today's sun-drenched wedding, which has wildflowers at the core of its summery vibe, gives you a lift today.
On 26 July 2019 Rachel and Ronan, who are both teachers in Abu Dhabi, wed in the unique outdoor setting of Brigit's Garden, Galway, Ireland. Taking the fresh and pretty colours of the garden's wild planting as their main inspiration, the couple processed through an avenue of standing stones to marry in a traditional handfasting ceremony.
Art Wedding Photography + Follow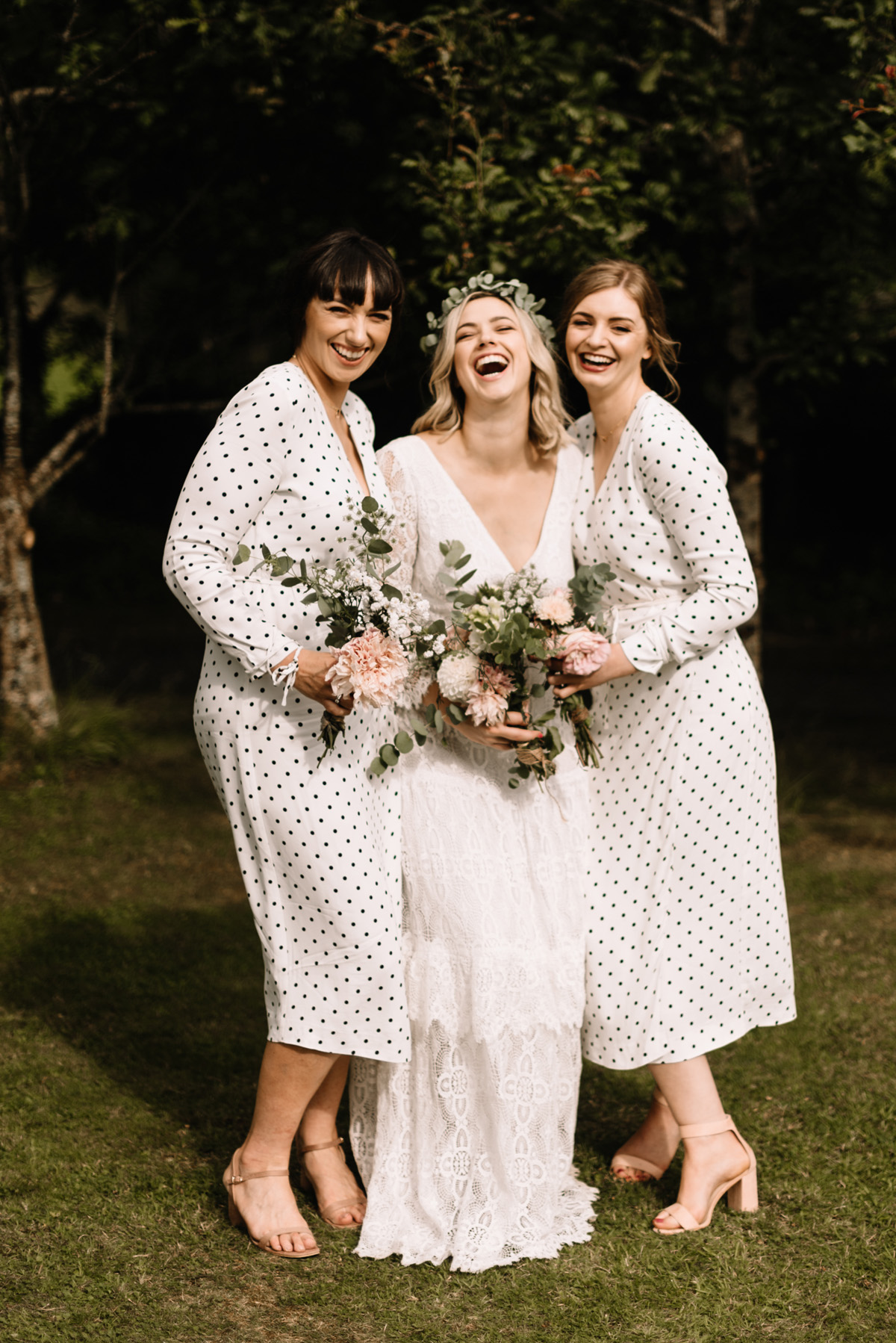 Galway-based Sara Duffy Make-Up Artist created the bride's flawless, pretty make-up look and Niamh Lee Hair styled her hair into romantic ringlets. Rachel finished off the look with a delicate crown of eucalyptus.
"We picked Sara after seeing some of her previous work. She has the ability to make you look so natural and feel stunning. My makeup lasted the whole day, even through all the happy tears. Niamh was amazing. Although I went with a look that looked simple it did take a while. Niamh was so lovely, she didn't even give out to me for sneaking out in the rain with my hair do to see my dog!"
"Probably one of my most favourite parts of my outfit that day was my eucalyptus crown, handmade by Juliana at Anthesis Floral. Beauty in simplicity.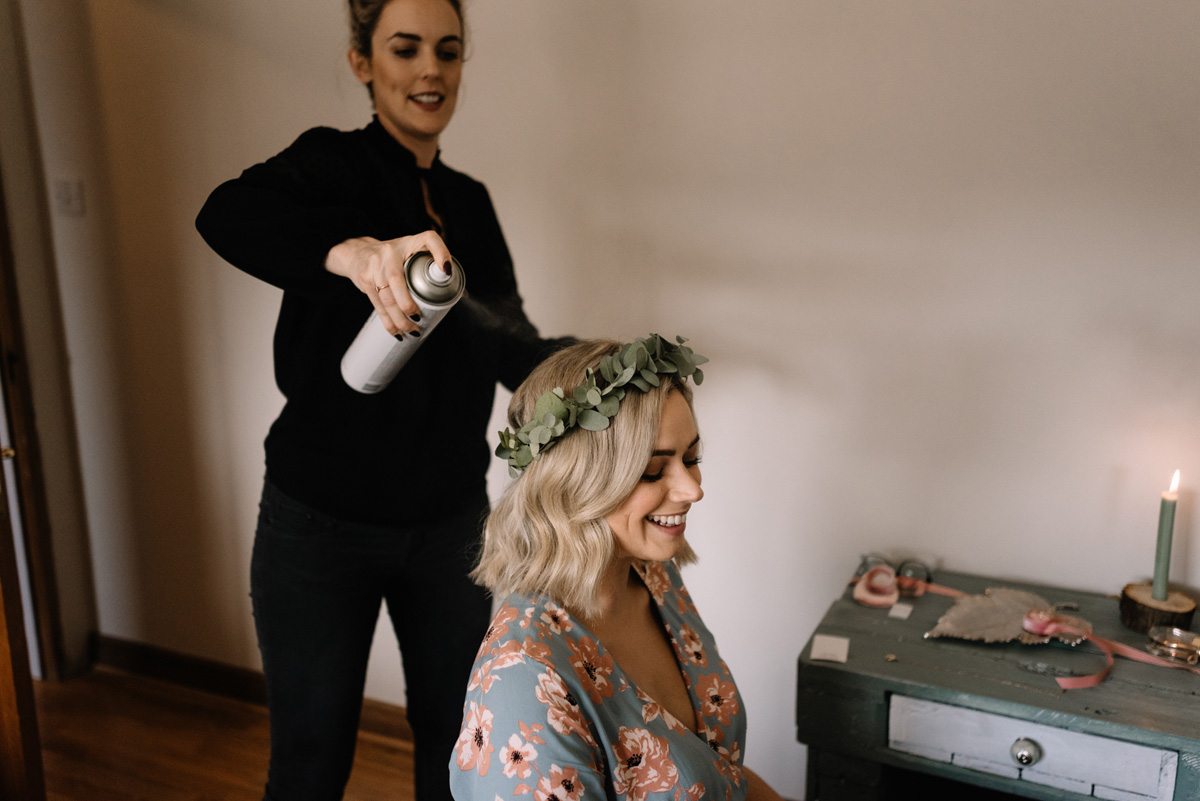 The bride wore a floaty, lace vintage-inspired gown which moved so beautifully as she danced and walked.
"I found my Kite and Butterfly dress at Vintage Pearl Bridal in Galway. From the moment I walked in the door, Olga was amazing. The dresses were so unique and quirky. I described what I liked and within moments I was wearing 'The' dress. I didn't feel any pressure, it was the most relaxed, loveliest afternoon and I wondered if I could get away with buying two dresses. They had a wonderful selection of vintage dresses from around the world also."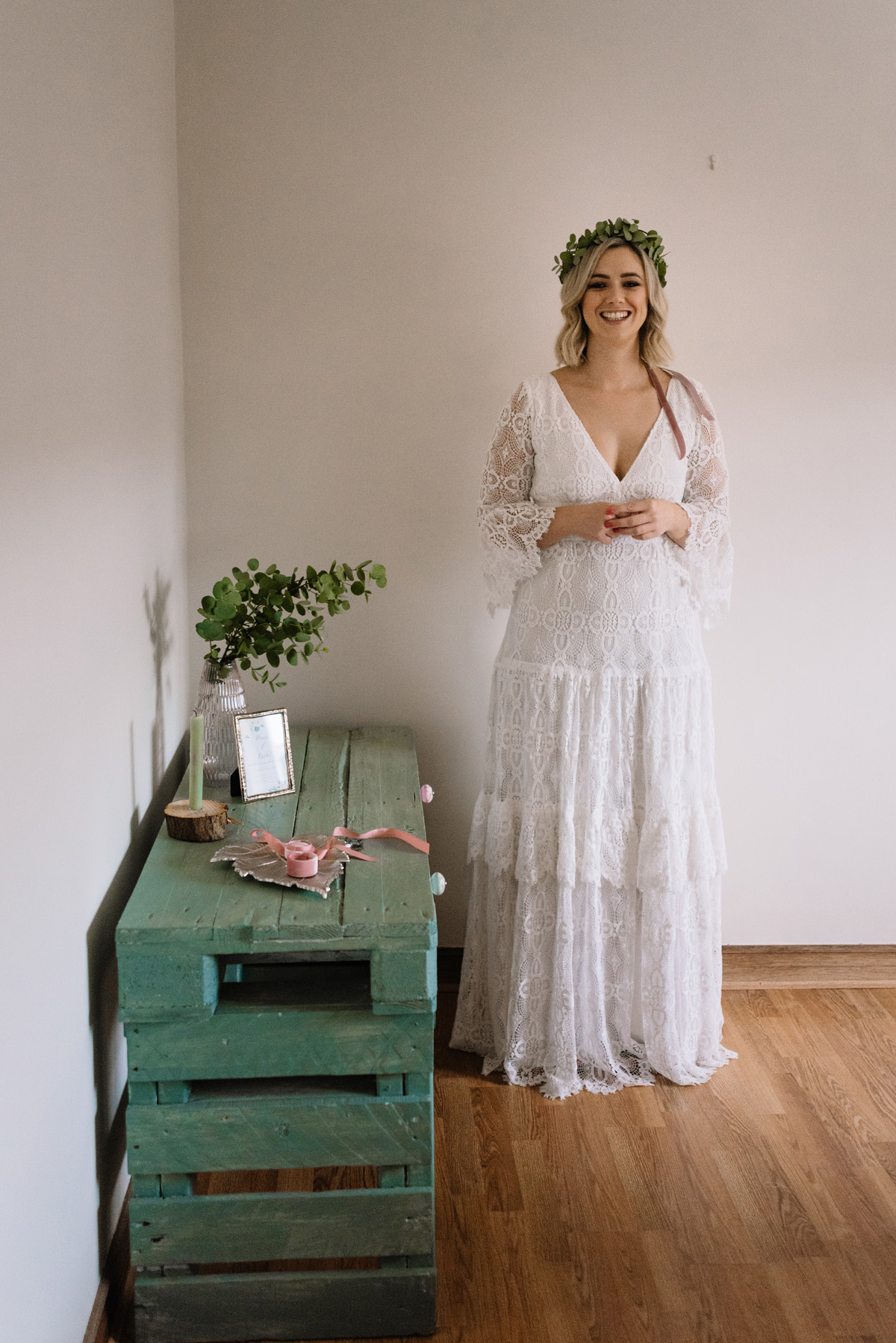 "I really liked how comfortable I felt. I loved the romantic lace, the sleeves and it just felt very 'me'. We got married in a garden so the style of the dress really fitted the whole vibe of the day. Although, I had muck on the dress before the ceremony started, but hey, it is the west of Ireland after all!"
"I searched high and low for a pair of velvet heels with a little sparkle. A great friend, Dee, ended up finding them in Dubai for me. They were from H&M."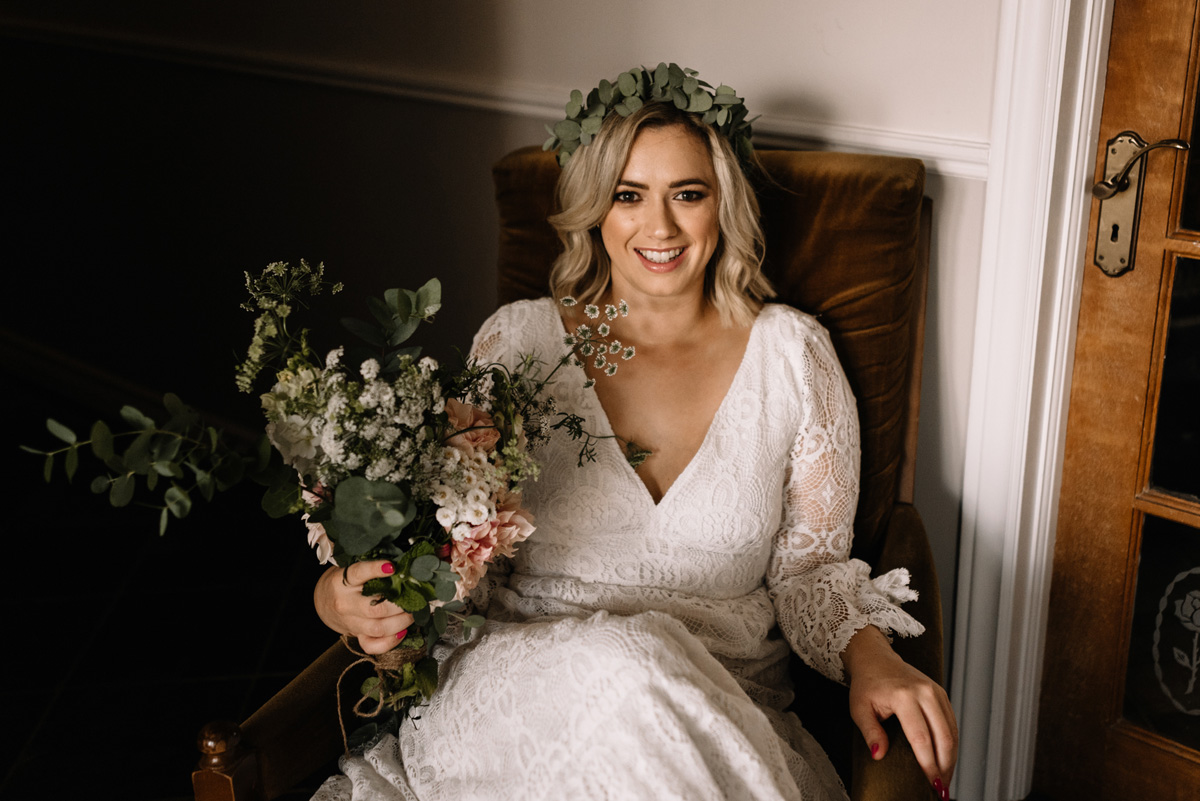 The bride chose gold olive branch earrings from & Other Stories, a lovely complement to her nature-inspired engagement ring.
"Ronan picked the most perfect engagement ring which was designed and made in Dublin by Chupi."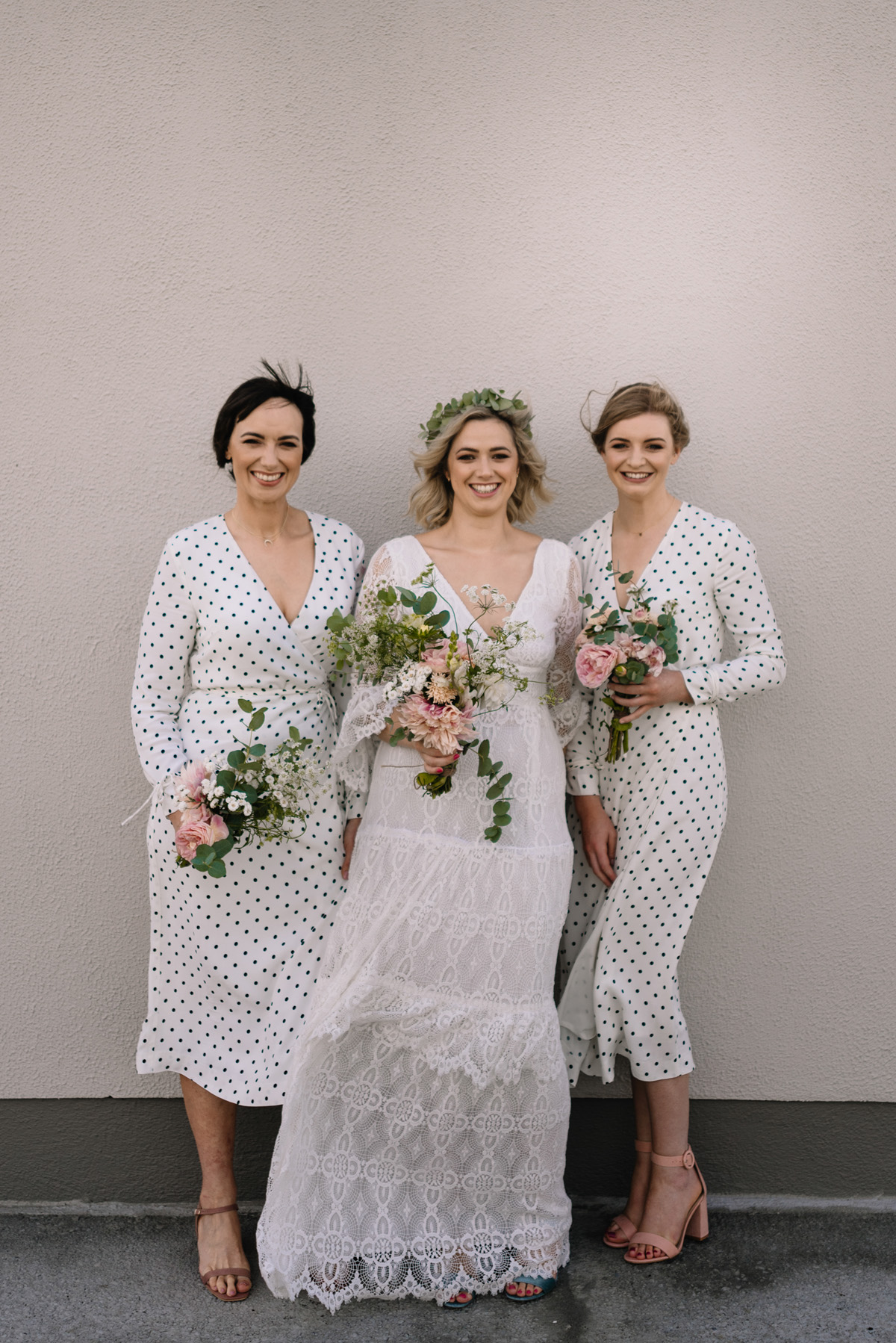 "The ring was cast from a hawthorn twig, which was very fitting as I love to gather branches for around the house."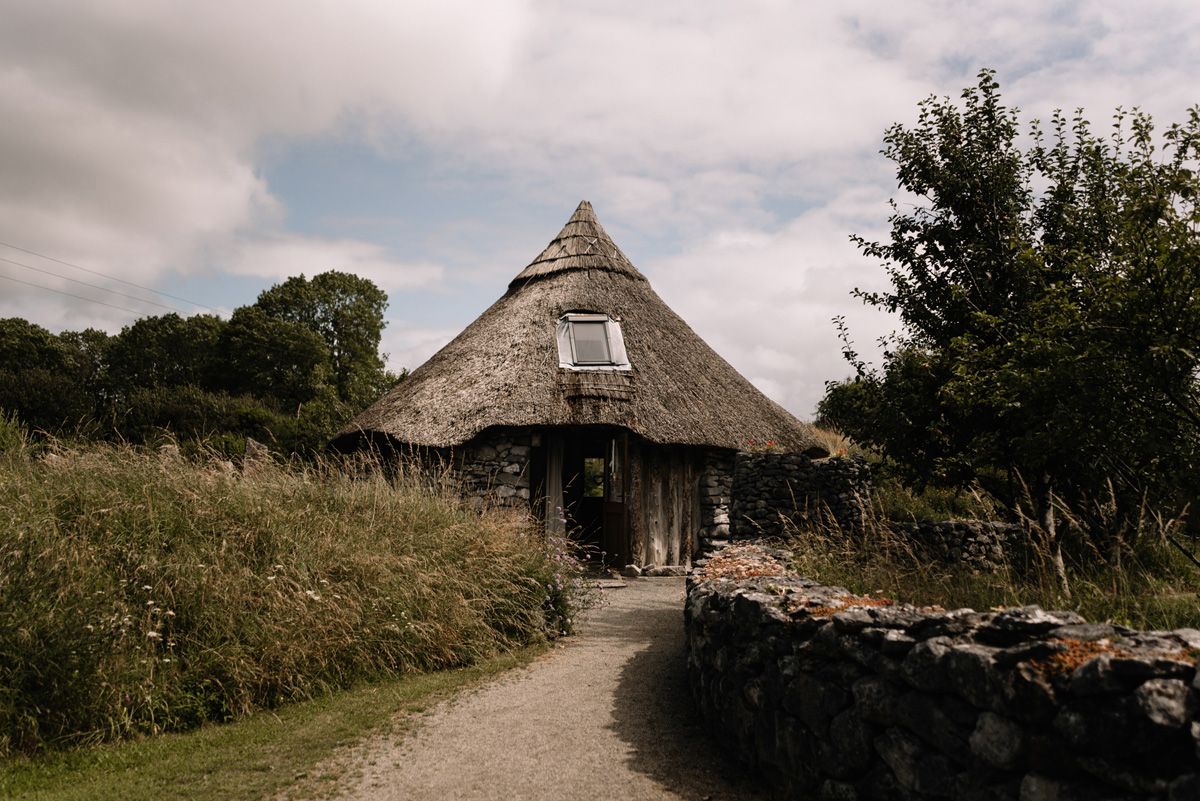 "I had a hard time picking a scent as I knew it was something I wanted to cherish for ever. In the end, I went with Chloé."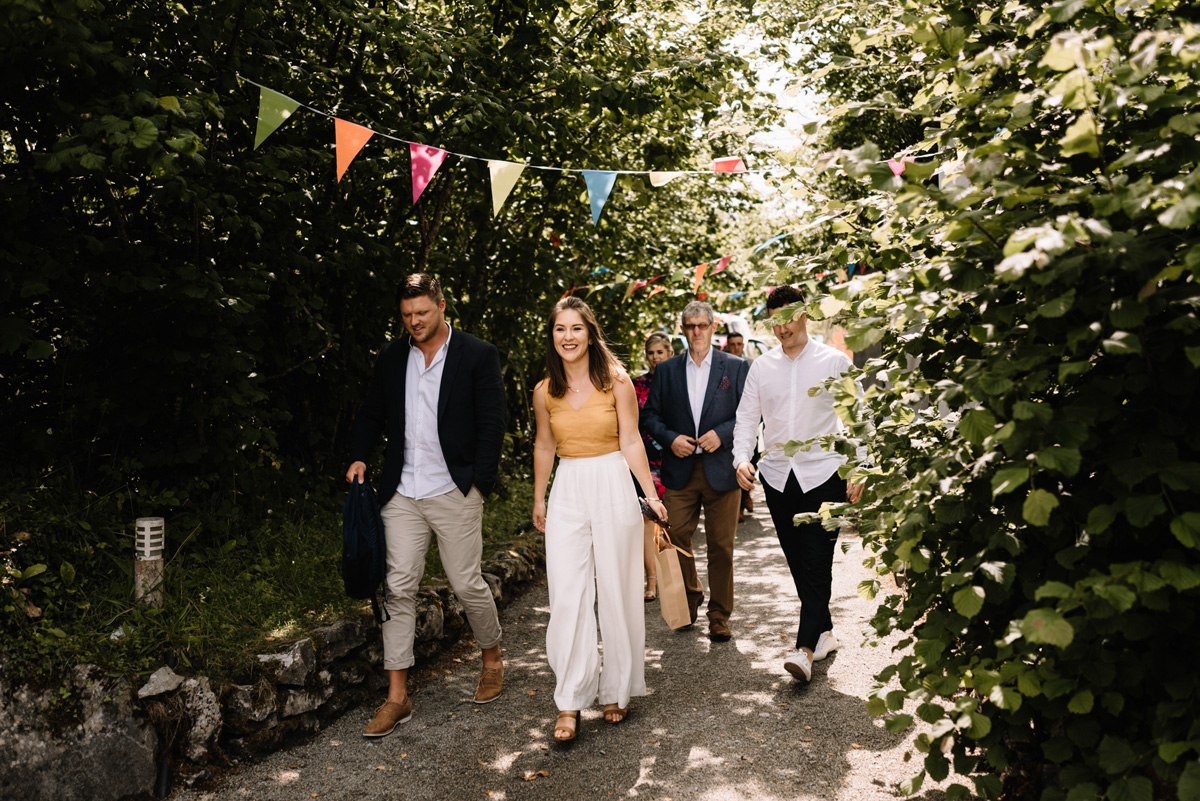 Over to the groom to tell us more about their choice of venue.
"We were engaged for twenty months. We started looking for wedding venues and they were all amazing but just didn't grab us. We wondered 'What if we don't find a venue we love?'."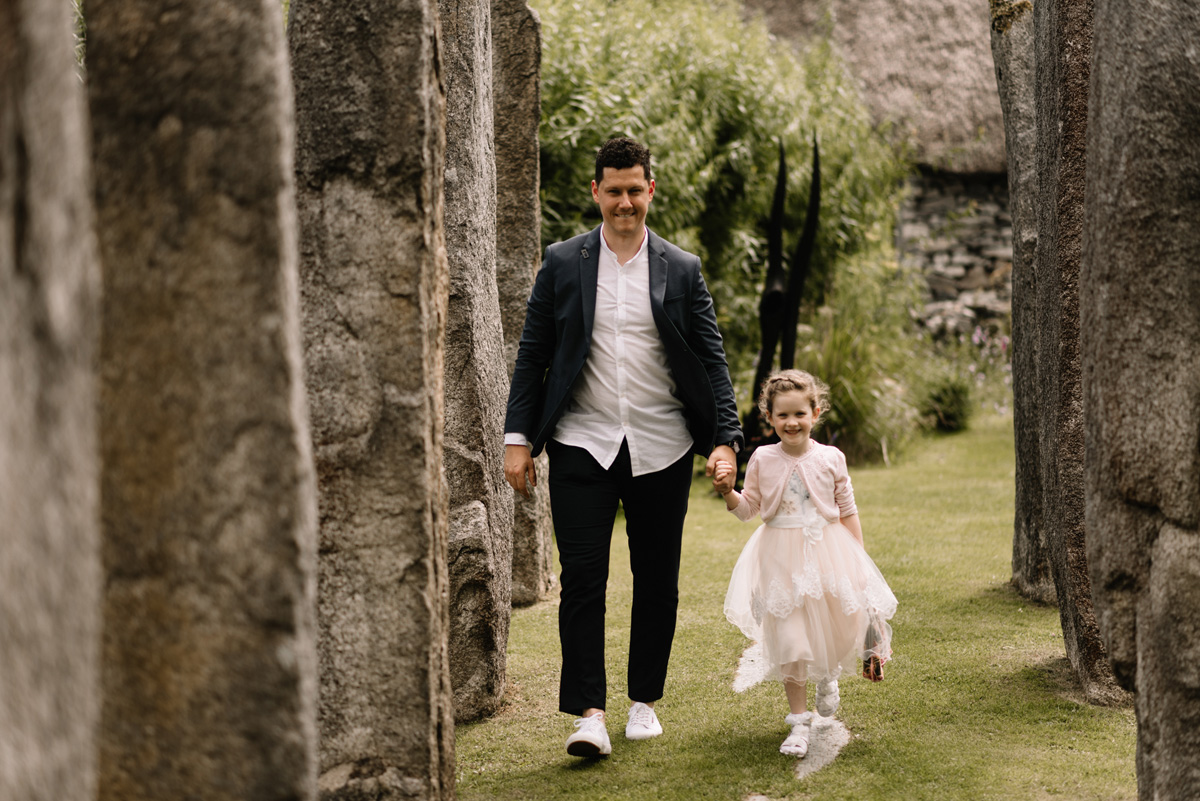 "The wondering stopped the second we walked through Brigit's Garden. We immediately loved it."
"They had two dates available that suited us due to living abroad and that's how we chose 26 July 2019. Caroline at Brigit's Garden was just amazing; we couldn't have asked for better."
"It was important to both of us that we had a wedding day that was fun, for us and our family. We didn't want a day where we crowd surfed to say hi. We wanted to enjoy our day with the people we loved."
"Rach, as with most things in our life together, did all the work. We are very alike and love the same stuff so I was happy to let her rock it. It was beyond amazing."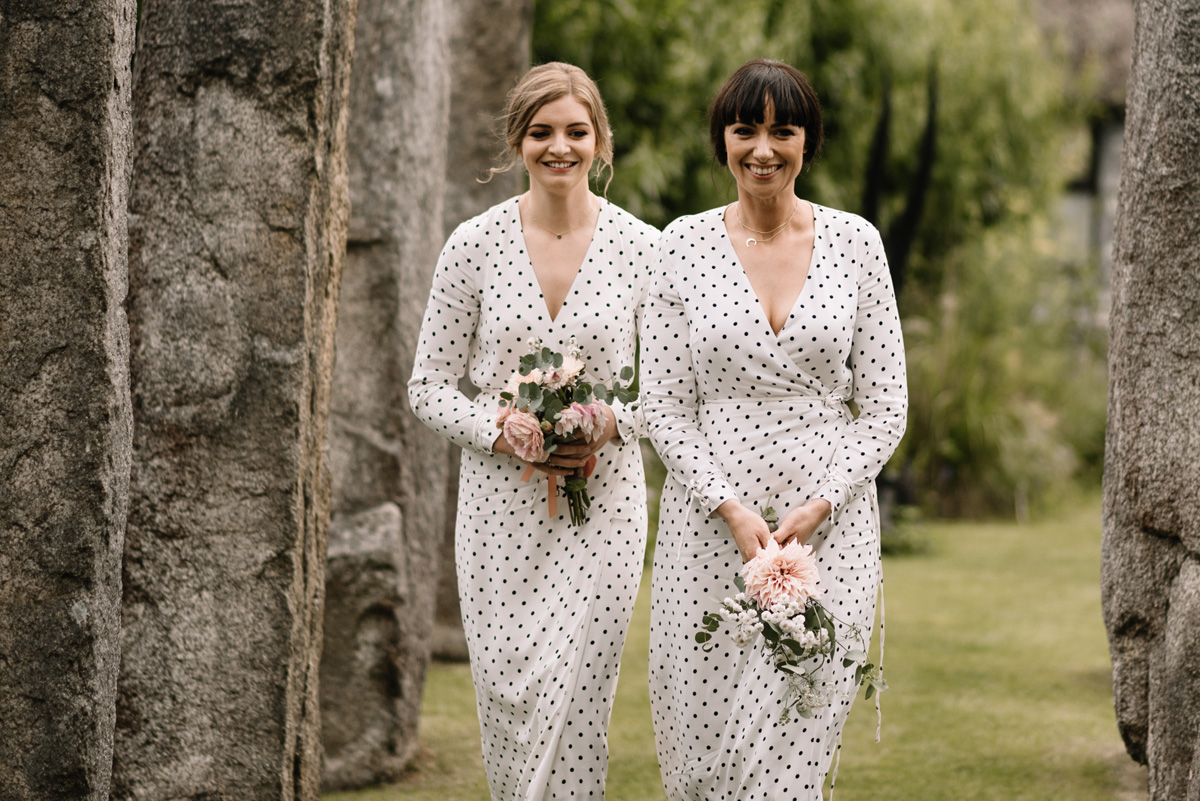 The bride walked towards Ronan with her father, before exchanging vows which she and Ronan had written themselves.
"One of us wrote our vows months in advance and one of us wrote them that morning."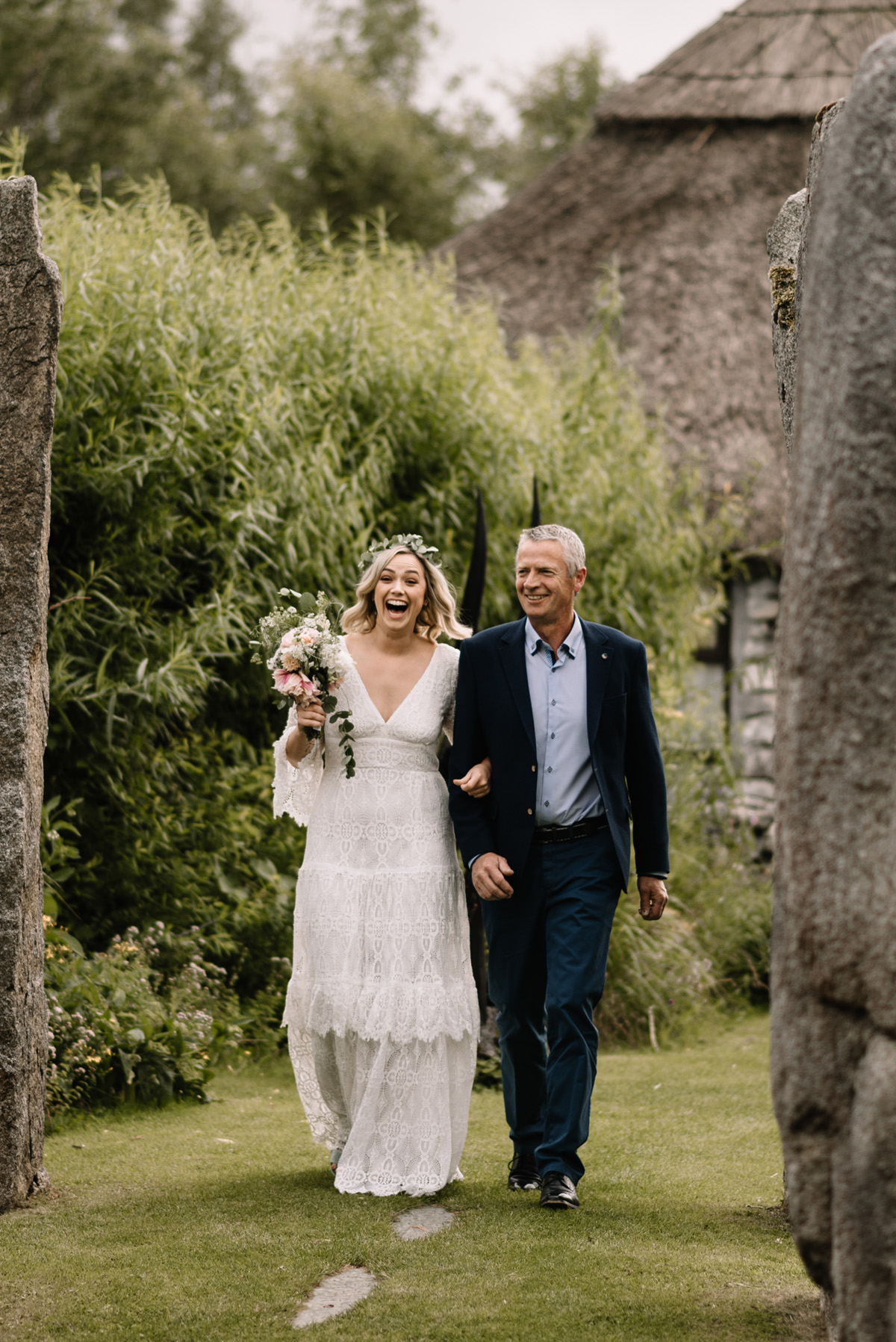 "Ronan's sister Paula read the beautiful poem 'Maybe' and my brother Daniel read the wonderfully funny yet meaningful poem 'How Falling In Love Is Like Owning A Dog'."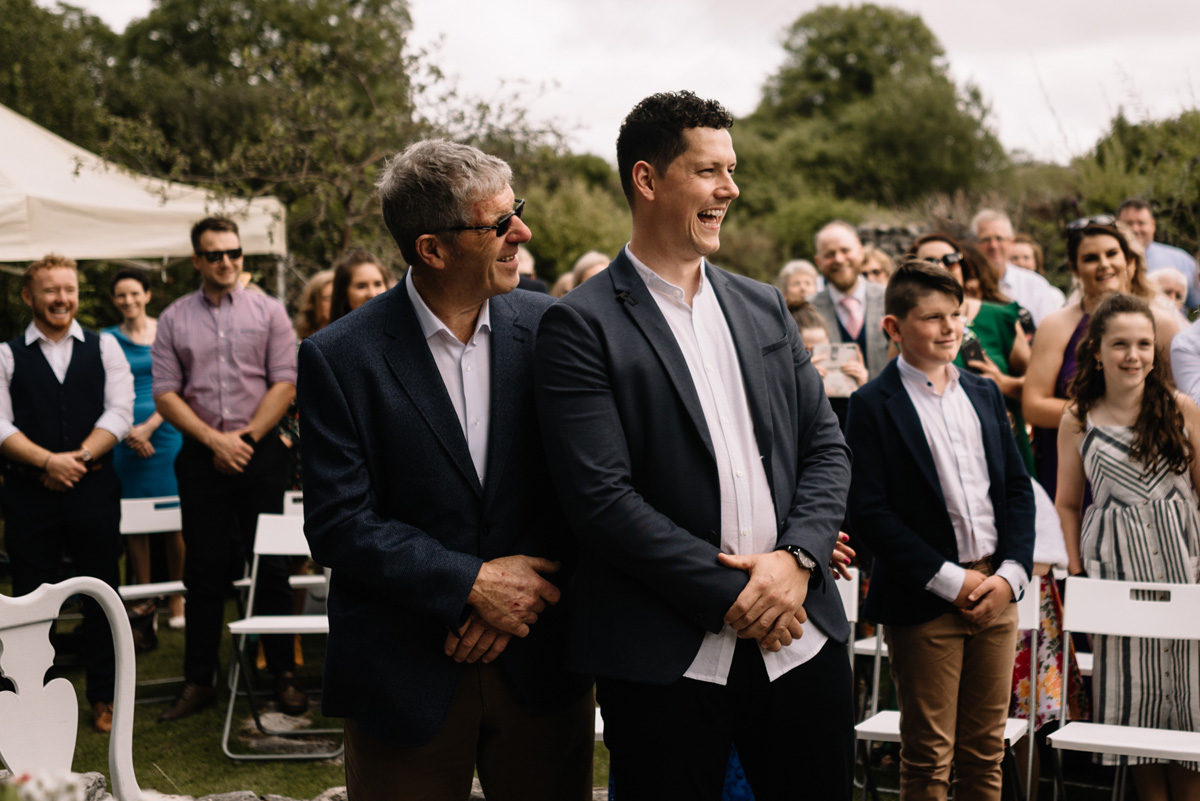 The couple also had a handfasting ceremony, held to live music.
"We had the most beautiful singer, Jessica Mary Brett. She sang 'Rather Be' by Clean Bandit just as we tied the physical knot!"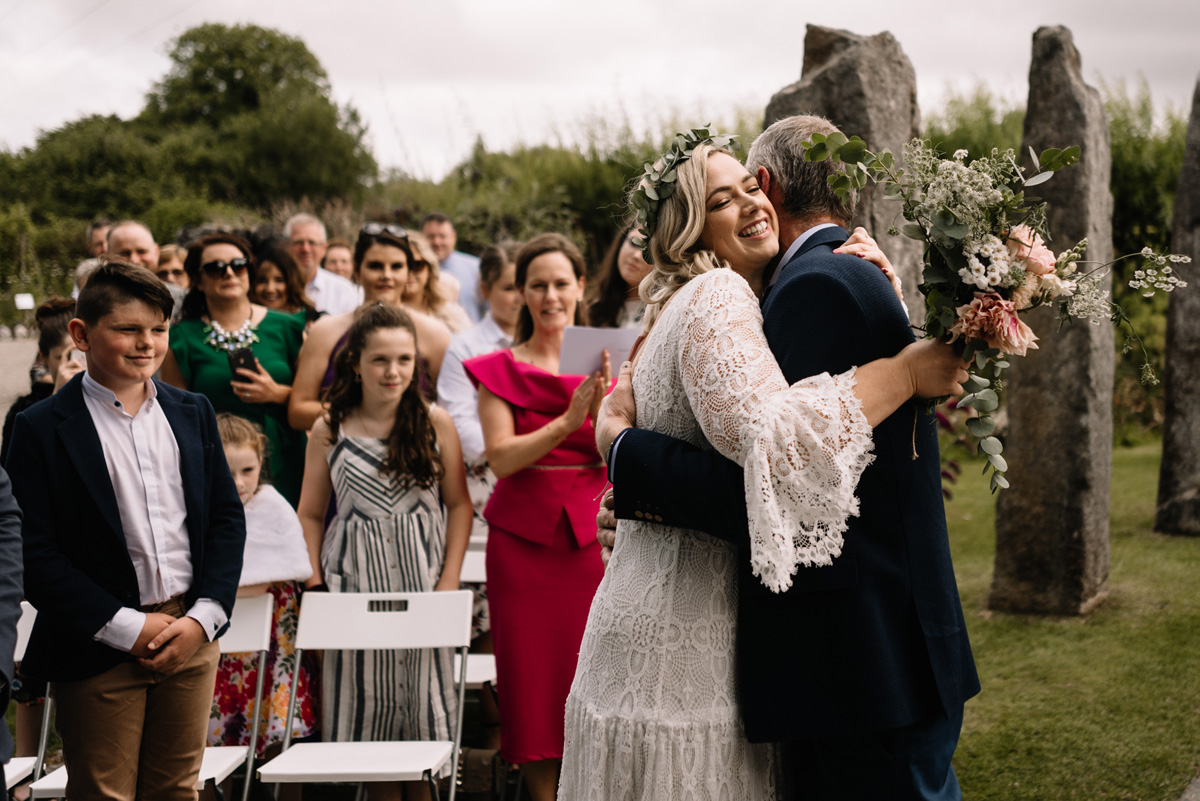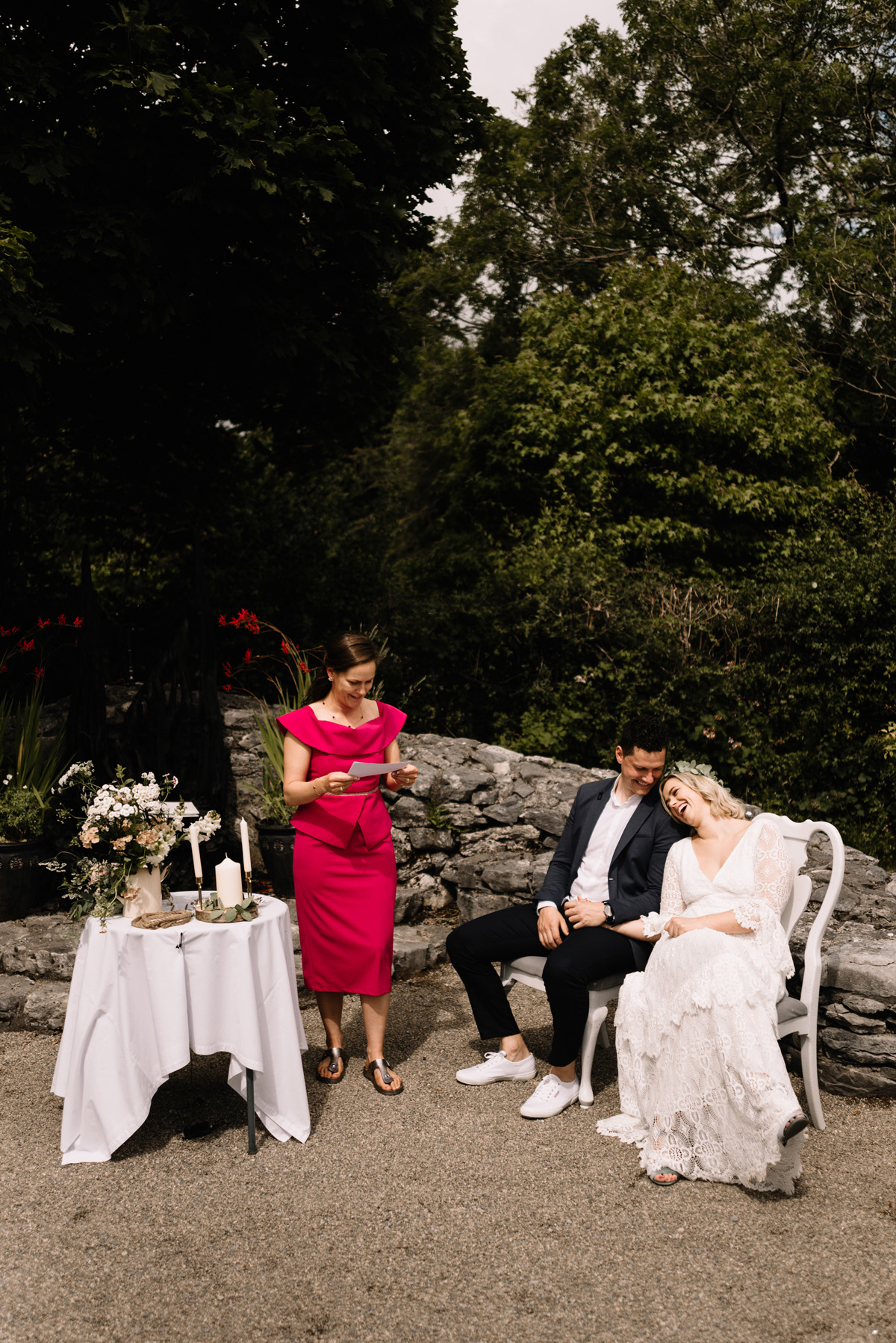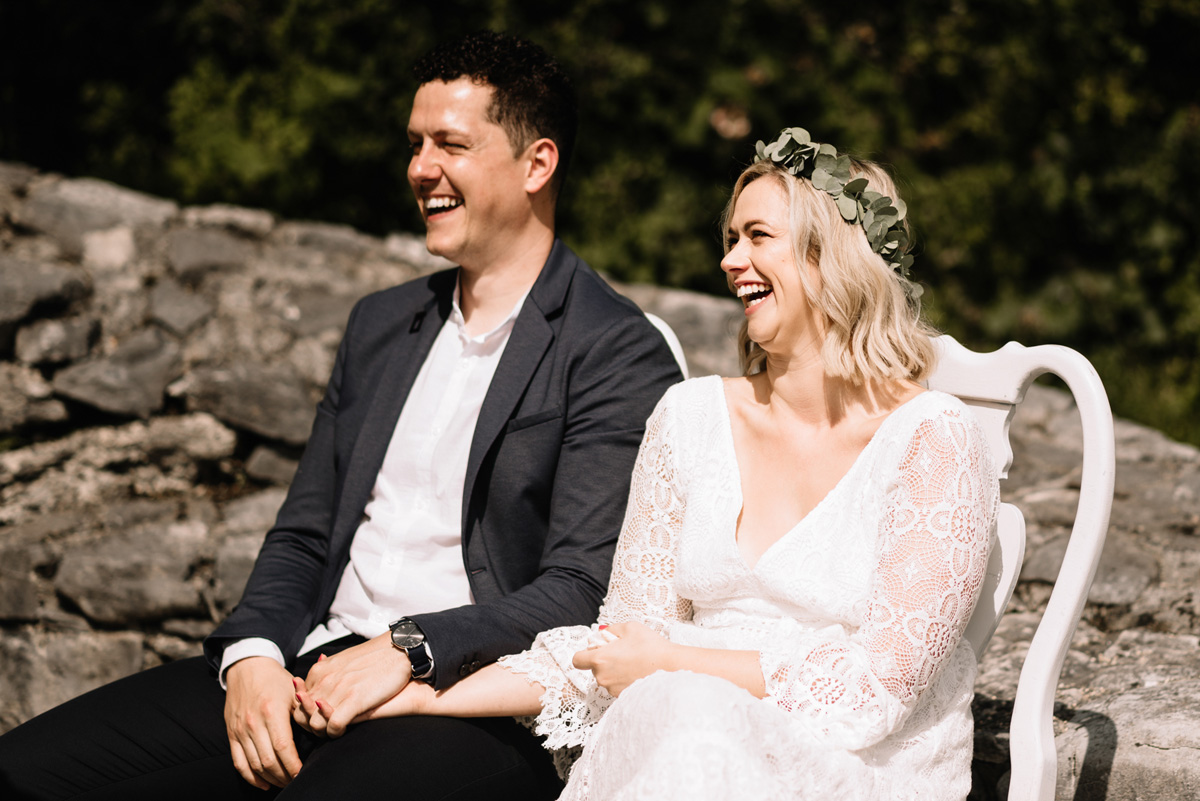 The ceremony was led by celebrant Brian Hade.
"He's an amazingly personable, lovely celebrant who made us feel at ease."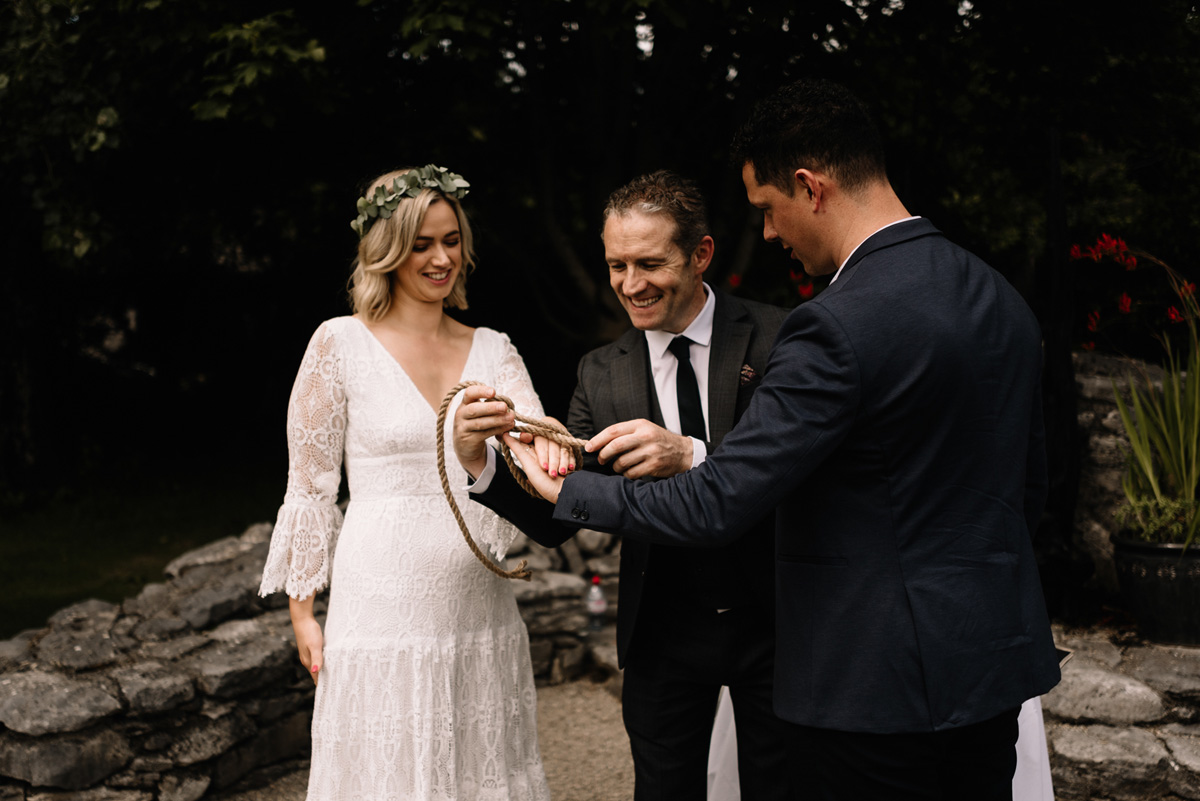 The couple originally met back at college in Ireland but a chance meeting in a coffee shop in 2016 where Rachel was having a work trial led to them dating. Ronan tells us more.
"The coffee was good and after her sending a few messages, I eventually agreed to go on a date. We had been together for three years and I had thought about it a few times but didn't feel there was any rush."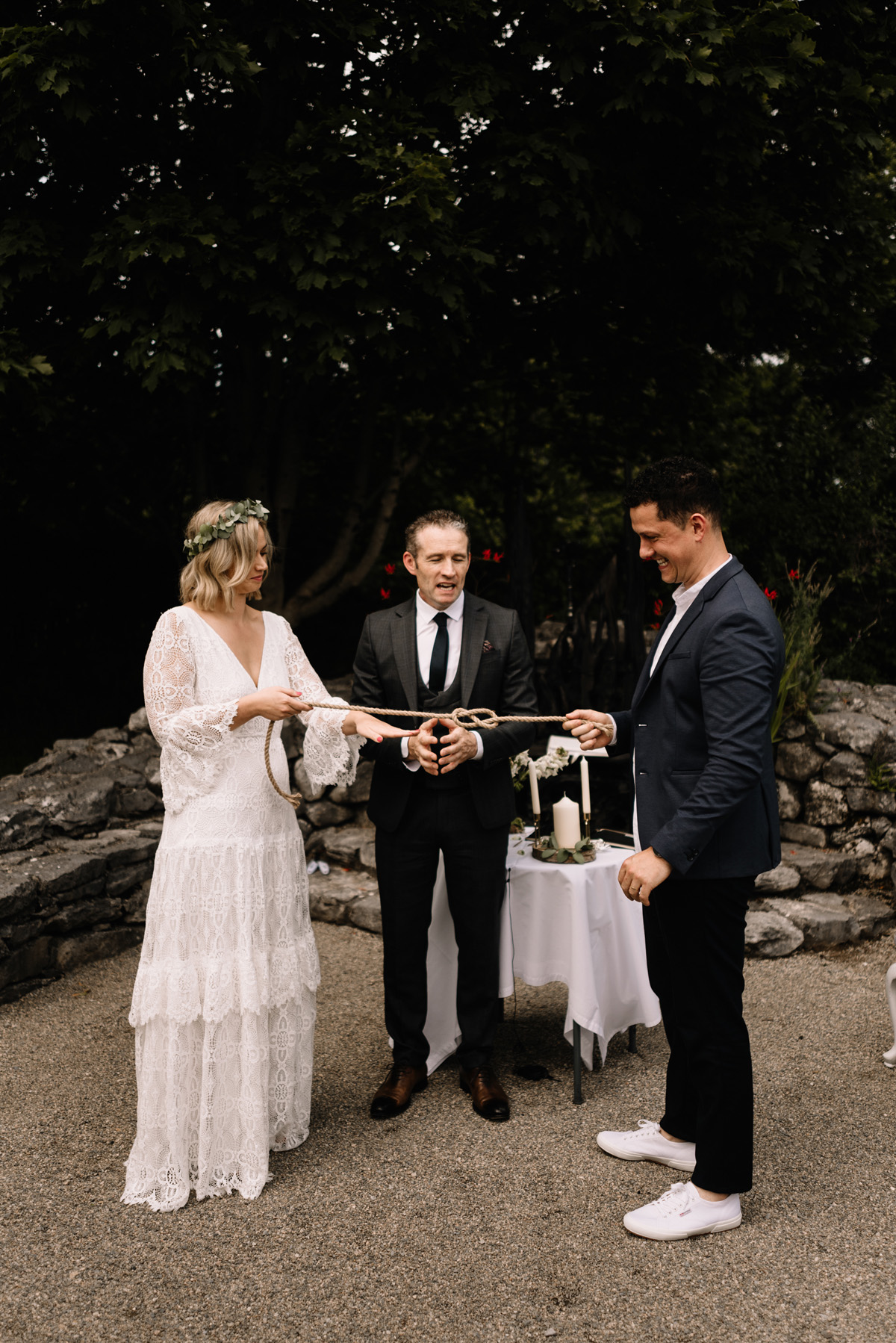 "Rachel then received a job offer in the UAE and I had my own business at the time. We discussed long distance and I honestly believe it would have worked but just said why would we put ourselves through it when we loved each other so much."
"So, one day at work, I closed up early and hit to Dublin to buy the ring. Rach is unique, that's why I'm so in love with her, and I knew from being around her what ring I wanted to get her."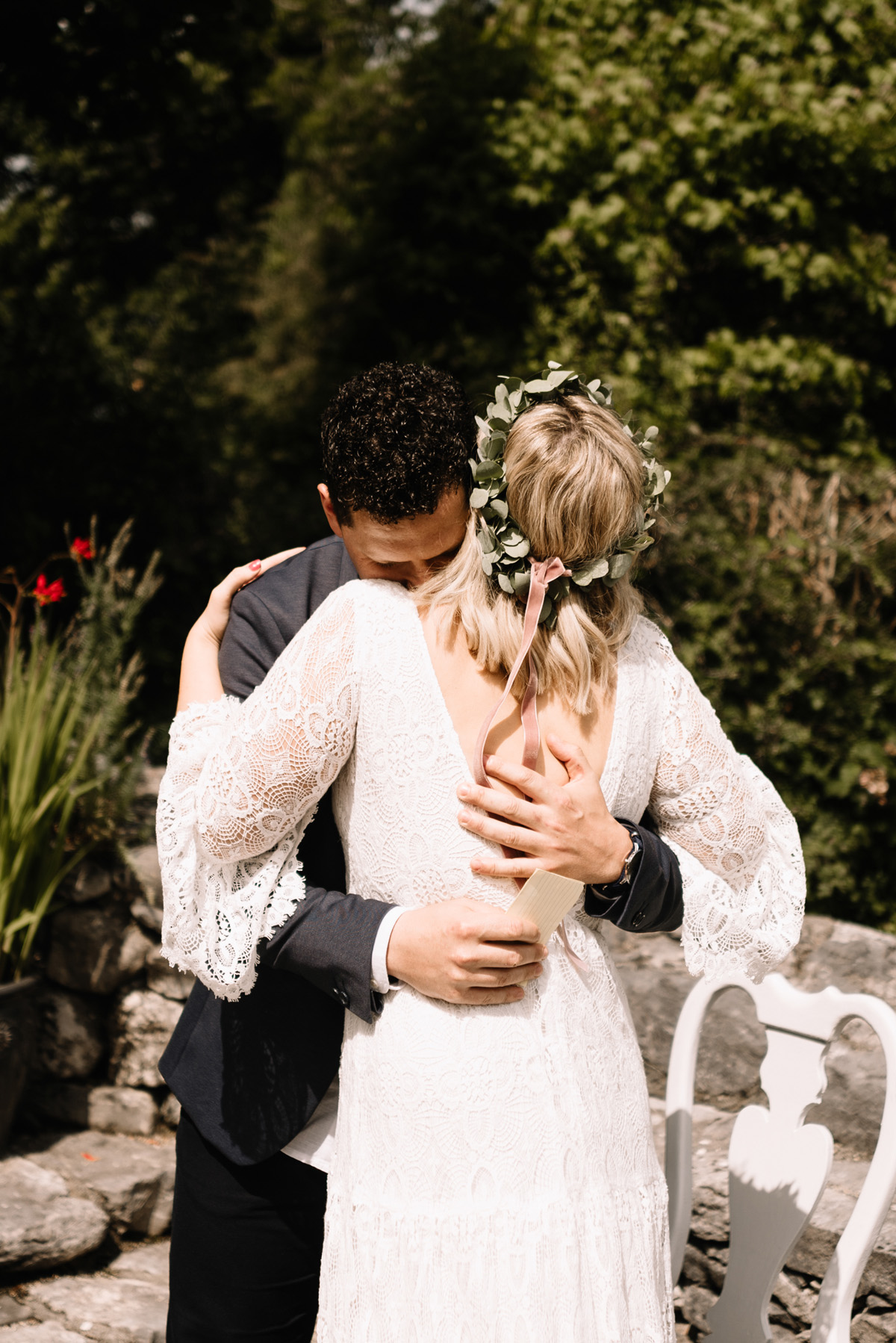 "The plan was to get the ring and ask her on my birthday. She always said not to ask her at Christmas or her birthday, but never said anything about my birthday."
"I ordered the ring and all was set, then Rach told me she had a surprise set up for my birthday. We ended up at Knock Airport where I was told we were hitting London for the week."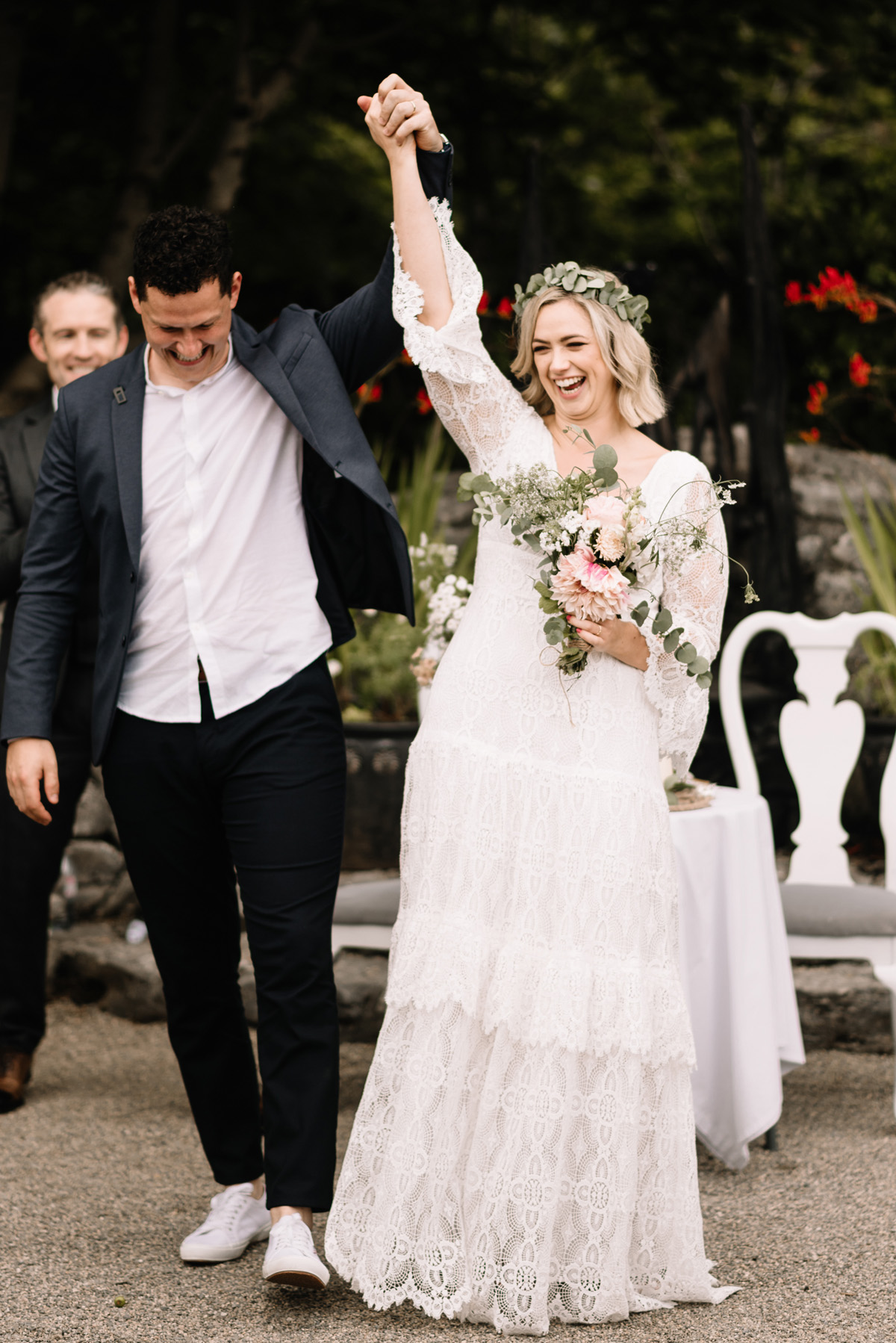 "When we landed and collected the bags in London Rach looked guilty and then said, 'We need to run to make the next flight'."
"A few hours later we were in Marrakech, Morocco, loving life but no engagement ring. We hit the souq one day and Rach loved a little cute ring."
"She bought it and we got engaged on a rooftop just after midnight. Best birthday present ever."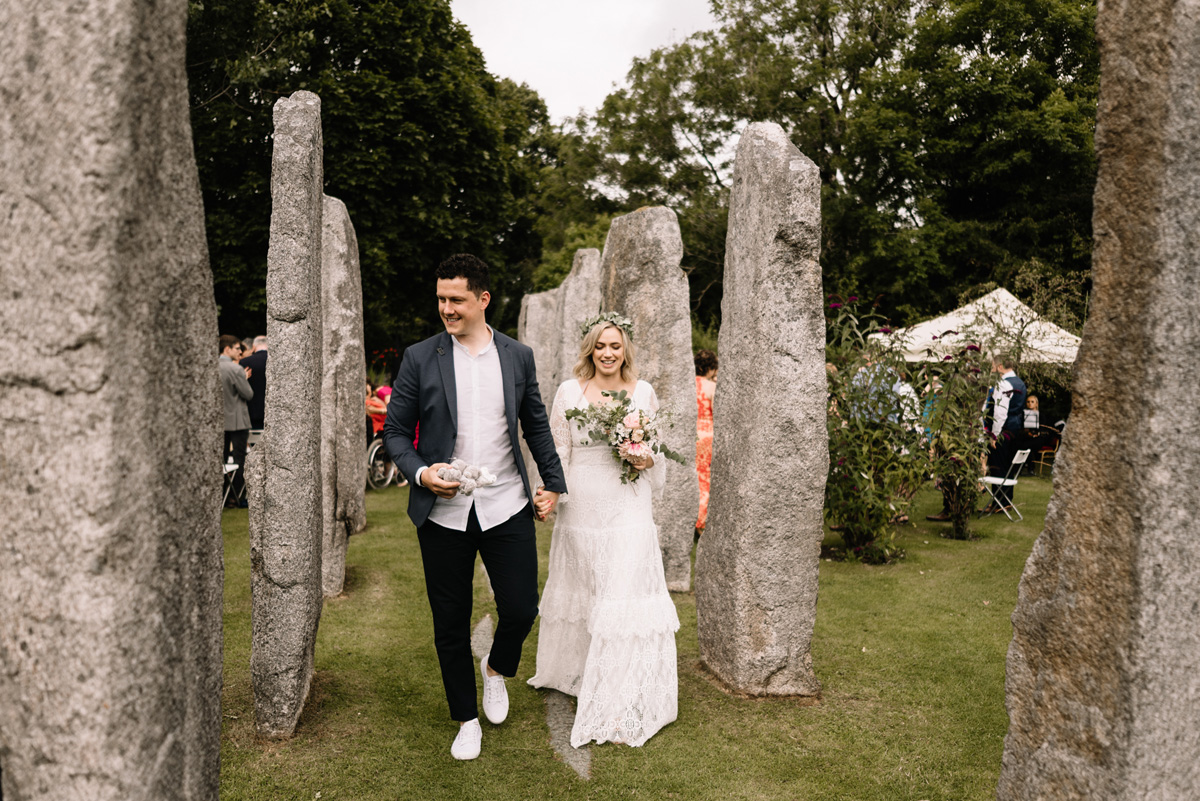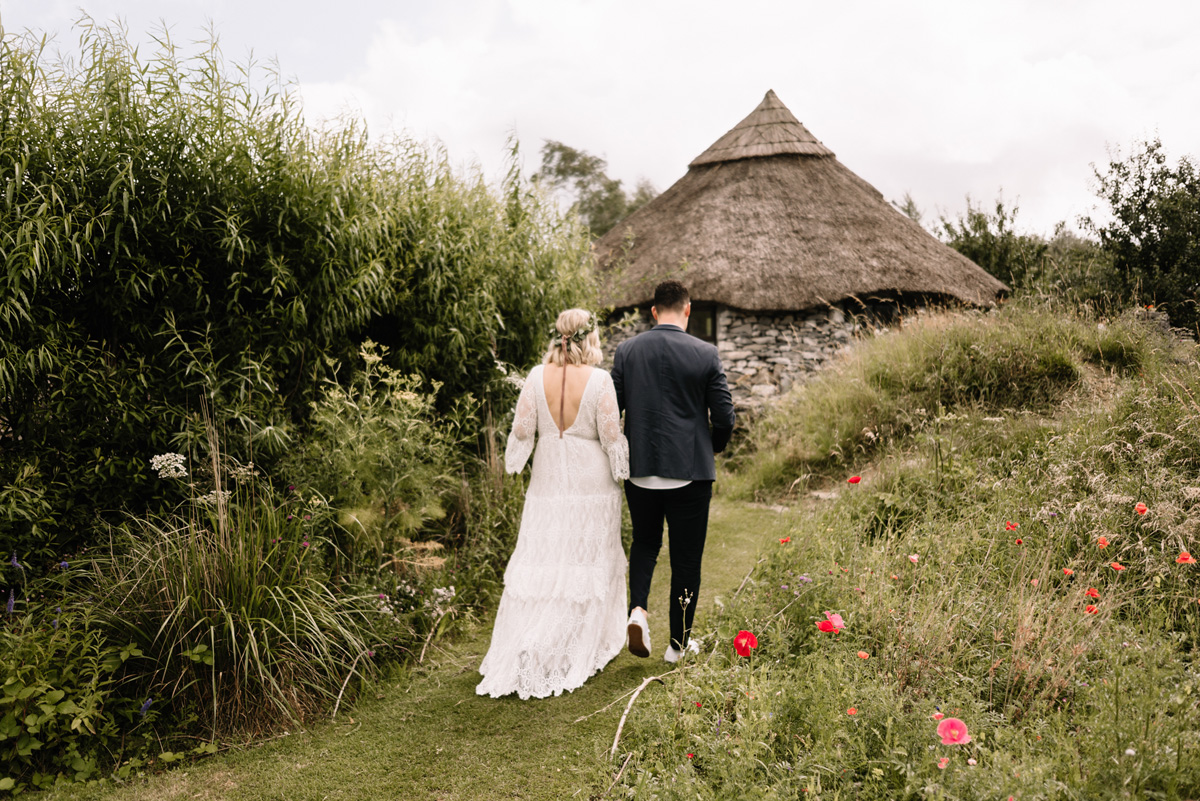 The outdoor ceremony and beautiful garden surrounds were captured in Art Wedding Photography's signature reportage style.
"We choose Sebastian from Art Wedding Photography. We instantly fell in love with his work. It gave off a moody vibe with so much character and very natural photographs. No staged photographs here please."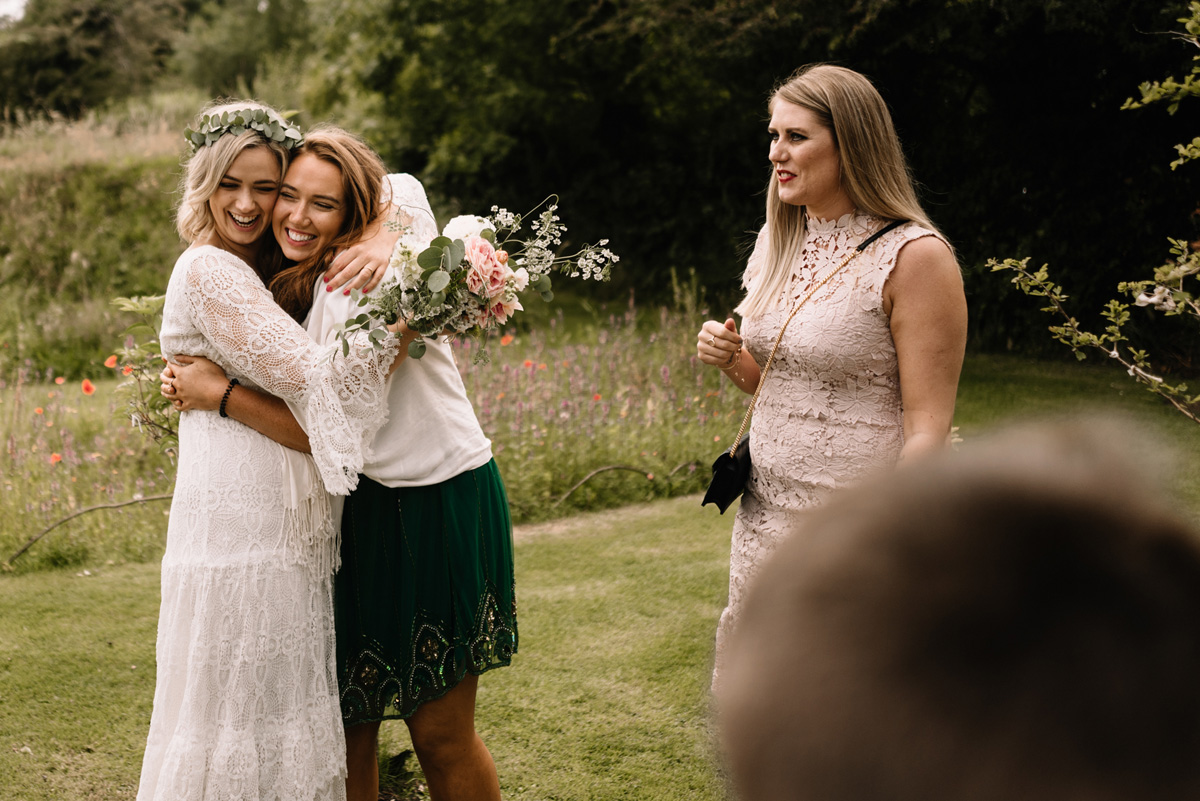 The bridesmaids were chic and pretty in their matching dotted dresses from Kitri, worn with their own choice of shoes. They each carried a delicate posy of fresh wildflowers, from Anthesis Floral.
"We went for local wildflowers and they couldn't have been more perfect. We made up our own wild arrangements. Juliana from Anthesis Floral was amazing. The amount of work they put in to grow wild flowers is outstanding."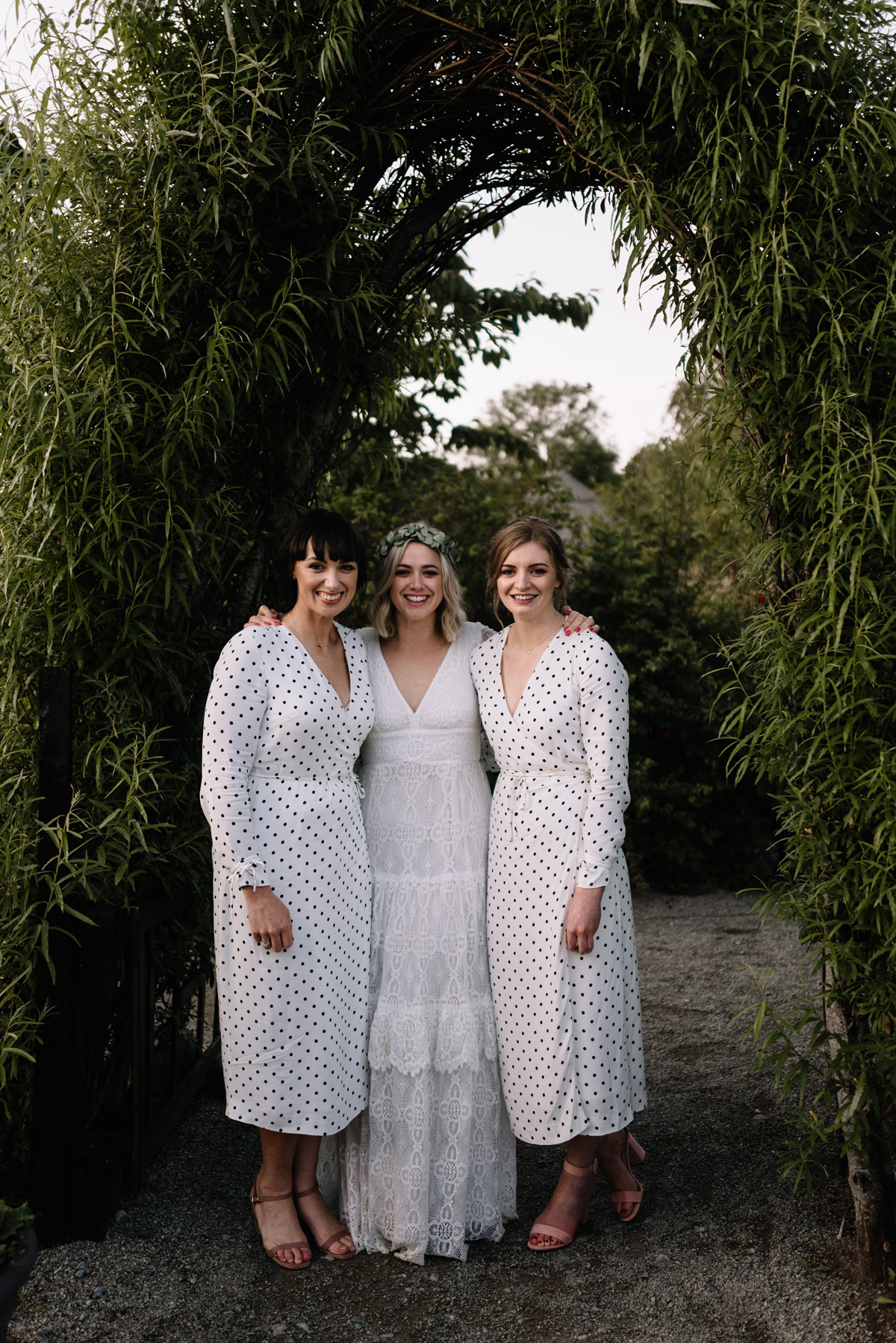 The couple also opted to hire a wedding photographer, LoveStruck Films.
"James from Love Struck Films was absolutely amazing. I didn't meet him until two minutes before the ceremony and we instantly connected. We honestly can't remember him being around that much on the day yet the footage was amazing."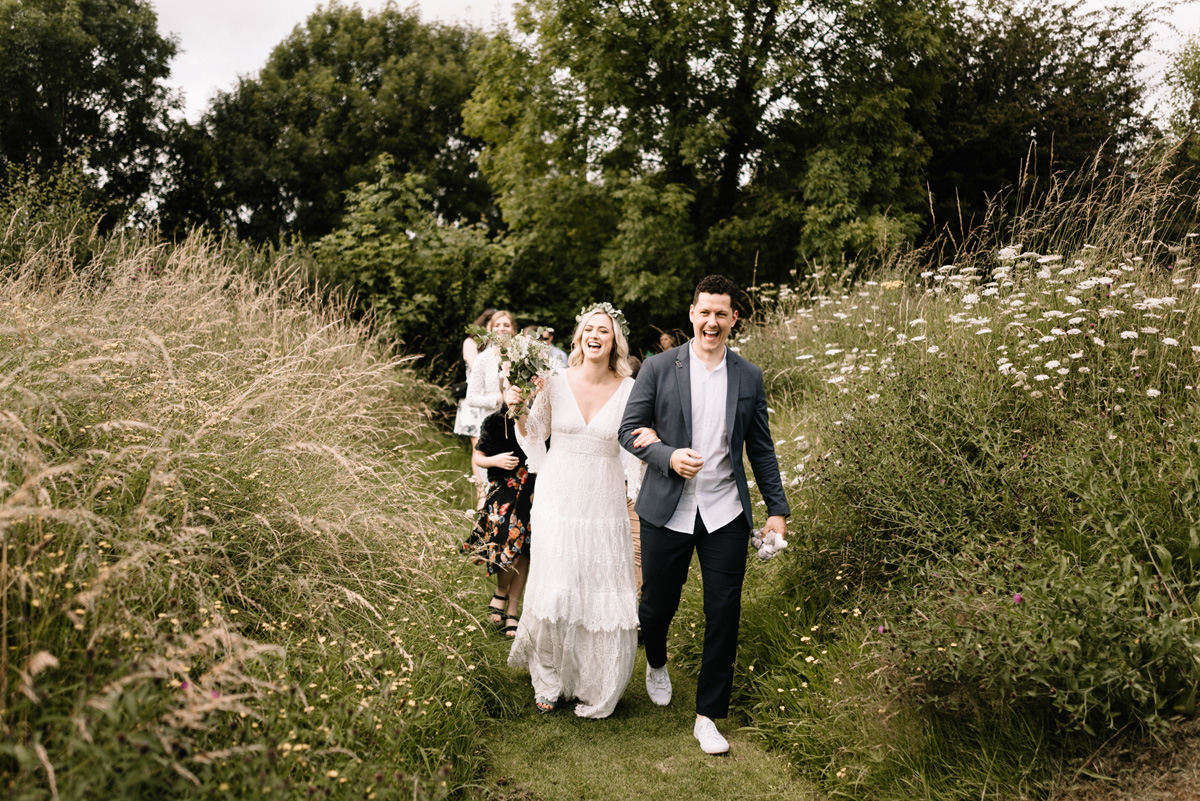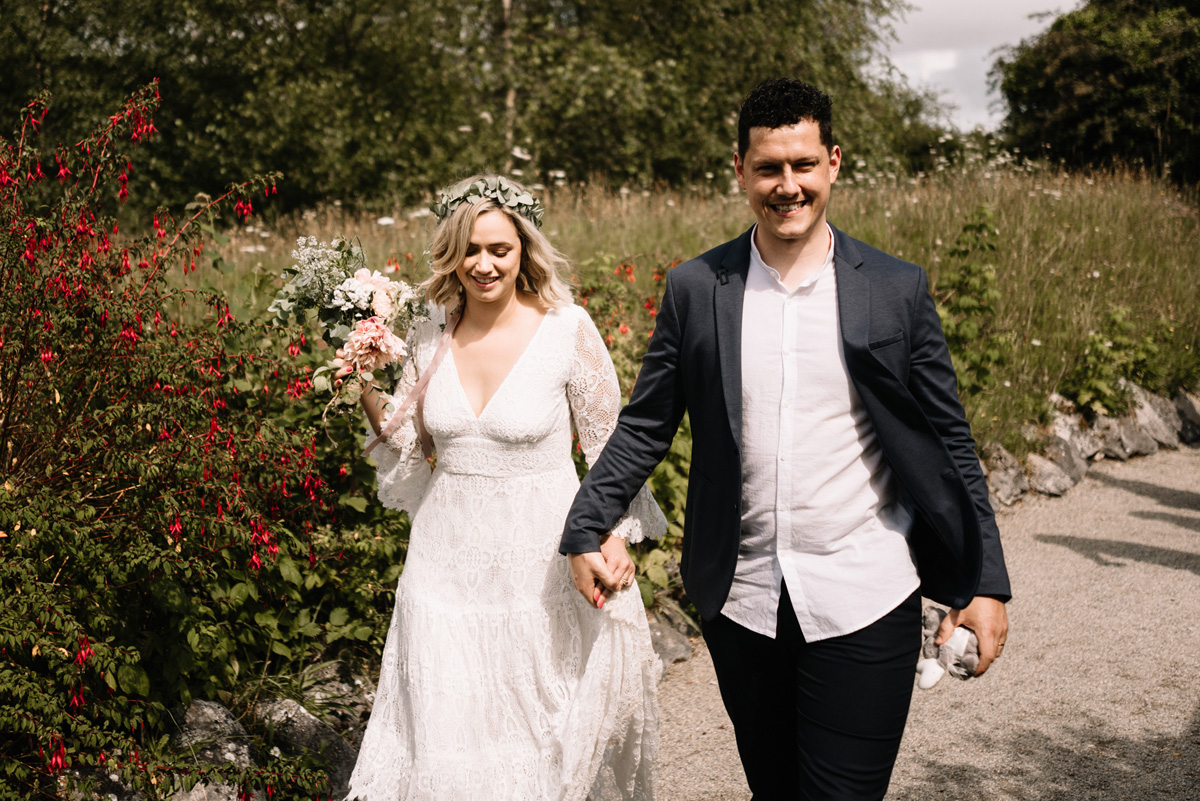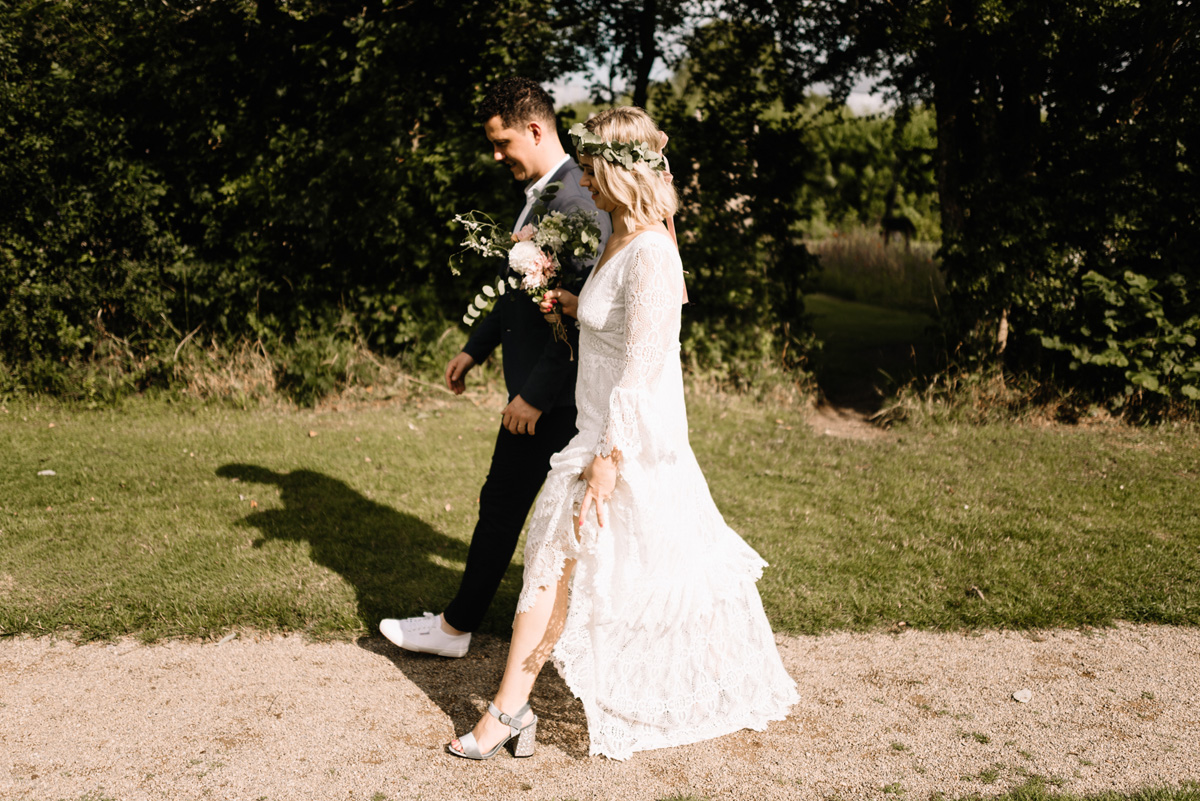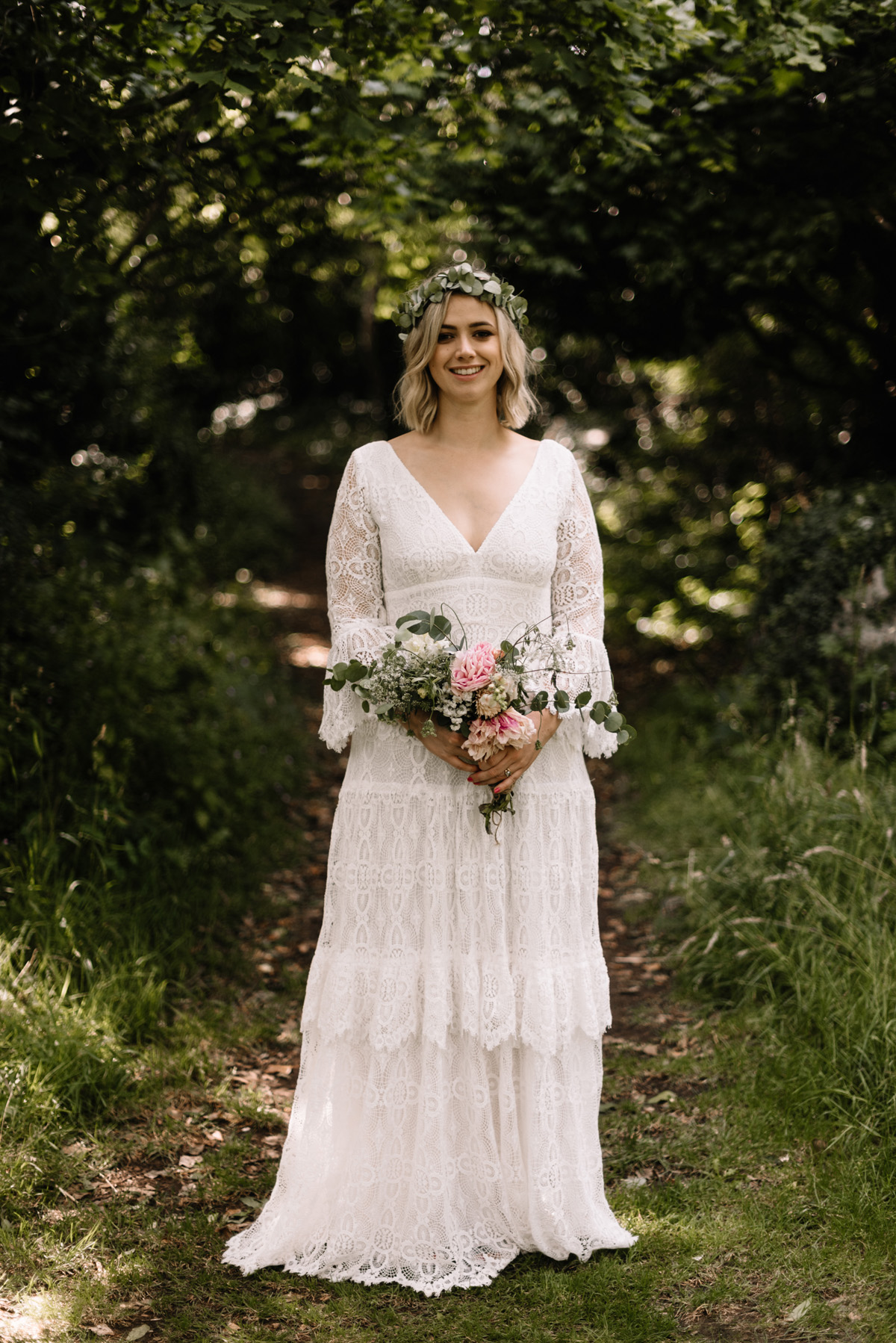 The groom chose to wear an open shirt and blue suit for a summery look.
"Ronan wanted to keep it simple, chilled and relaxed. He picked up his outfit in Zara and paired it with some classic Supergas."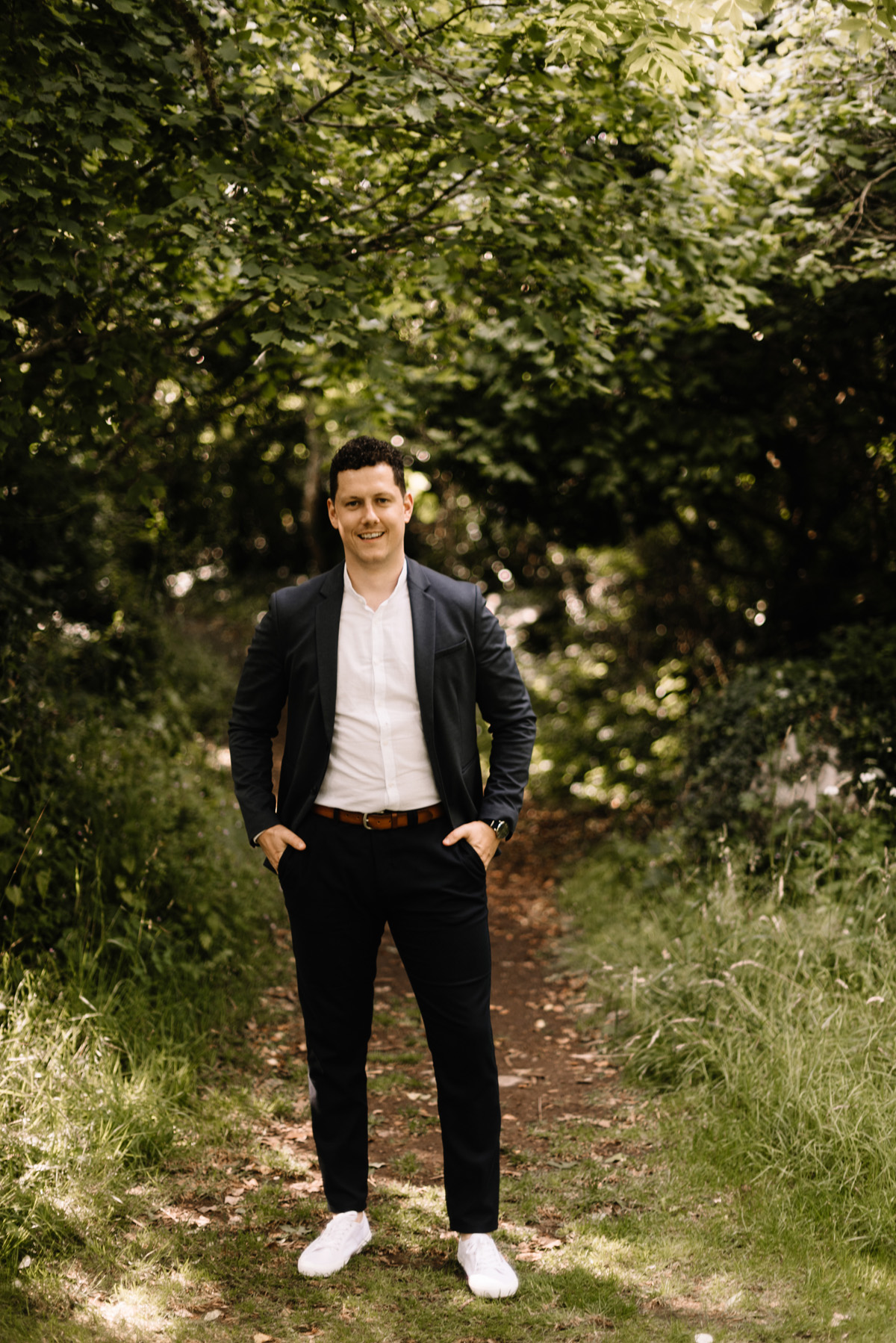 After time outside enjoying the gardens, the guests headed indoors for the wedding breakfast, held at long trestle tables decorated with lots of candles and foliage.
"We kept it simple and natural in keeping with the venue and our personalities. There were lots of candles and wildflowers everywhere."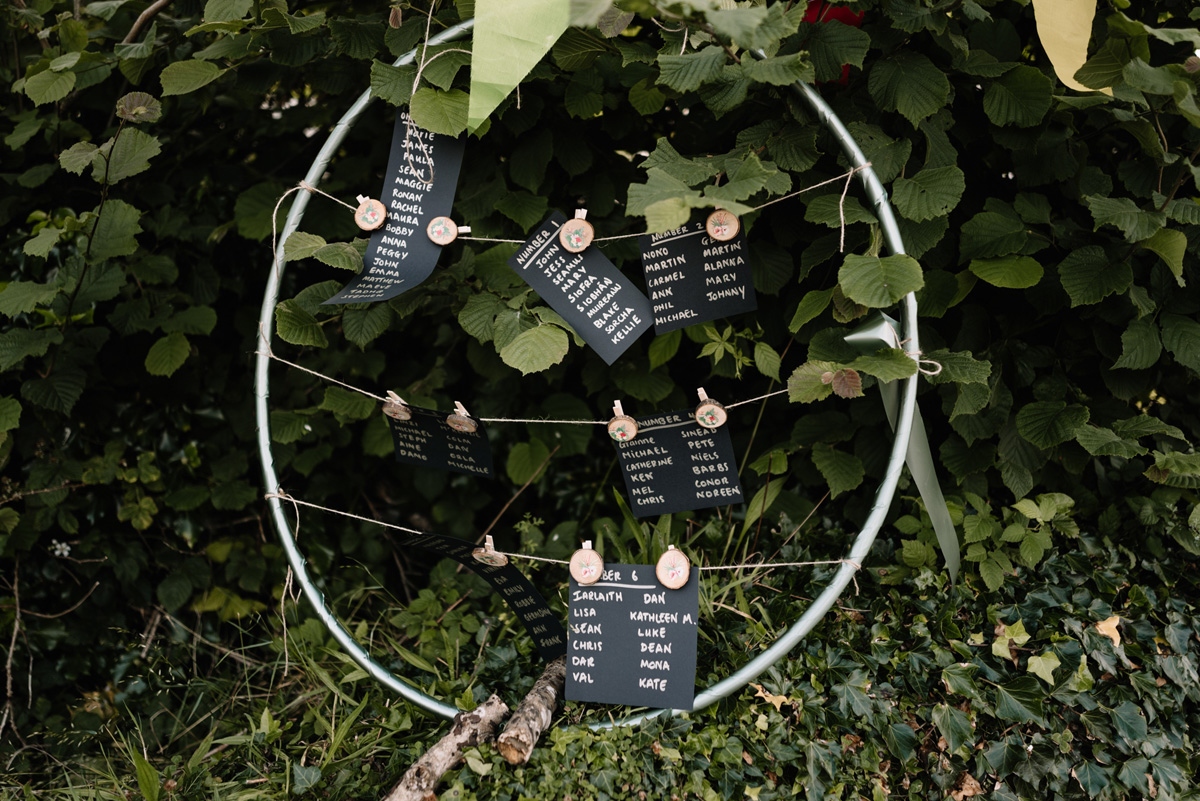 We felt less is more. Our favourite things were our old school chairs from the 70's – literally old school chairs from our local community hall and we used painters' sheets/dust cloths as table cloths. They were a rustic beautiful cotton and we will reuse them for years to come."
"We bought a lot of succulents which doubled up as decorations and as a wedding favour for guests to take home. Our friends and family often send us pictures of how big they are growing."
The team at Brigit's Garden Café cooked up a feast for the newly-weds and their guests whilst the wedding cake came courtesy of Ms Cupcake Cork.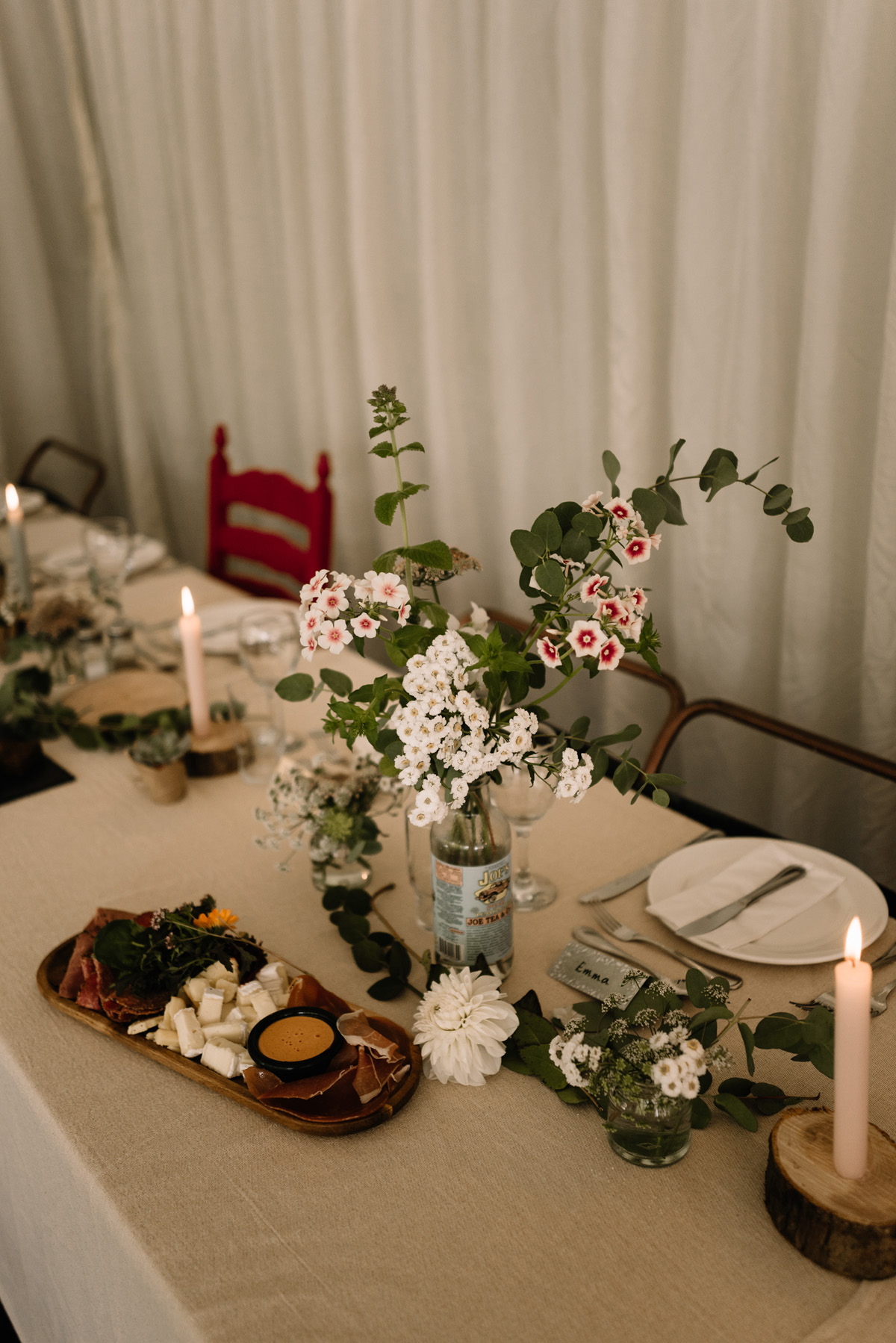 "My brother's girlfriend did us a massive favour and drove the cakes up the Wild Atlantic Way in the west of Ireland."
"They nervously drove the amazing cakes for three hours along with their dog, Rua. It was so delicious, we almost didn't share. It was a super-simple yet tasty cake with mascarpone cream cheese frosting."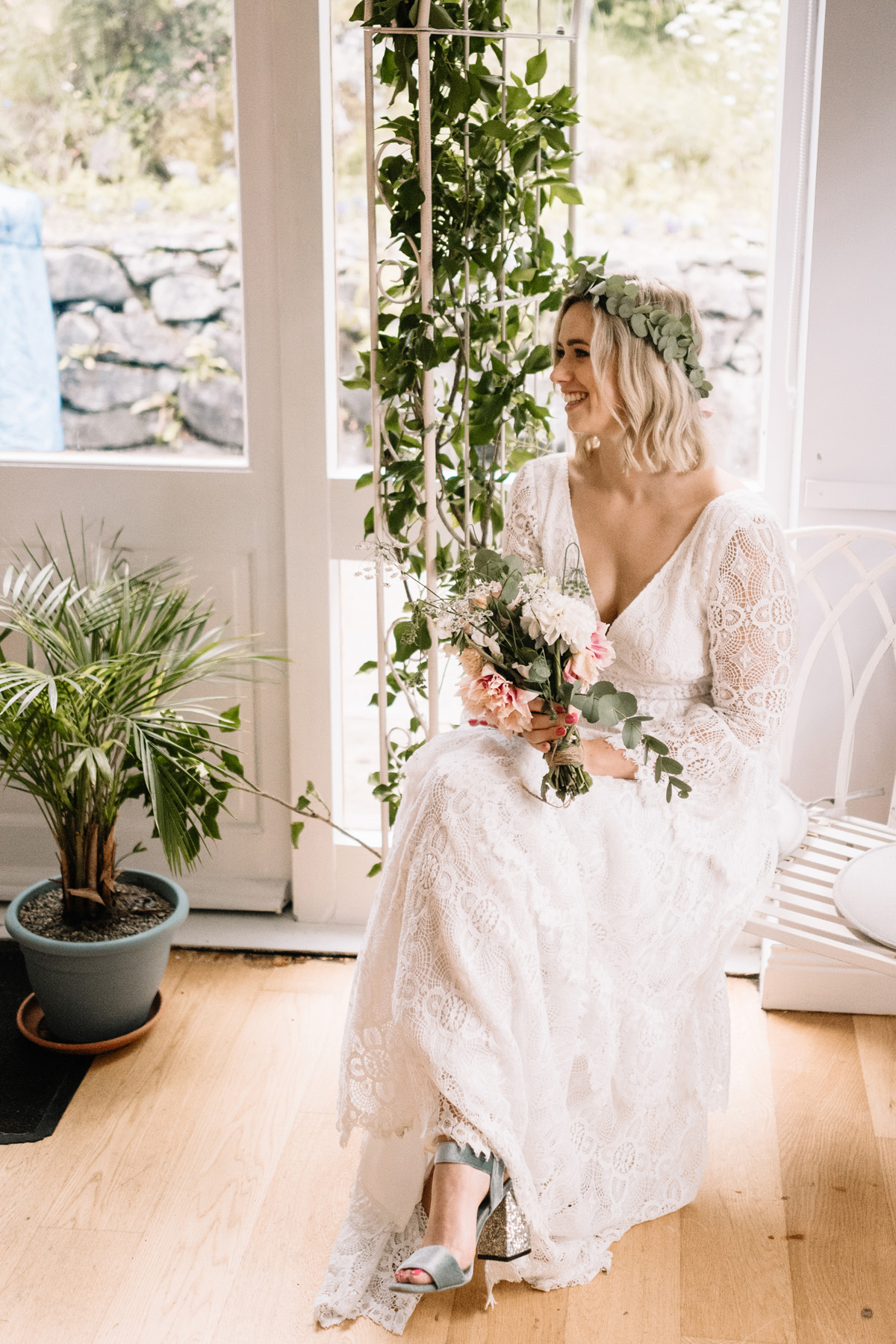 "After dinner, the real dancing began. My brother's friend is a wonderful singer so he rounded up a couple of his singing pals. Honestly, it still makes me smile thinking back about how amazing they were."
"We wanted the night to begin with a fun upbeat song as our first dance. We choose 'I Wan'na Be Like You' from 'The Jungle Book'. Our dancing skills are still up for discussion but we had the best time swinging each other around."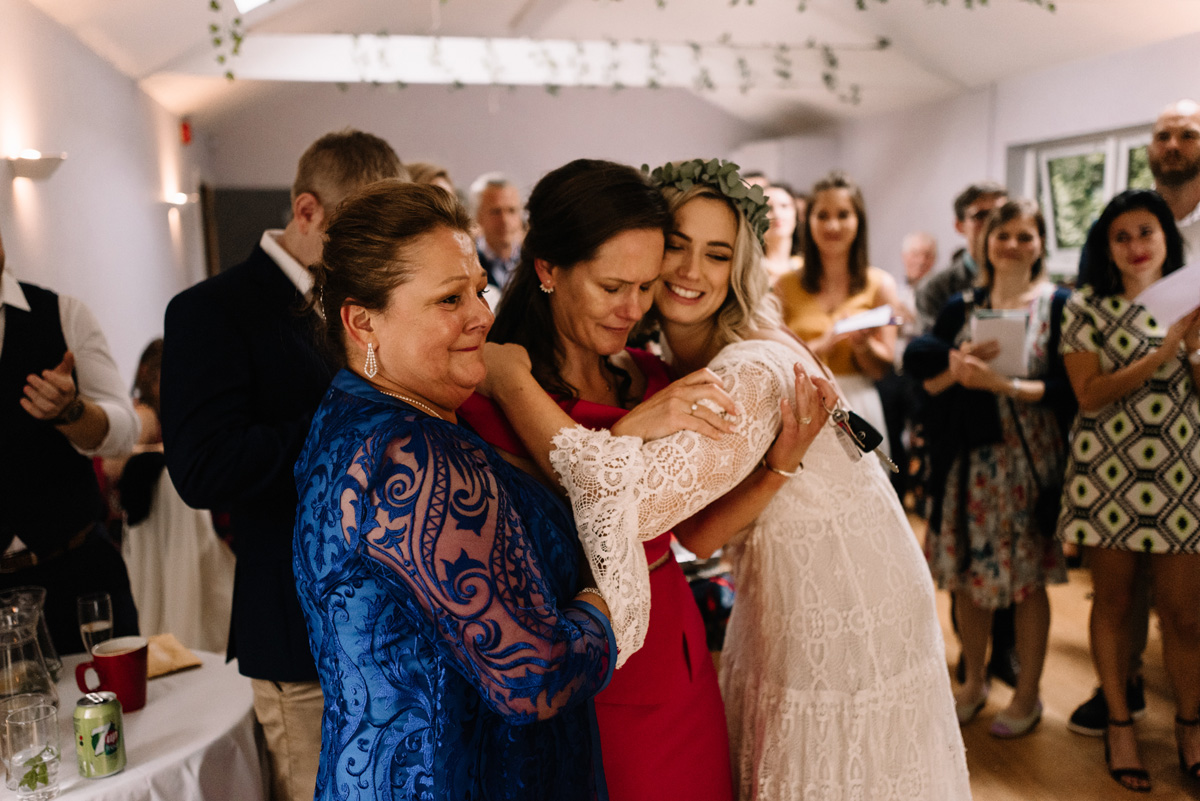 Over to the couple for their favourite memories of this gorgeous countryside day.
"I think it's really hard to pick a part. My favourite part was all the dancing and knowing that our family and closest friends were all in the same place. Ronan's favourite part was watching me walking up the aisle."
Words of Wedded Wisdom
"Don't get carried away with the small details. Keep it simple. As long as you and your partner are together on the day, everything else will fall into place."
"It is your day, do what you both want and don't worry about what everyone else thinks."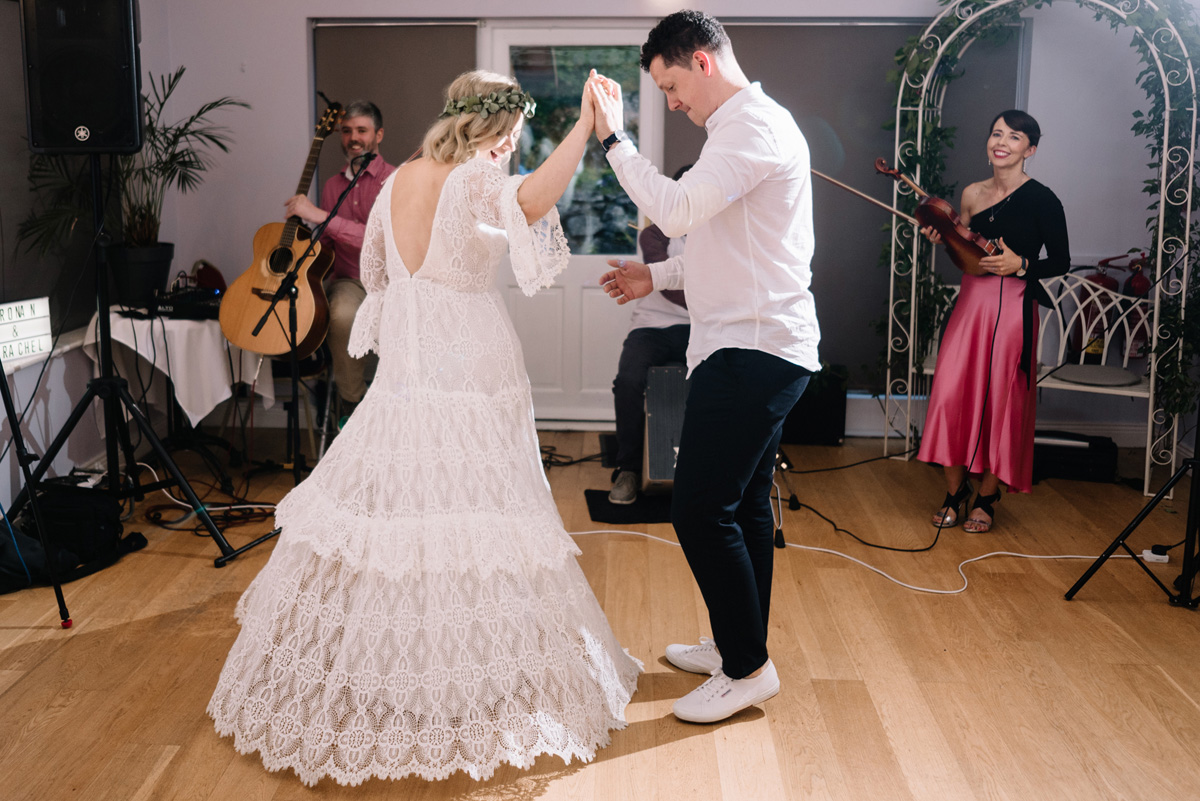 Rachel and Ronan, congratulations and thank you for letting us share your celebration here. Thank you also Art Wedding Photography for these divine images.
Lovelies, you can see more garden weddings right here on Love My Dress.
Ele xx