This gorgeous, small wedding is a wonderful, creative, shining example of how to  support small businesses when planning you wedding.
It also features one gorgeous sequin gown – but more about that shortly. This is the wedding of Holly & Co co-founder, Gabriella, who married her beau, Michael, on 11th June 2021 at York House Twickenham – a venue chosen as it's local to the couple and they love the secret gardens there.
Gabriella + Follow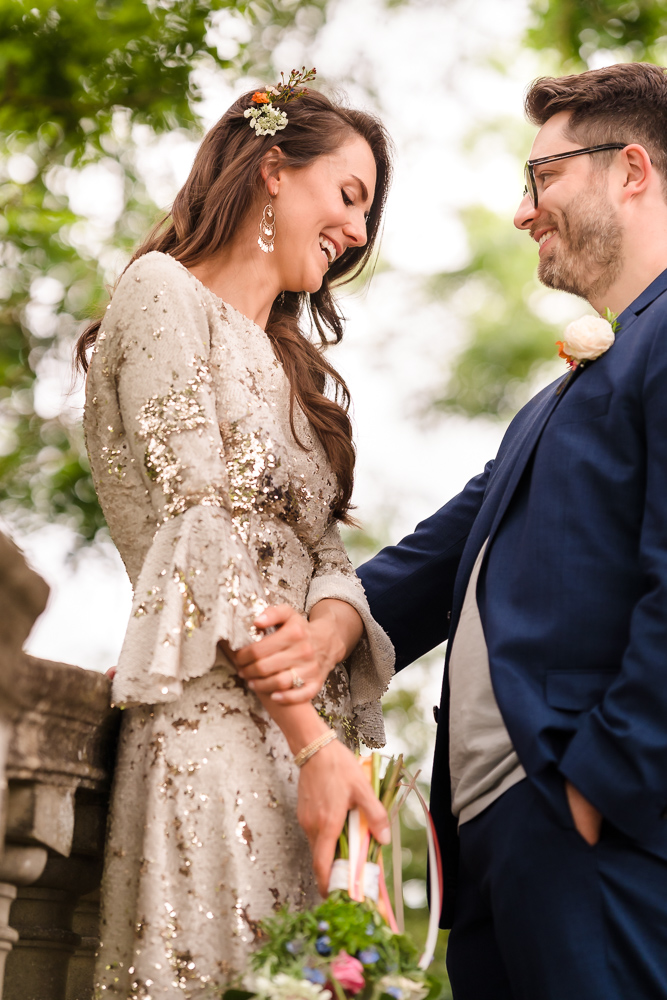 "We had very little savings, so the wedding was on a shoe string budget. We wanted to support all our favourite small businesses and pay them first, and then I did everything else myself to save on budget. We wanted a low-key relaxed day."
"I knew I wanted to wear a dress made by a small business, a female founded business – and came across Julita LDN Bride on instagram. I fell in love with her gilded lily sequin dress and knew instantly, it was 'the one'. I bought directly from Jo, the designer at Julita – she was the most incredible lady to work with."
"I saw my dress over zoom, placed my deposit without even seeing it in real life or trying it on, and then when things opened up again I went for fittings. I even brought my babies with me to try it on (they loved the experience too!)"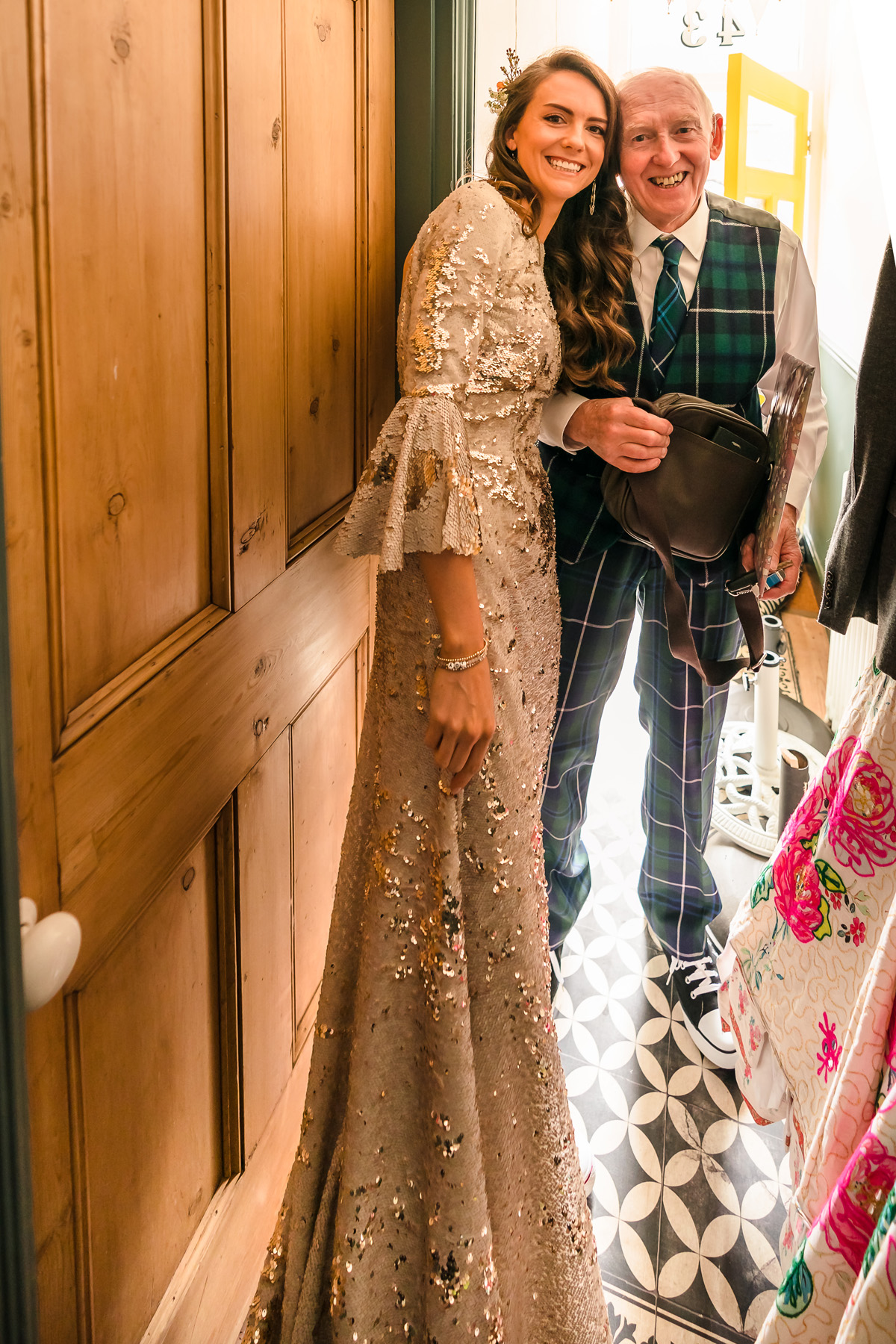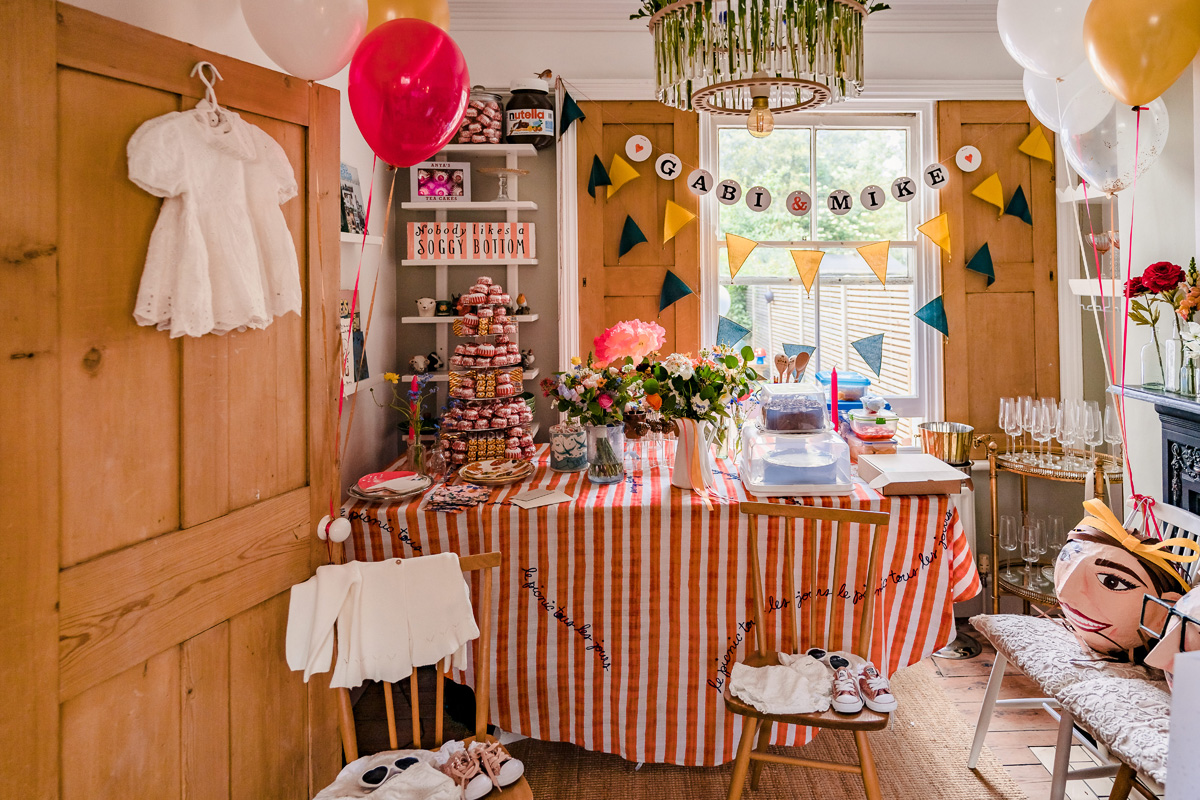 "I would highly recommend JULITA LDN Bride to other brides."
"I knew I wanted a dress that felt a bit different, I didn't want a traditional white dress and wanted something I could wear again."
"It felt wrong to me that you buy the most expensive dress of your life and never wear it again, so I felt quite strongly about that."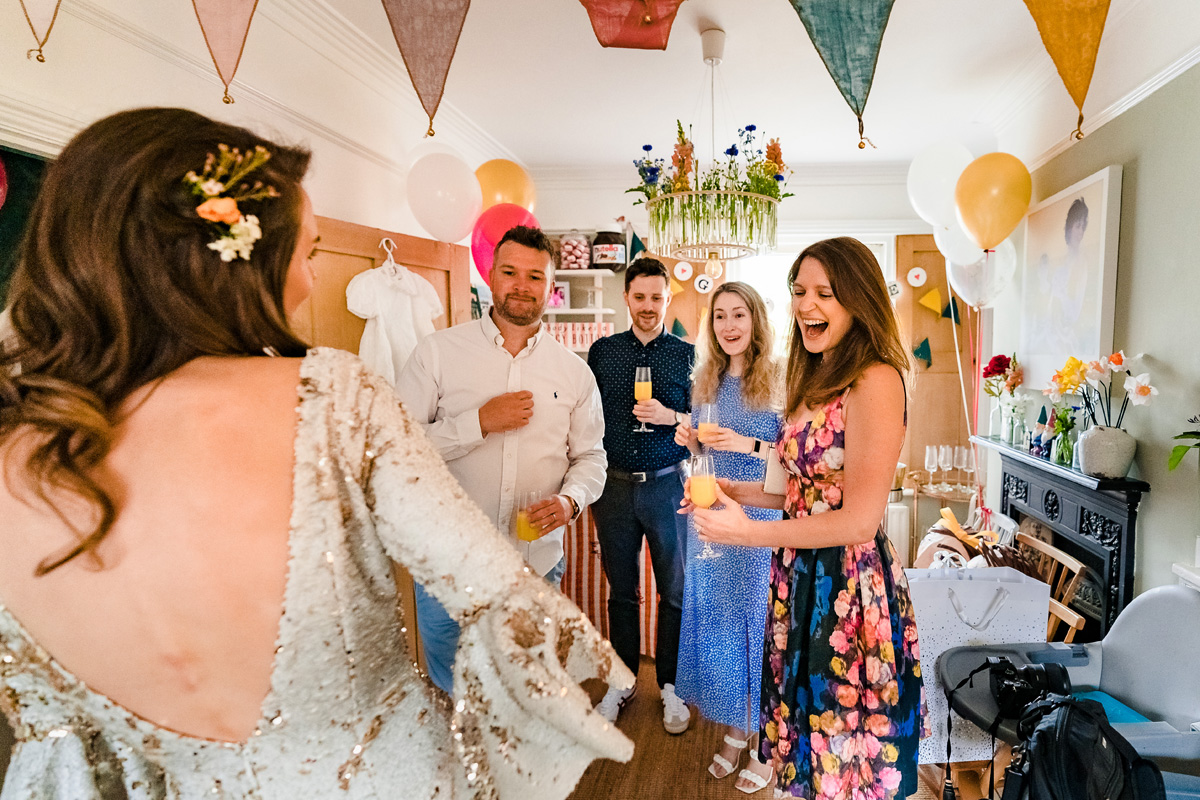 "Jo suggested I could have the dress shortened after the wedding so I can wear it again for future events, which I will do. Also I love sequins, and a jazzy sleeve, the dress was the perfect combination."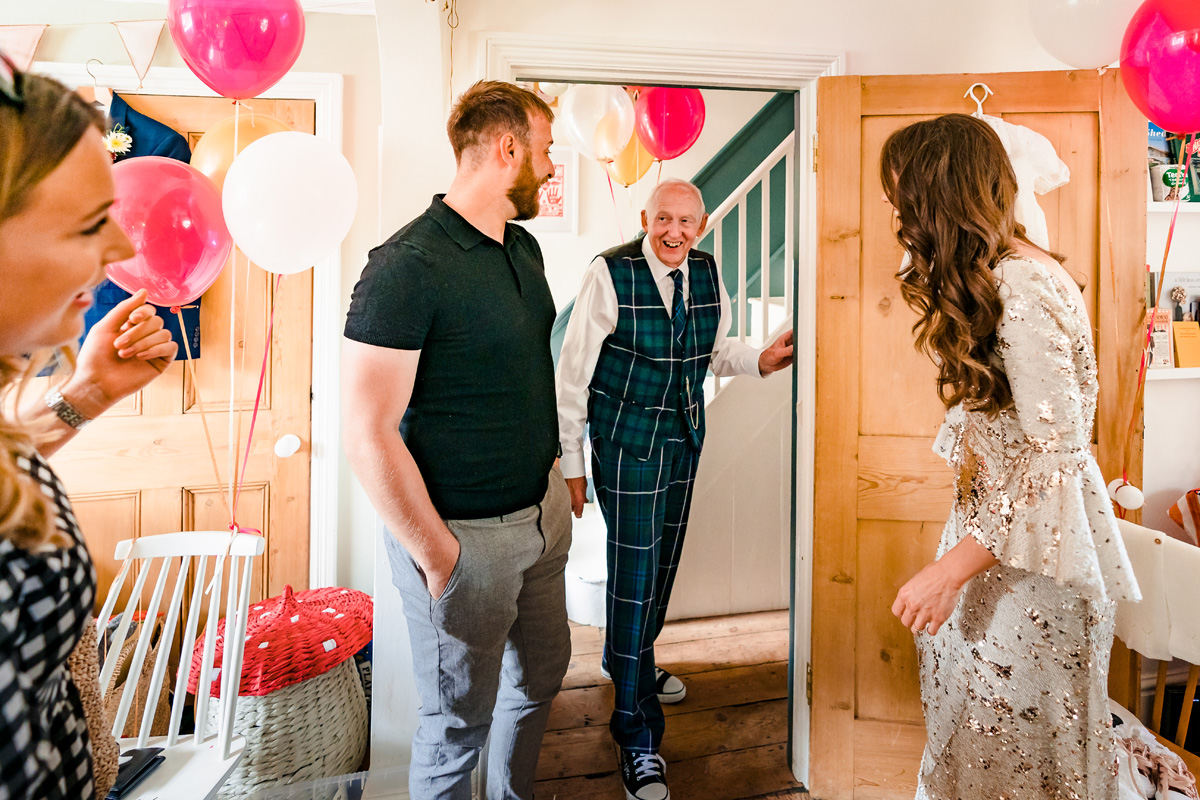 "Harry (our toy poodle) and our 'flower dog' wore his best glitter bow tie for the occasion, from small female founded business Puptart."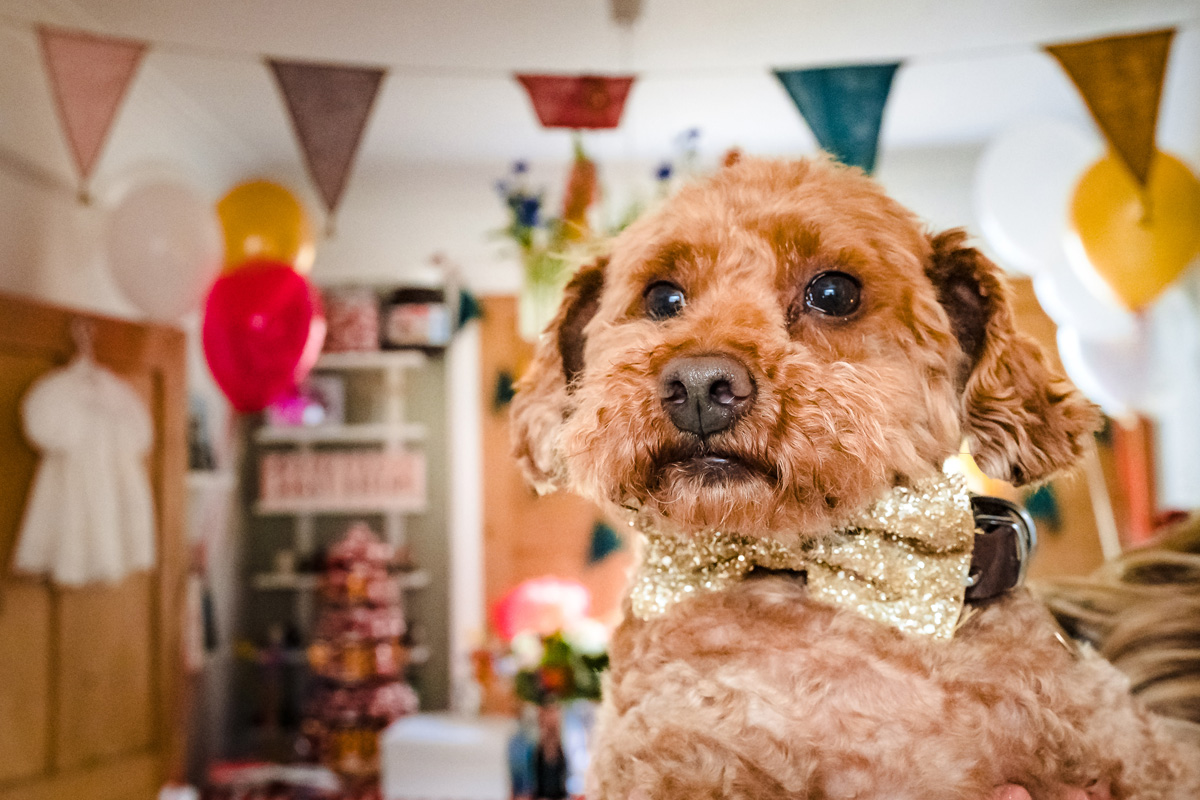 "We all got ready altogether, and my father Norm drove us to the ceremony with the babies too in his camper van so we all arrived together."
"My twin babies and my four nieces were flower girls. They all wore dresses from Newbie Kids. They also wore Converse glitter trainers – I sourced them all on eBay second hand, finding all their right sizes."
"I did my own makeup. I got my nails painted at Dry By london, and had gold foil initials painted on with 'G&M' on my ring finger."
"I also wore bracelets made by female founded small business Sobella Jewellery, with my daughters names on 'May & Joy'."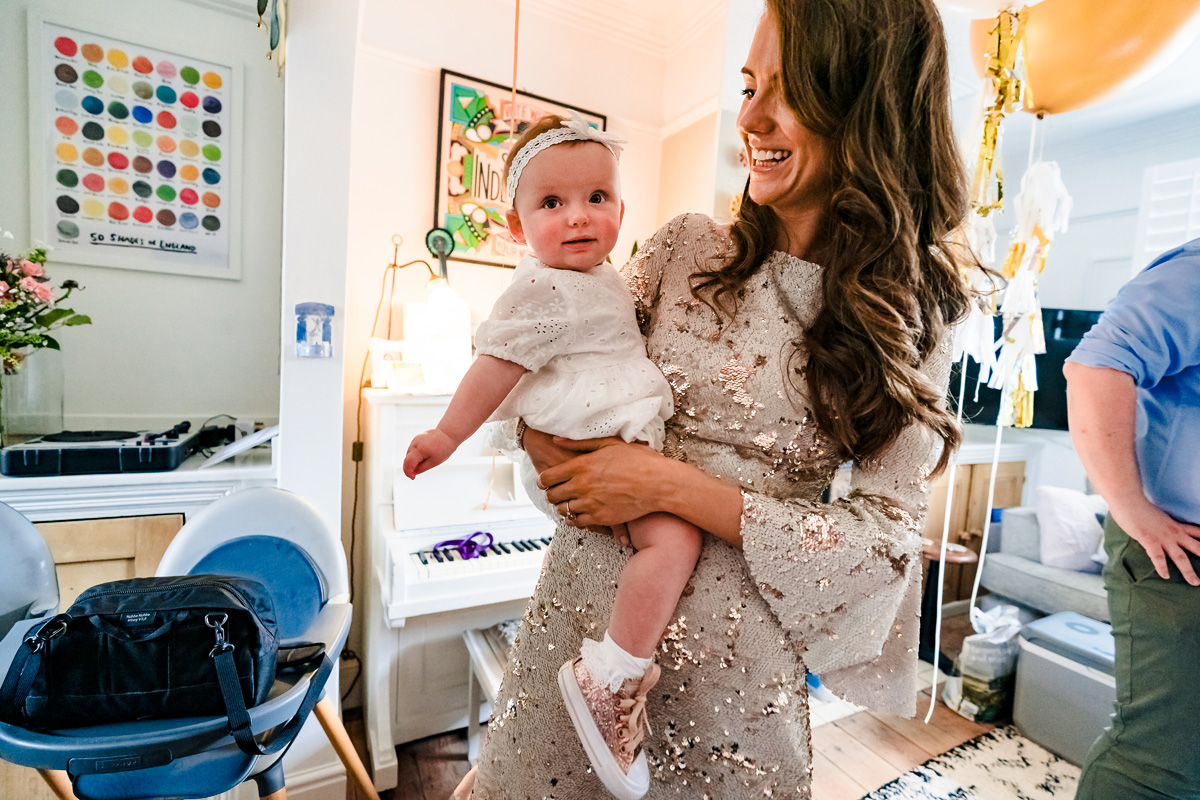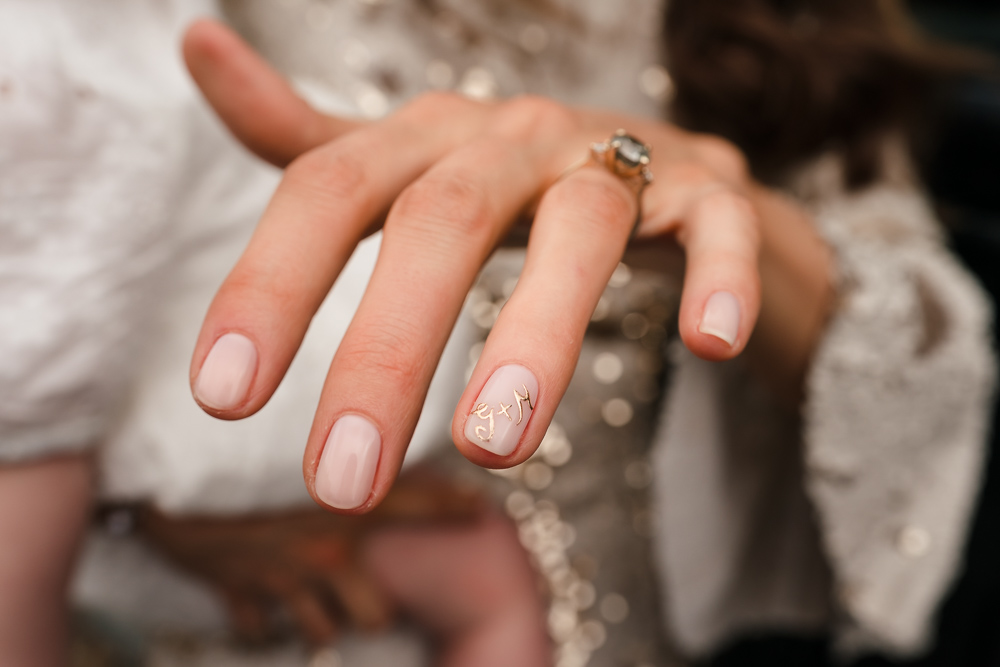 Wedding of Jenna and Glen at Friern Manor, Brentwood, Essex"Sarah from Myrtle & Smith, created some fresh flower pins to go in my hair. My maid of honour – wore a sequin jumpsuit made by small business female founded business, 'Rock the Jumpsuit."
"She looked phenomenal! She wore glitter converse trainers to match the flower girls."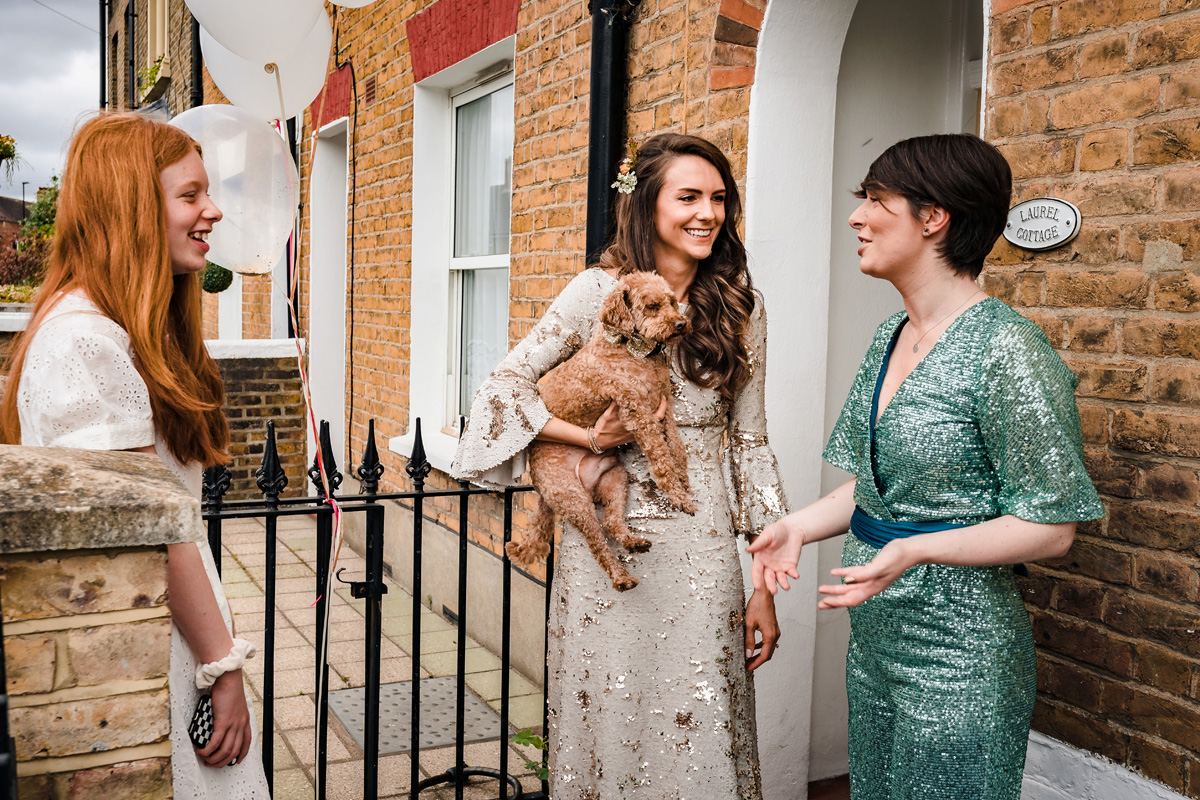 The couple's wedding took place whilst COVID restrictions were still in place, but they didn't let this ruin their day.
"Because of COVID, we weren't allowed readings in the ceremony. neither could my nieces, who were my flower girls, follow me down the aisle."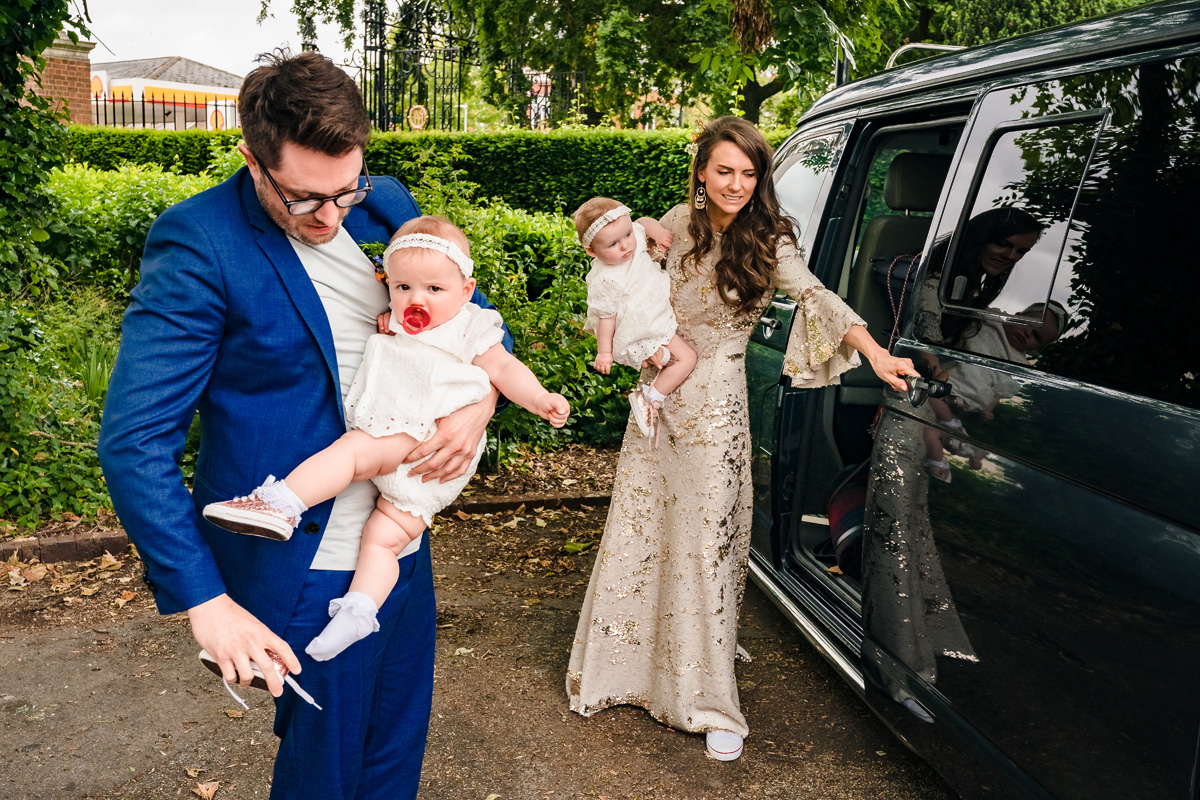 "But I had decided I just wanted to walk in with Mike by my side anyway. We just wanted to be married, so nothing really felt like it got in the way of that."
"The intimacy of having a small wedding made the day so stress free relaxing and intimate. It was like being in a small tiny concert rather than a big Wembley stadium."
"It also meant we could afford to get married sooner, as we didn't have a huge amount of savings, so having less people meant it was much more affordable."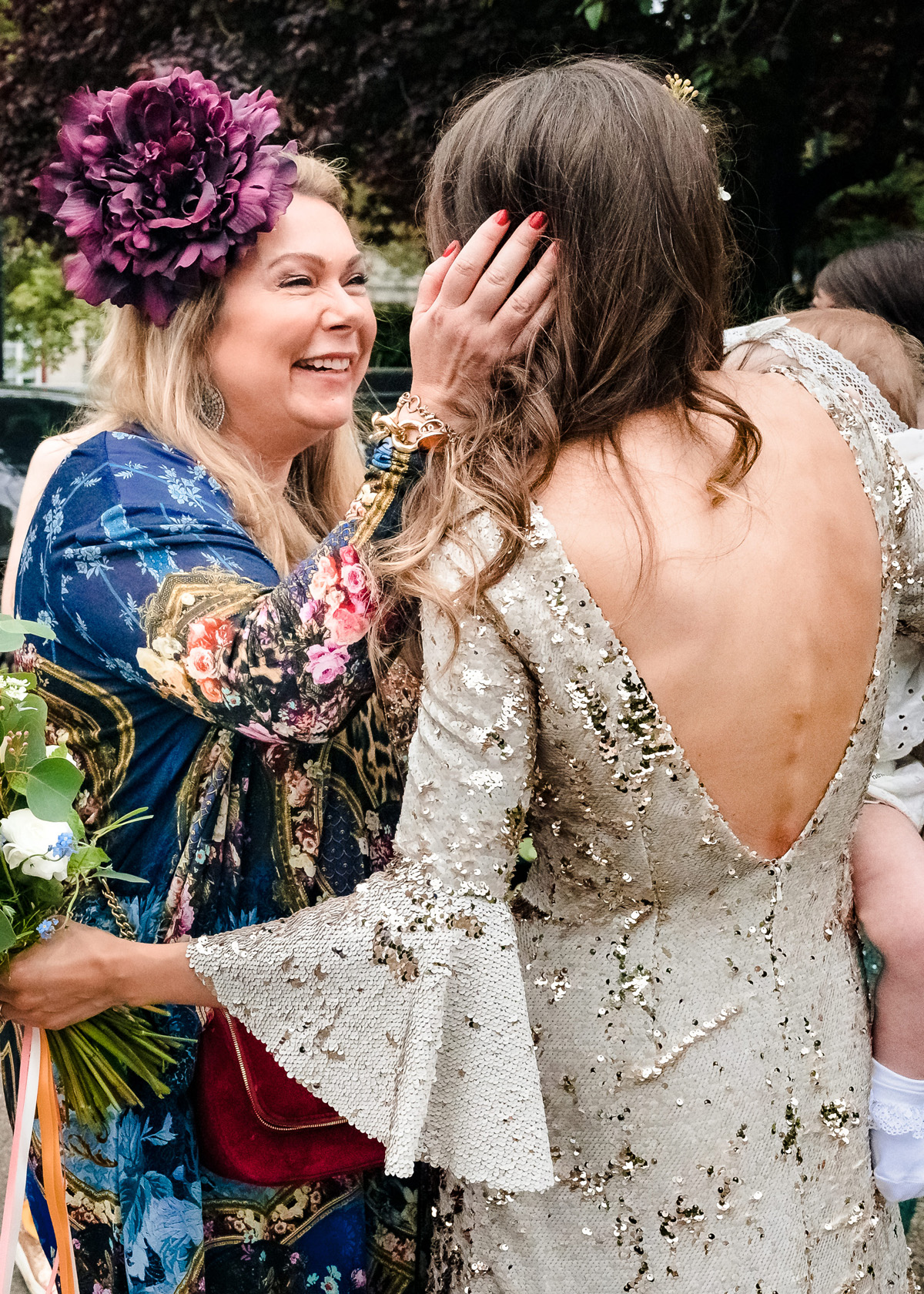 "I wanted to walk down the aisle with Mike, the feminist in me felt wrong to be 'given away' and I also wanted to have Mike by my side, I knew how nervous I would be. Actually I didn't feel nervous at all, as we were altogether as a family the entire time, I really relaxed and enjoyed the day."
"We walked in to the music recomposed by Max Richter; Vivaldi, The Four Seasons: Spring, it's the babies favourite song and Mike proposed whilst this was playing."
"We played 'Real Love' by Father John Misty when we were signing our marriage certificates as this was the song we fell in love over."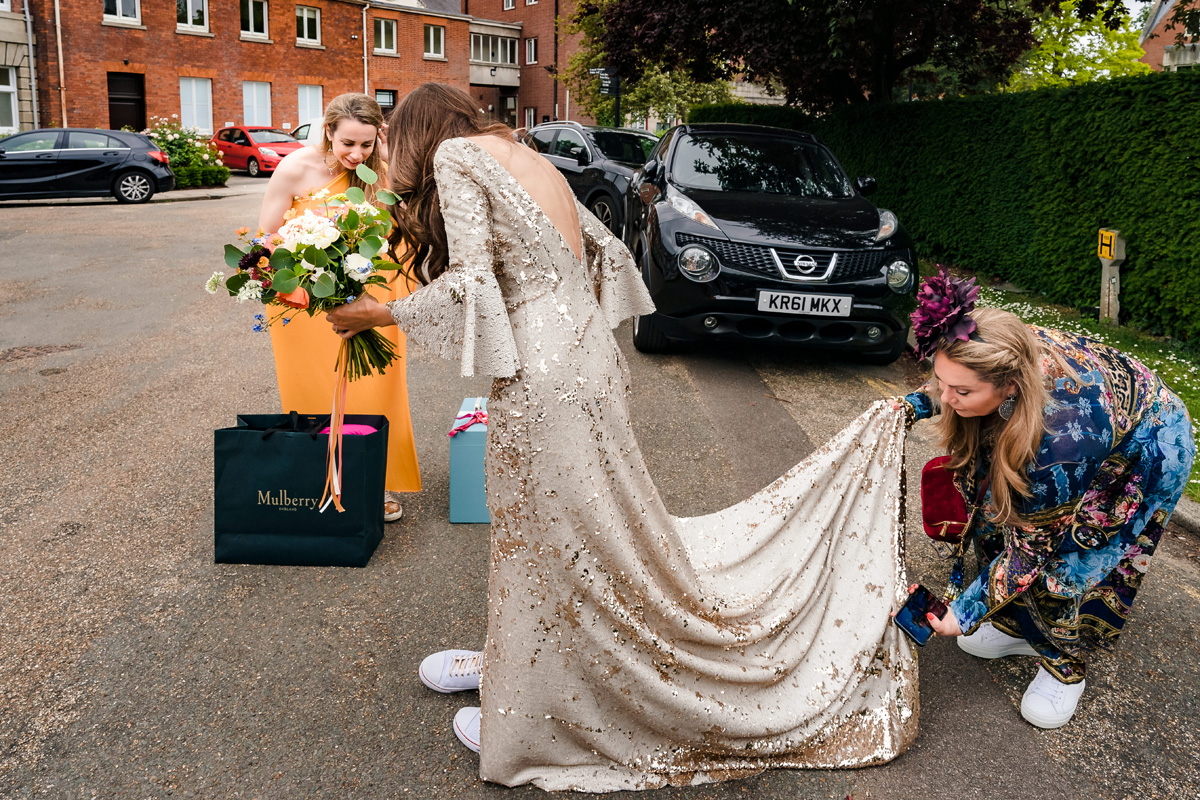 "Our love story has been a bit of a whirlwind, Mike and I met on March 23rd 2019, the exact date of my parents wedding anniversary, it must have been fate or my late mother playing a hand in my love life."
Find recommended venues and suppliers in our directory
"We were happily pregnant after 9 months of dating, and engaged a few months after that. Mike proposed in Dublin on a Valentine's weekend trip, where he had arranged for us to pick out an engagement ring from one of my favourite small businesses Chupi, it was very romantic but I was also suffering with intense pregnancy sickness. Little did we know at the time I had twins in my tummy."
"The pandemic has been a major part in our relationship, we had only known each other a year before Covid hit, so half of our relationship has been in lockdown, probably even more so with the morning sickness."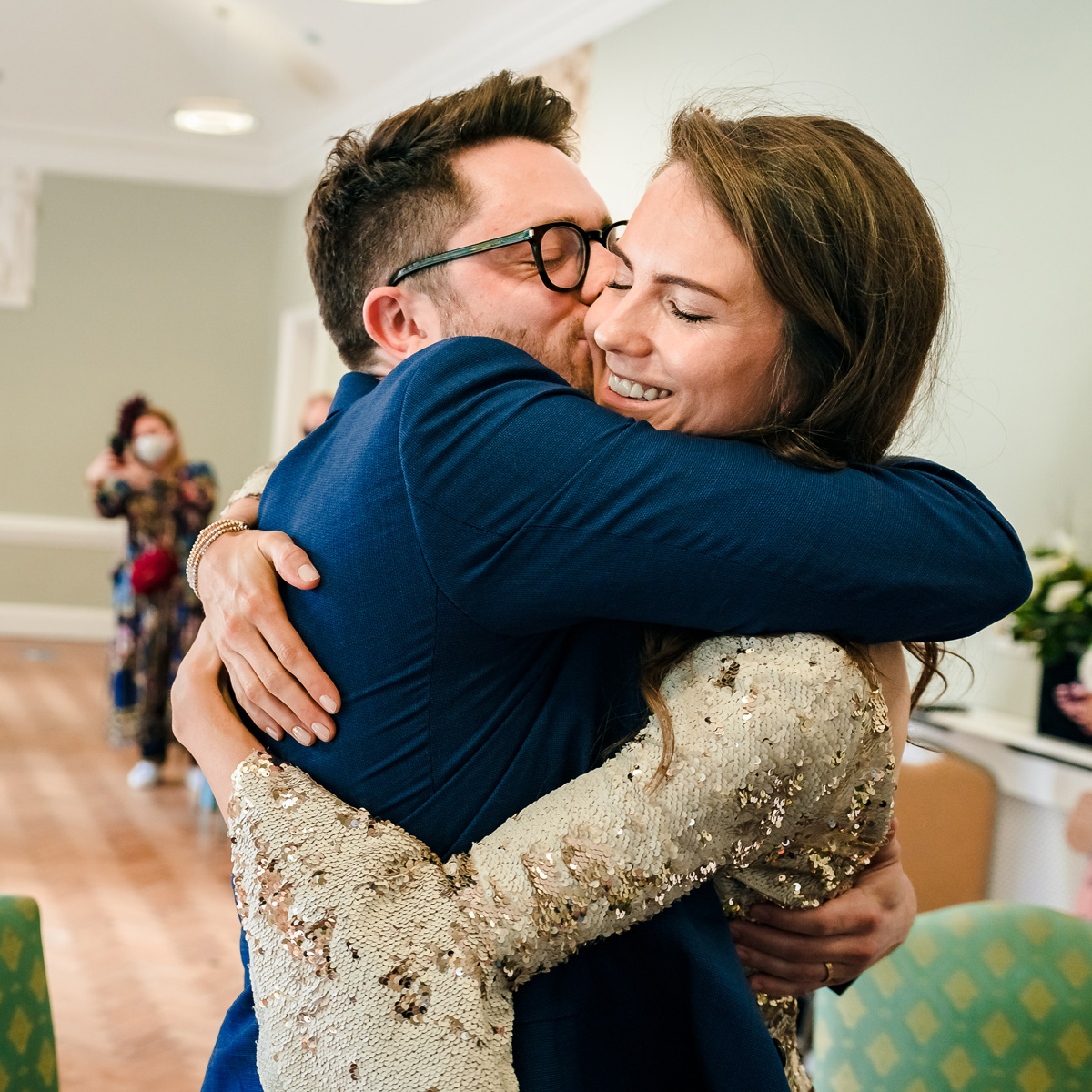 "My engagement ring and wedding band were from female founded small business Chupi. The engagement ring is grey diamond called 'You, me and Magic', my wedding band is called 'Crown of love'."
"Mike's wedding band is made by a small business called Rust Jewellery."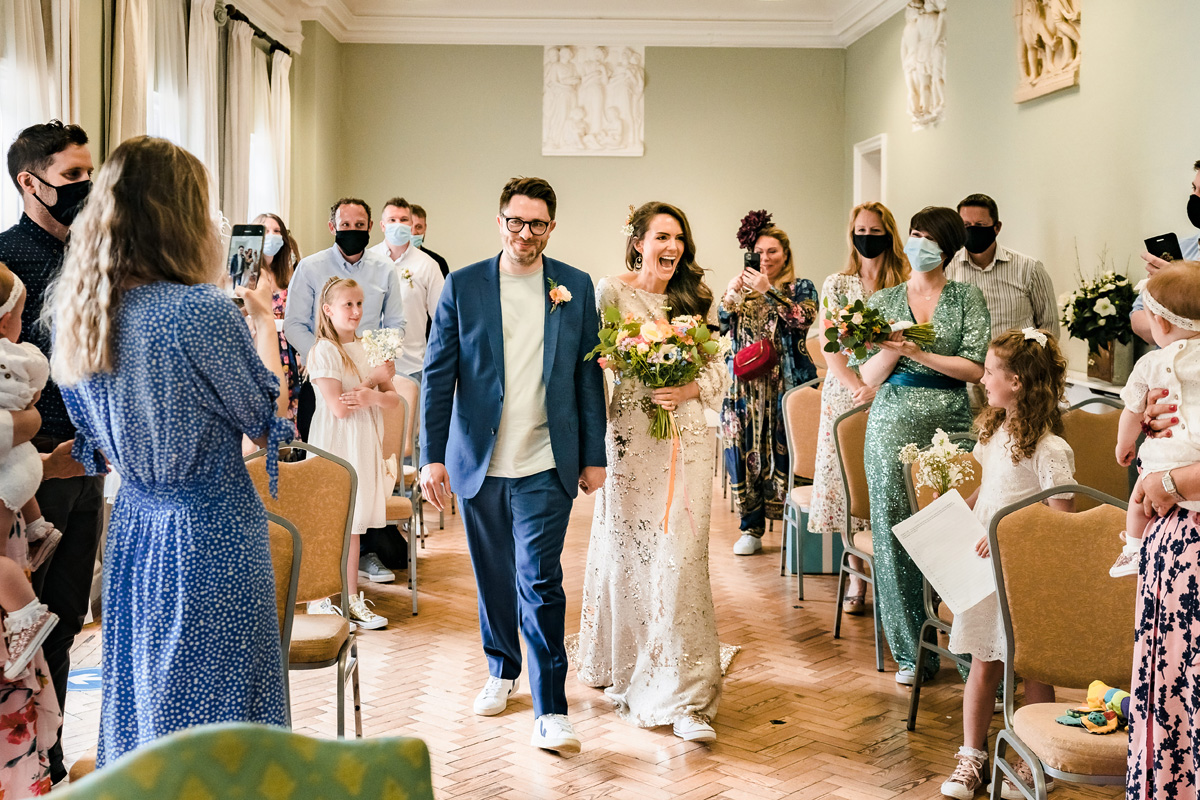 "We hadn't been able to celebrate the normal events, our engagement party was a dinner for two delivered by very sweet friends, and we had to tell all our exciting news via text or Facetime. We had decided it wasn't going to stop us from getting married either."
"Mike had asked me what I wanted for my birthday this year, and I said 'to be married' so we picked that day as it could double up as a little family celebration, especially as they hadn't even met yet.
"Sarah of Myrtle & Smith is a friend and another female founded small business owner who I wanted to support. I dreamt of having Icelandic Poppies and forget-me-nots (a nod to my late mother) but knew they might have been out of season, however she made my dreams come true and not only that 90% of my bouquet was grown locally."
"She included Rosemary also as a symbol of remembrance to my late mother. And added colourful ribbons to the bouquet."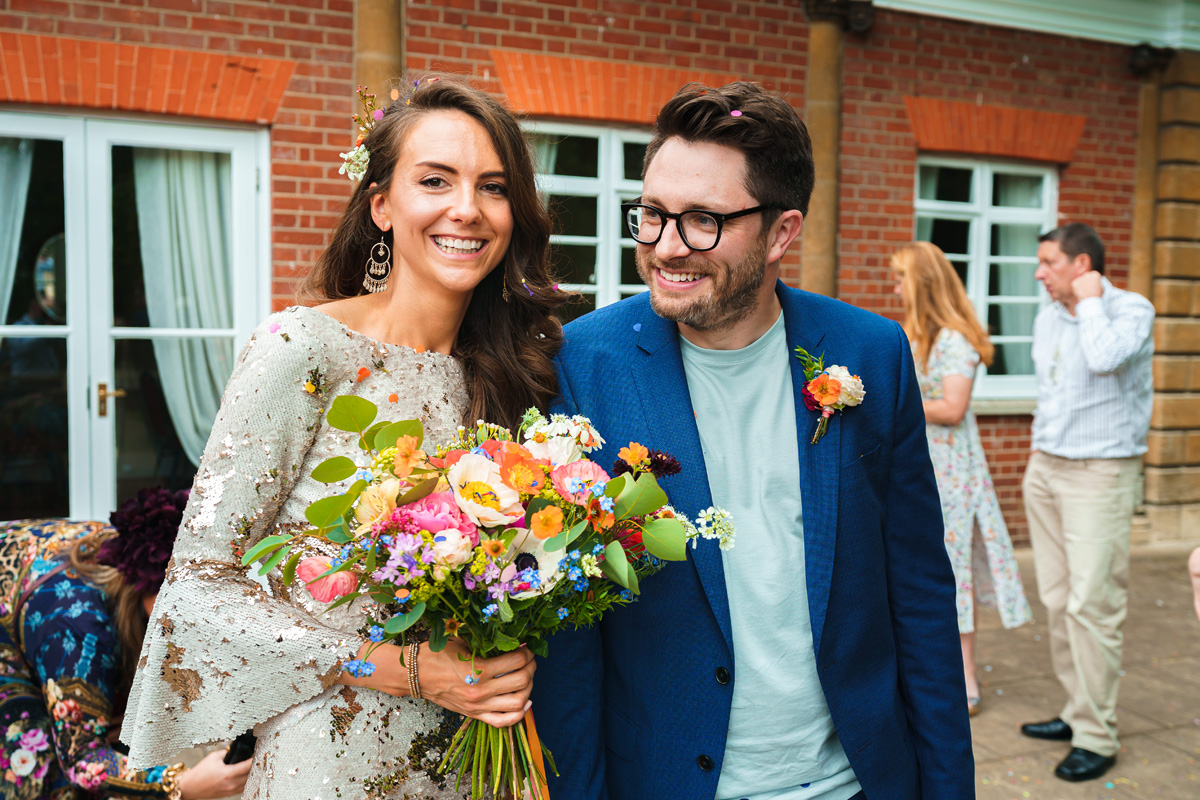 "I live my life in trainers so I knew my wedding day wouldn't be different, also the day would involve a lot of walking and carrying babies, so I needed to be comfortable. I commissioned Emma Giacalone, another talented female founded small business to embroider some wedding shoes for me."
"On one side they said 'walking into happiness' the other side said 'Mr & Mrs Dunkley'. The had rose gold laces to tie in with my dress, they were SO comfortable! I've worn them many times since too."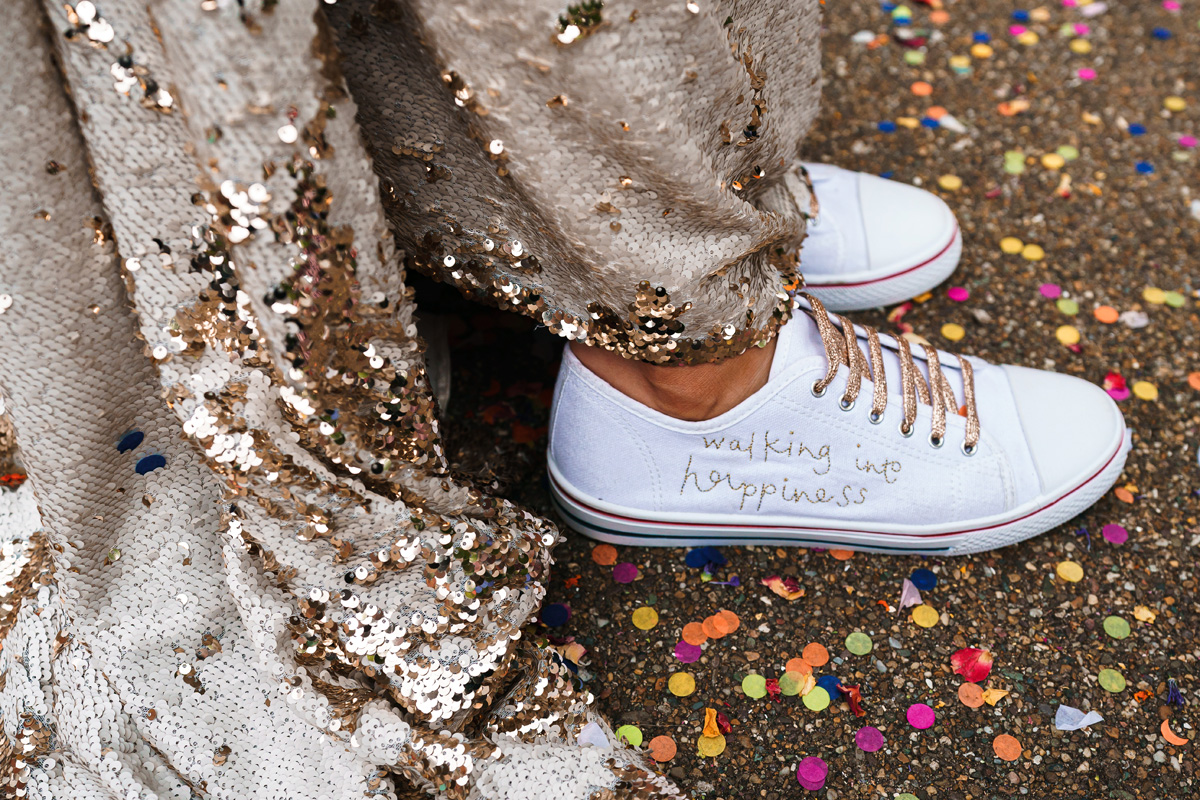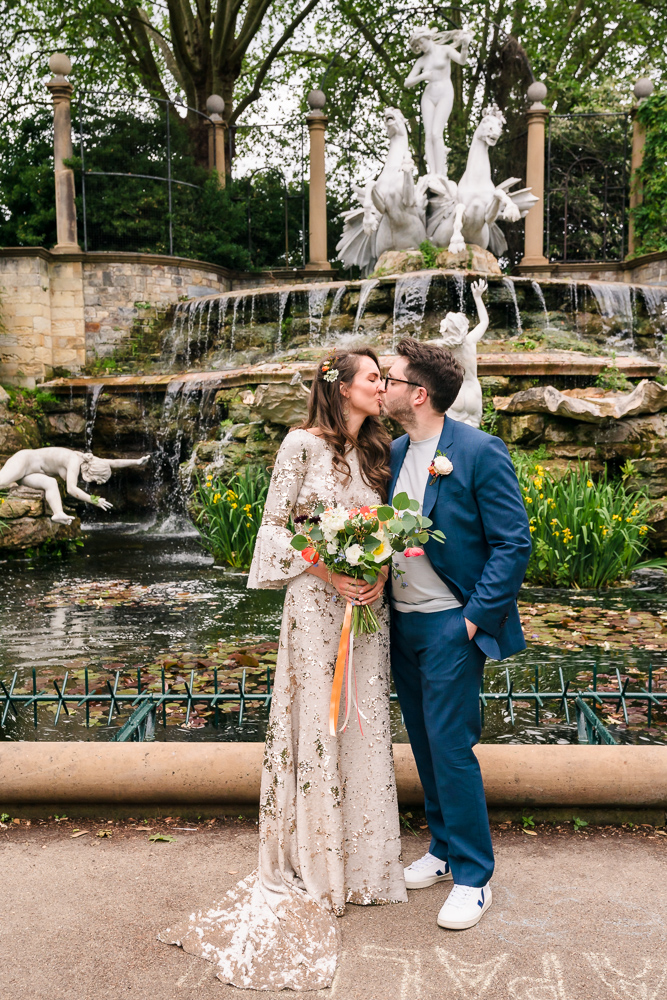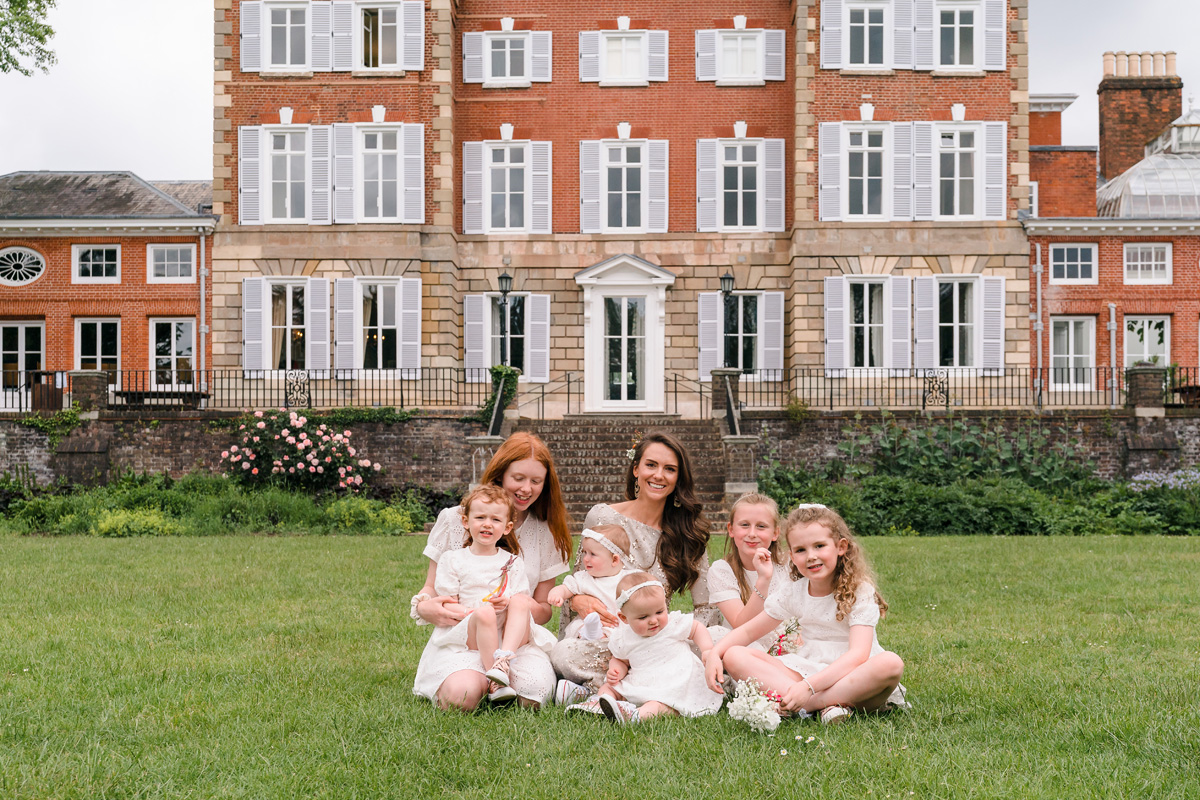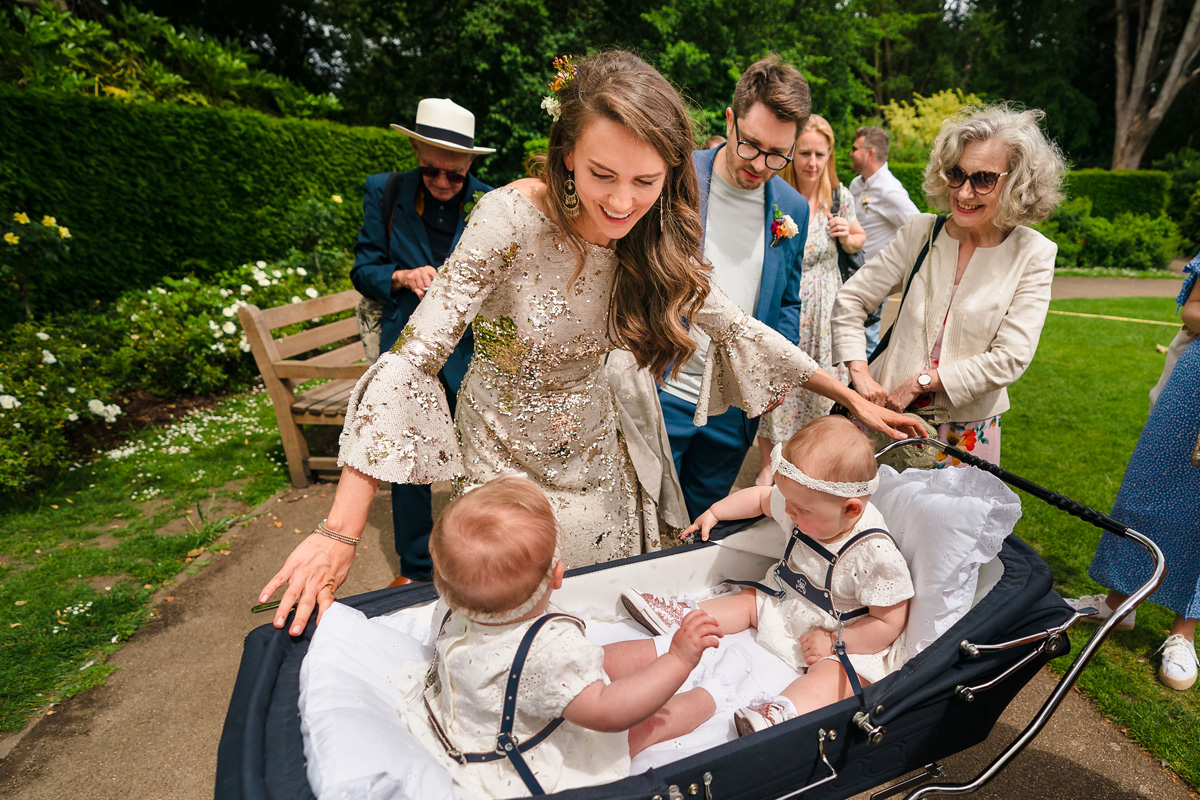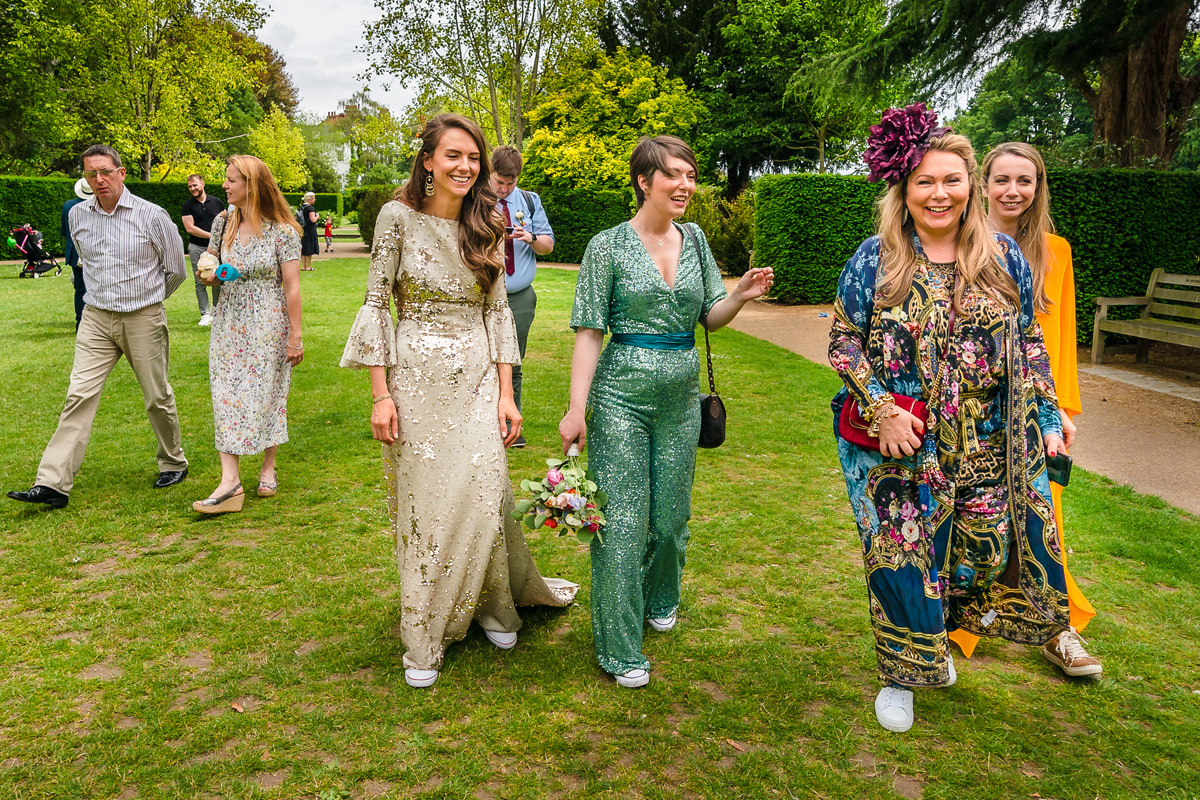 "One of my favourite moments of the day was spontaneously hopping on the ferry across the river to Richmond Hill, they even let us push the pram on, it was the babies first time on the river. Hammertons ferry is a wonderful local service, and only £1 per trip."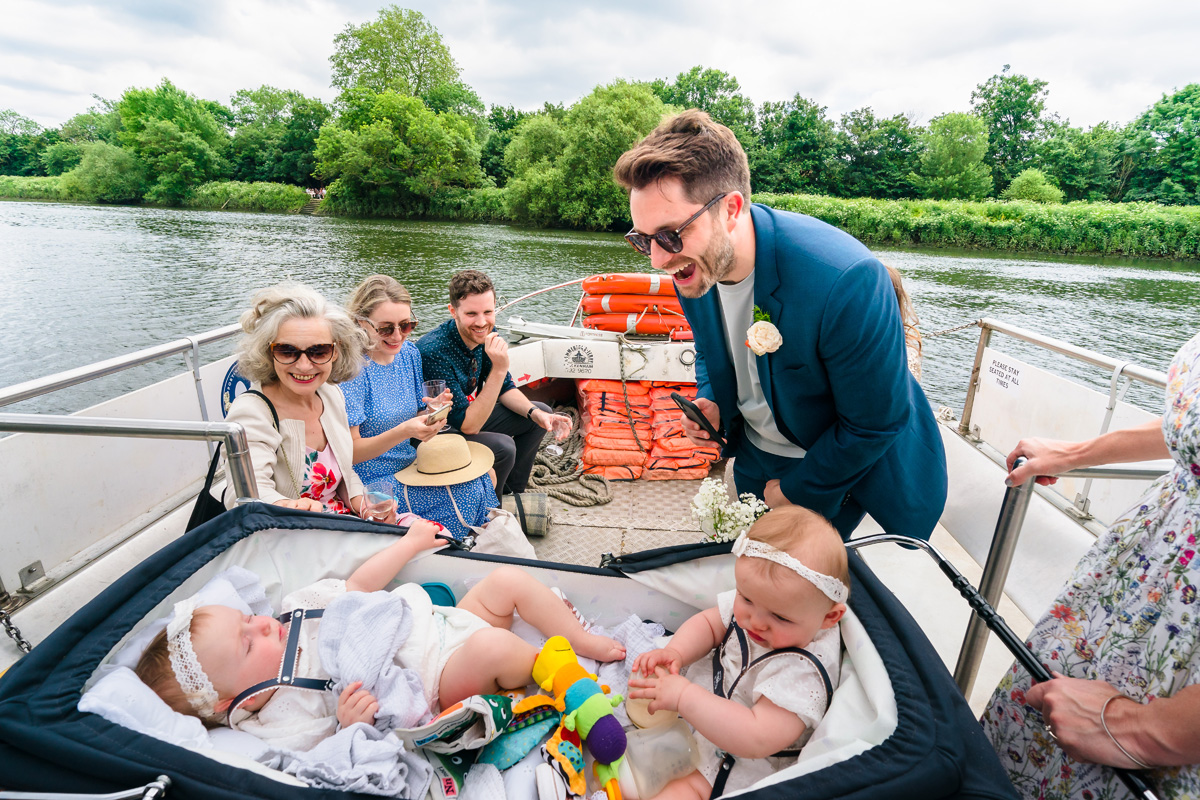 "My main wish for the day was to to have a picnic in my most favourite spot in the world (David Attenborough's too!) on Richmond hill, so the plan was to walk there after the ceremony following the river along the way with a few impromptu pub stops along the way."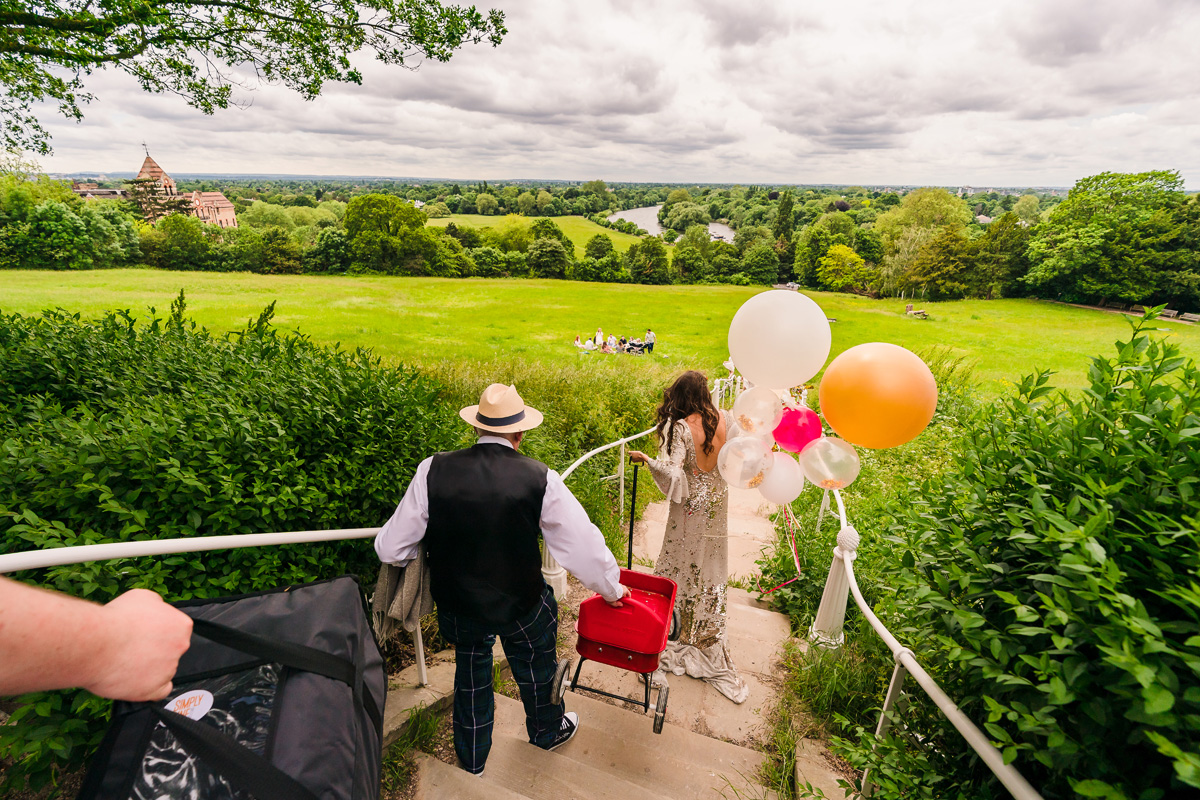 "We made our picnic, but ordered pizzas in the evening by local independent pizza shop Luna di Luca, in Richmond."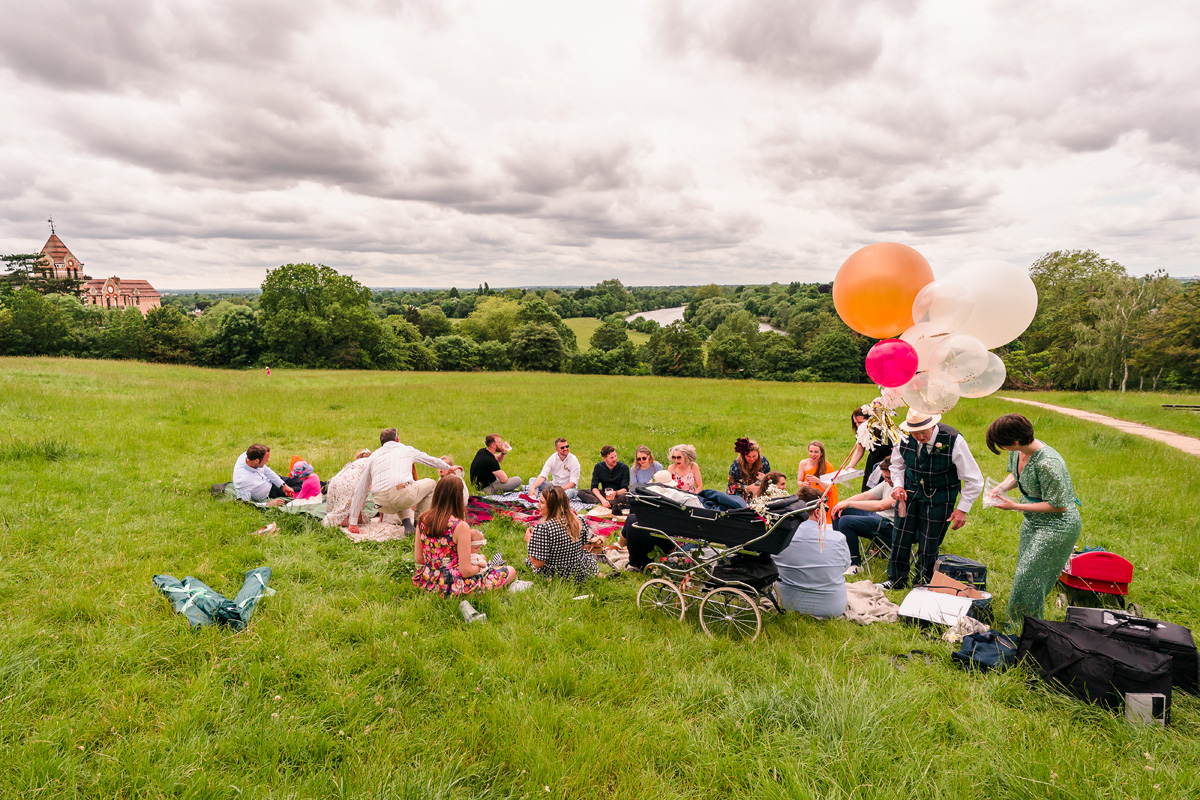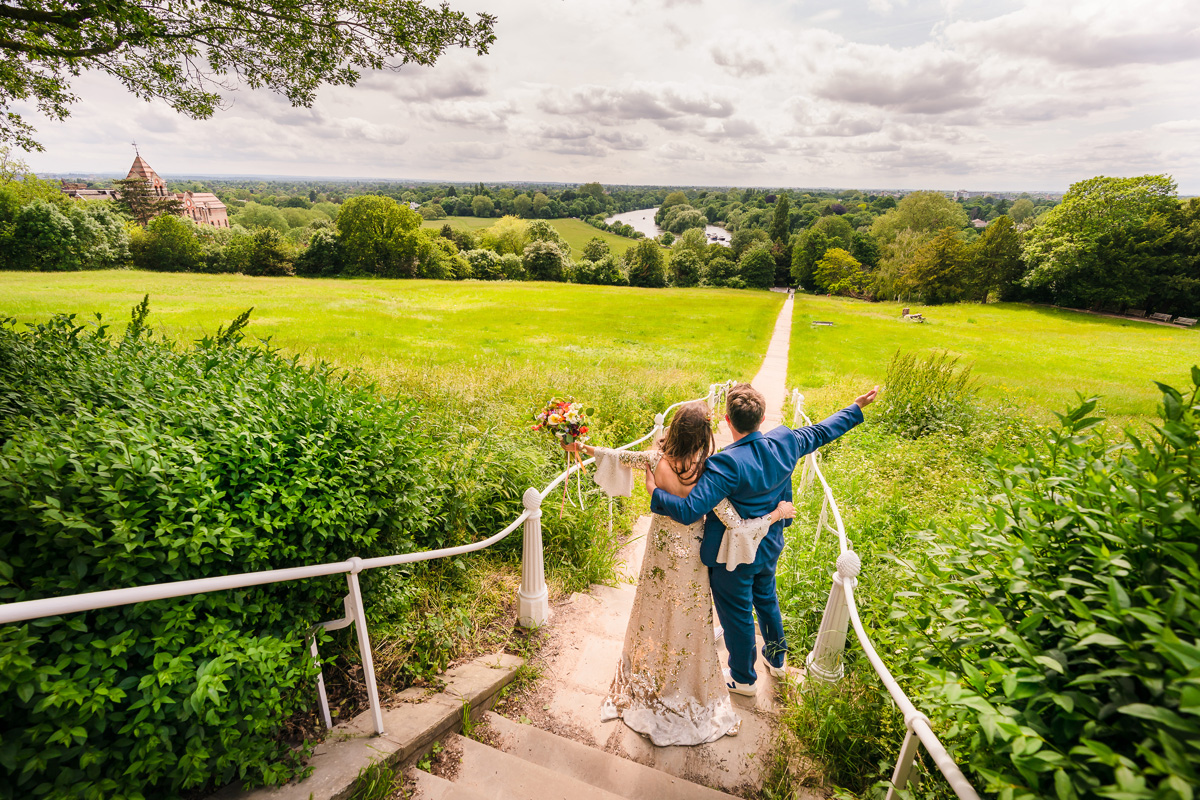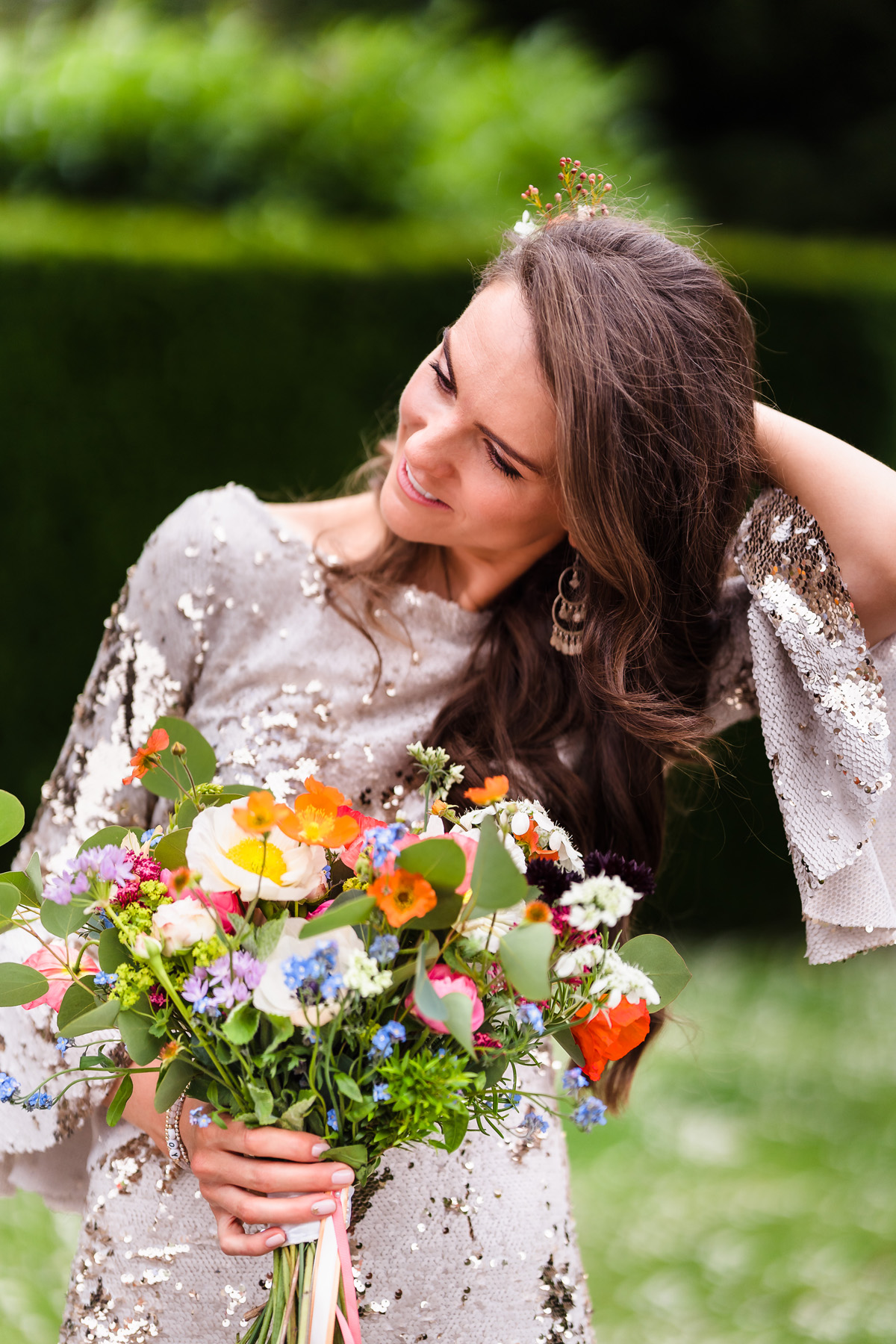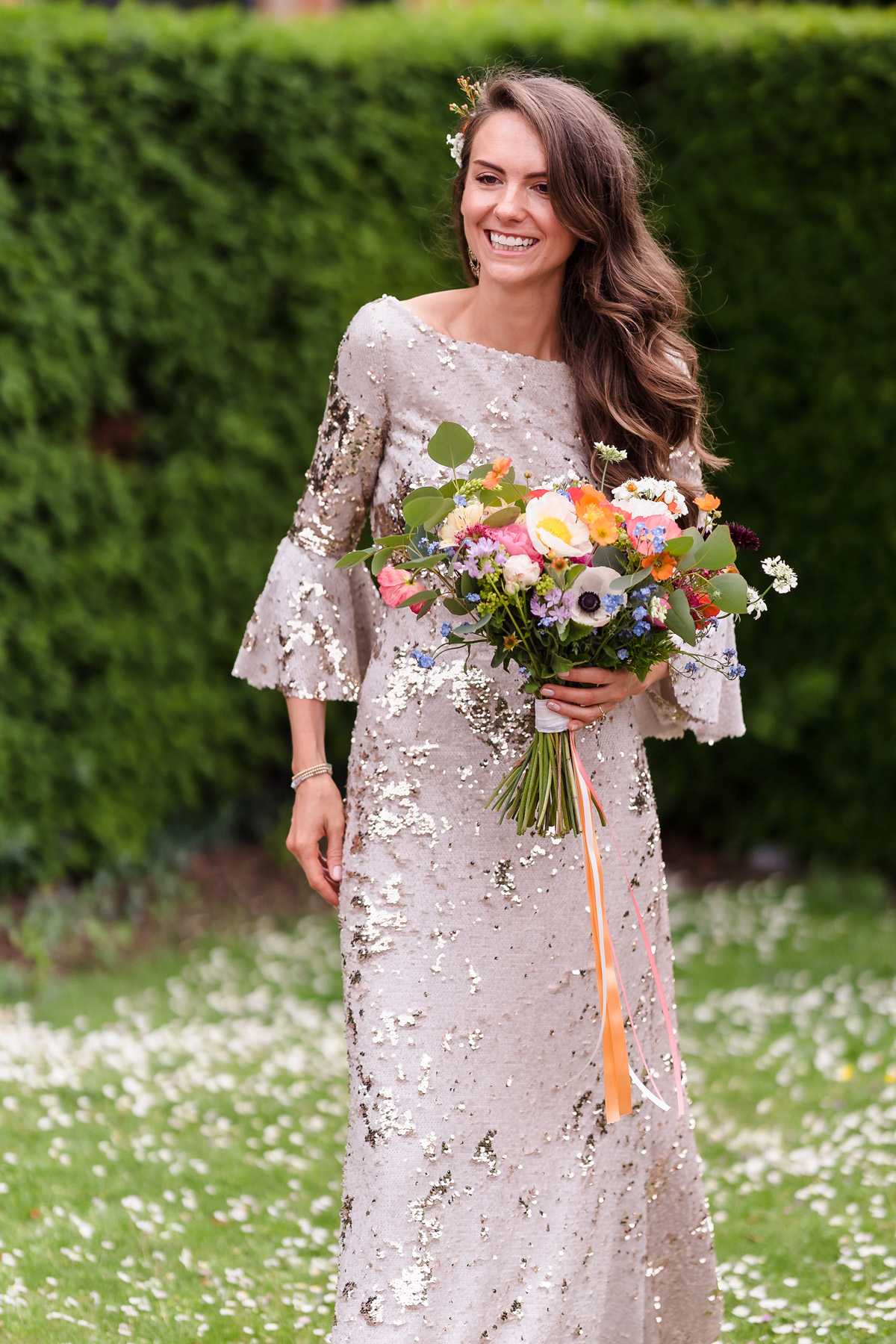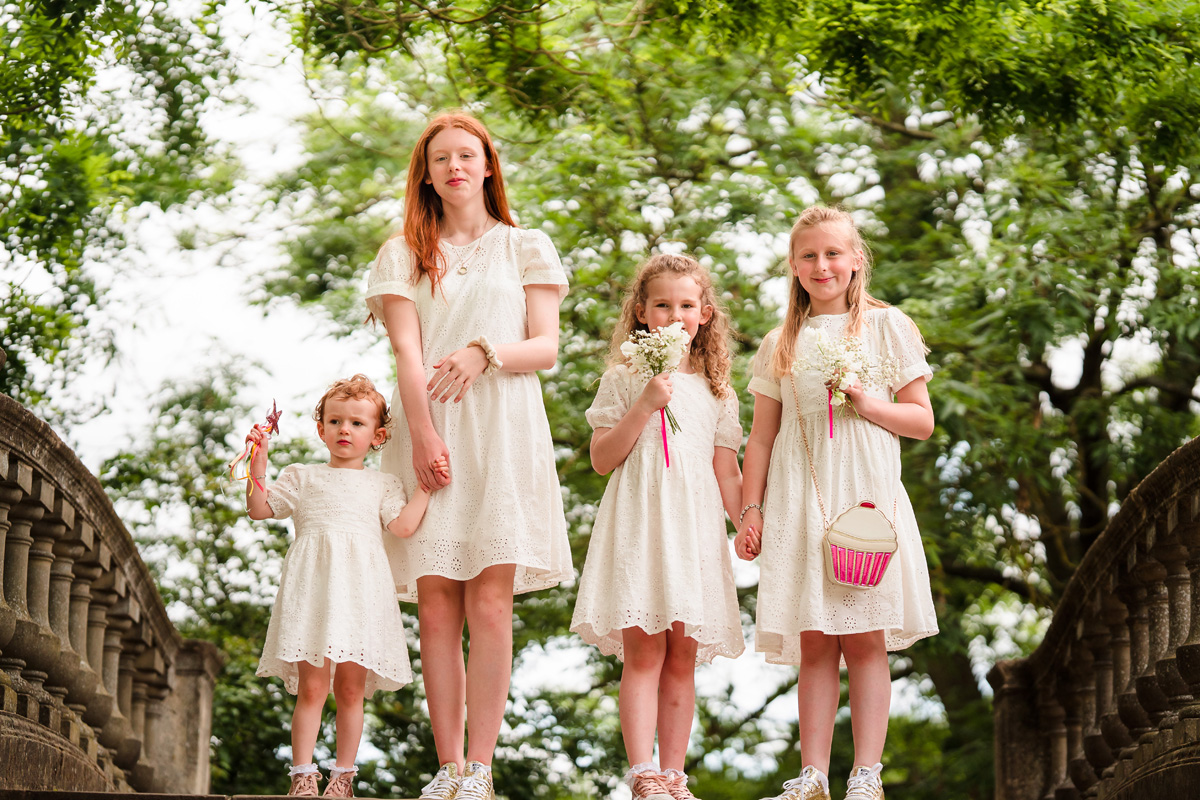 The couple hired family friend and professional wedding photographer Steve Bagness to take their photographs.
"I really didn't want staged traditional wedding shots and also felt strongly and not making my guests waiting around whilst we were having our photos taken. We all wanted to get to the pub for our first drink."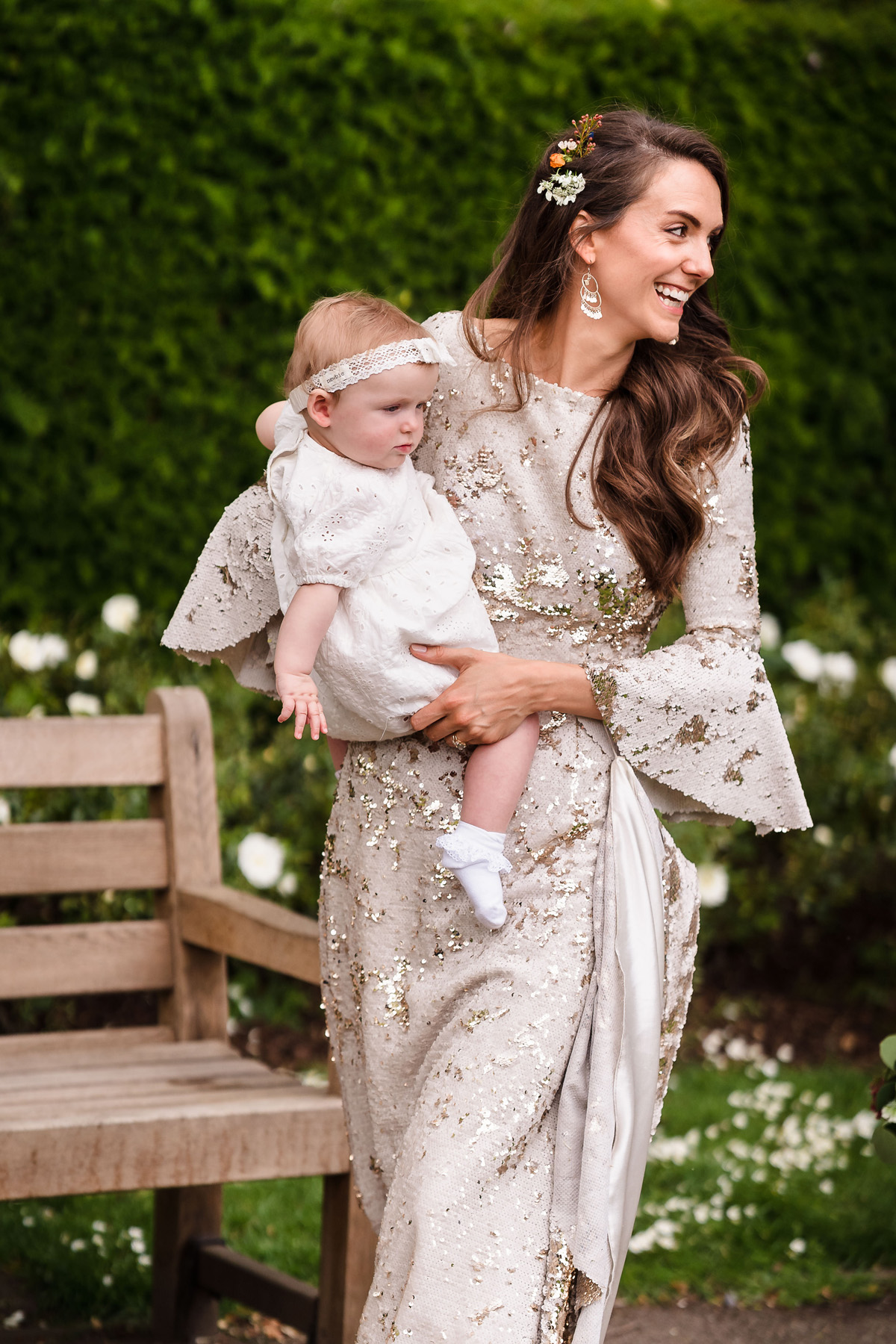 "I almost didn't want to not even notice the photographer on the day, which was so brilliant with Steve. He captured all the magical moments in a wonderfully candid style and we always feel so relaxed in his company."
"He really captured the joy of the day."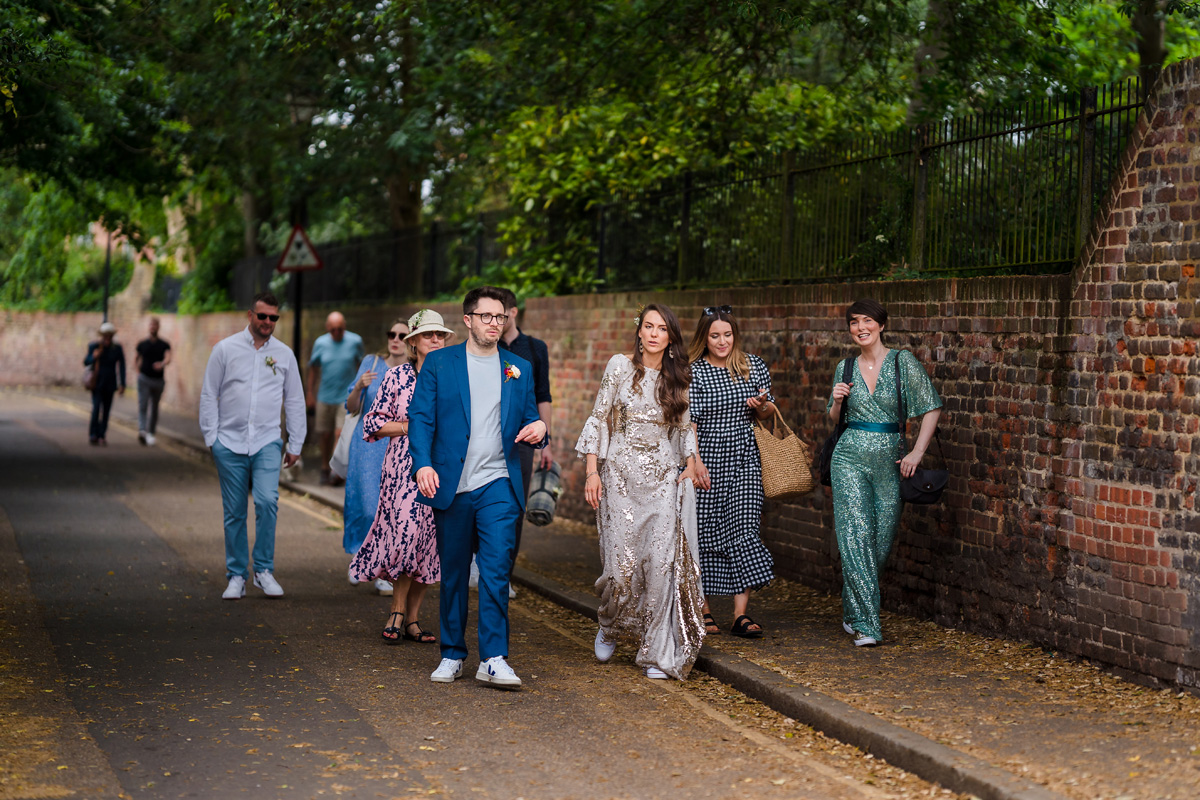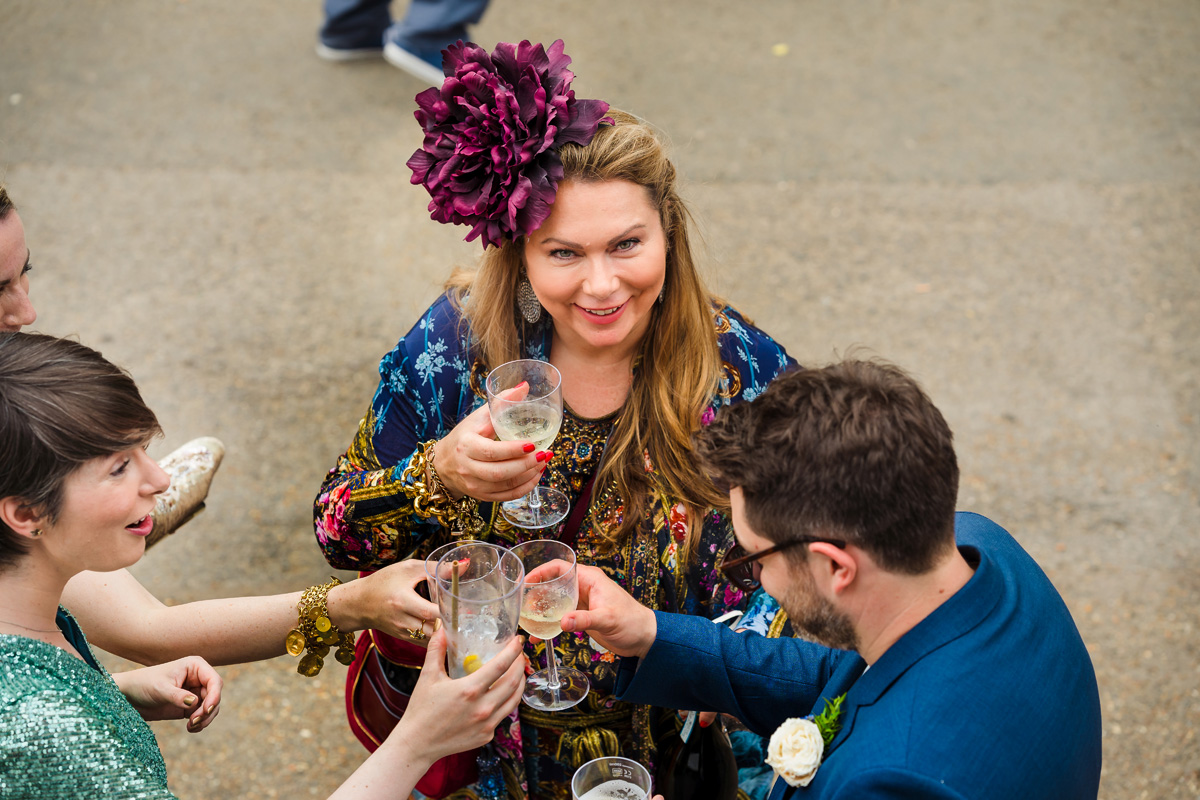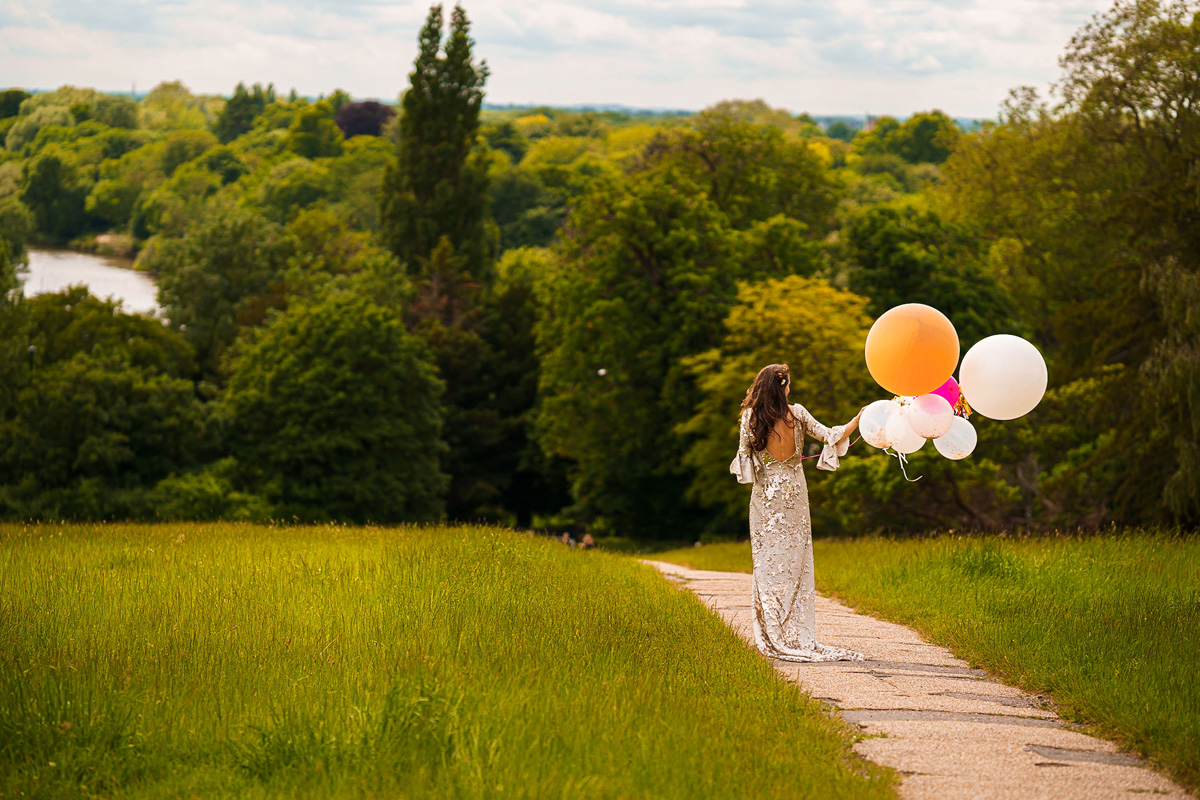 "Mike wore a Hugo Boss suit with trainers by vegan brand Veja, and pizza socks from Happy socks; Mike's biggest client is dominoes pizza so it was a tongue in cheek gift from me."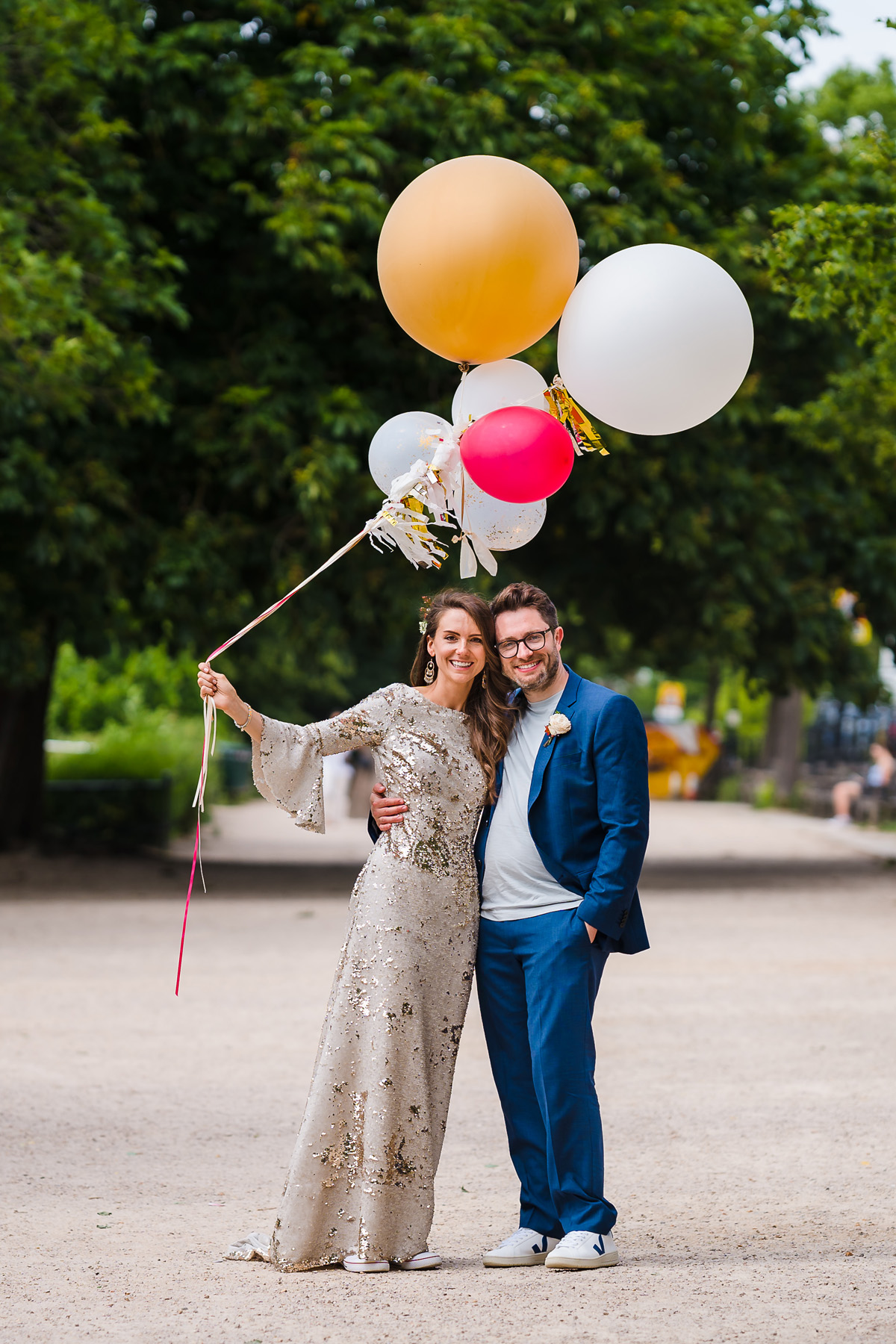 I was inspired by Hannah Weiland, the founder of Shrimps, wedding – she had a tiny traditional pub set up at her wedding that served drinks to her guests."
"So we turned my garden office / shed into a pub, I painted a sign which said the Dunkley arms and we served frozen 'Mikegaritas' and soft serve 'Dunkley double scoop' ice cream from the window."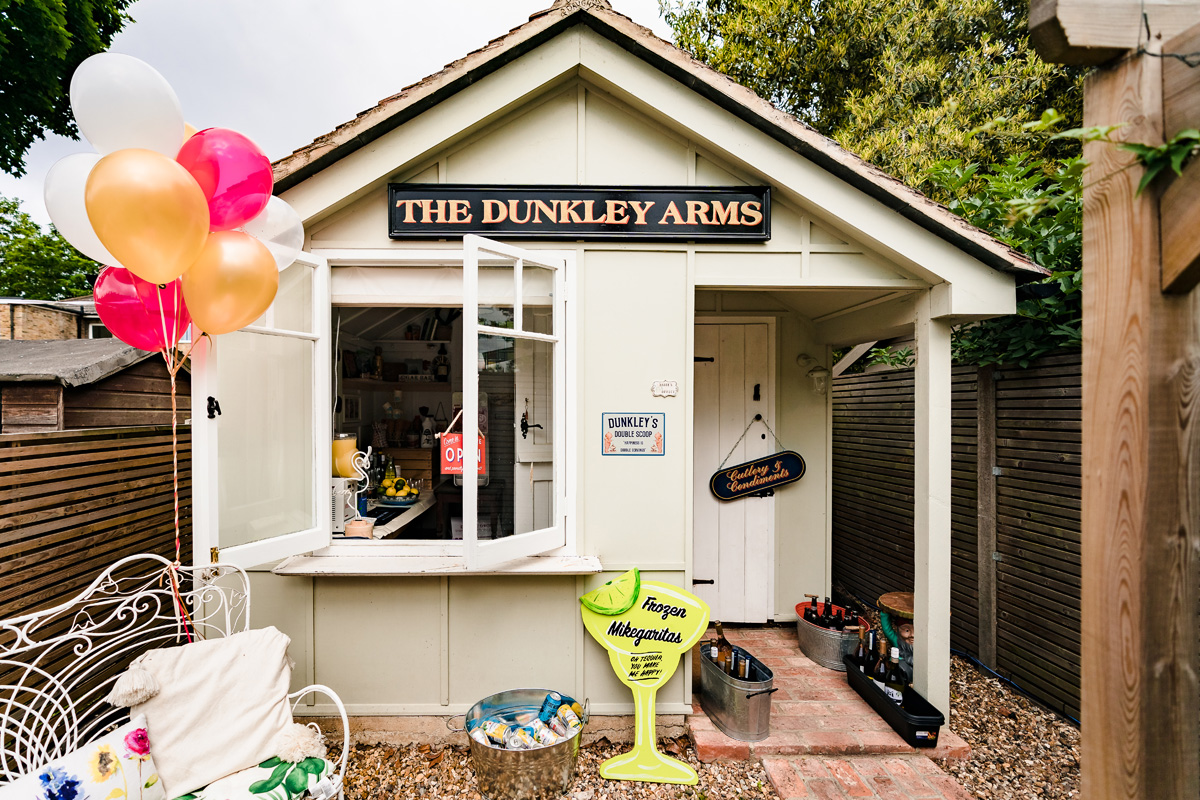 "We splashed out on some things to make the day feel more special, because there was less people to cater for – so we bought our favourite drinks – Nyetimber sparkling wine & whispering angel rose."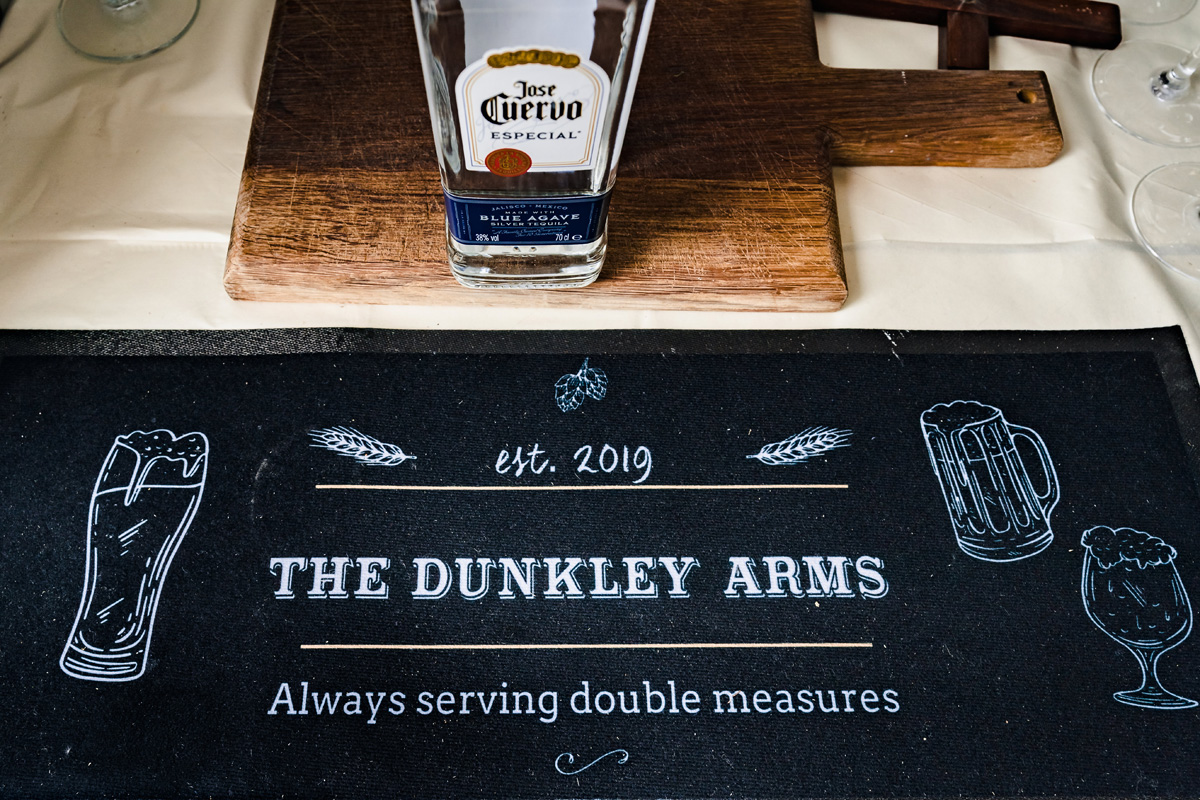 "We wanted to spend the evening back at our house, as we have young twin babies, and they needed to be back in bed. We had set up the garden as a pub and the lawn became a dancefloor!"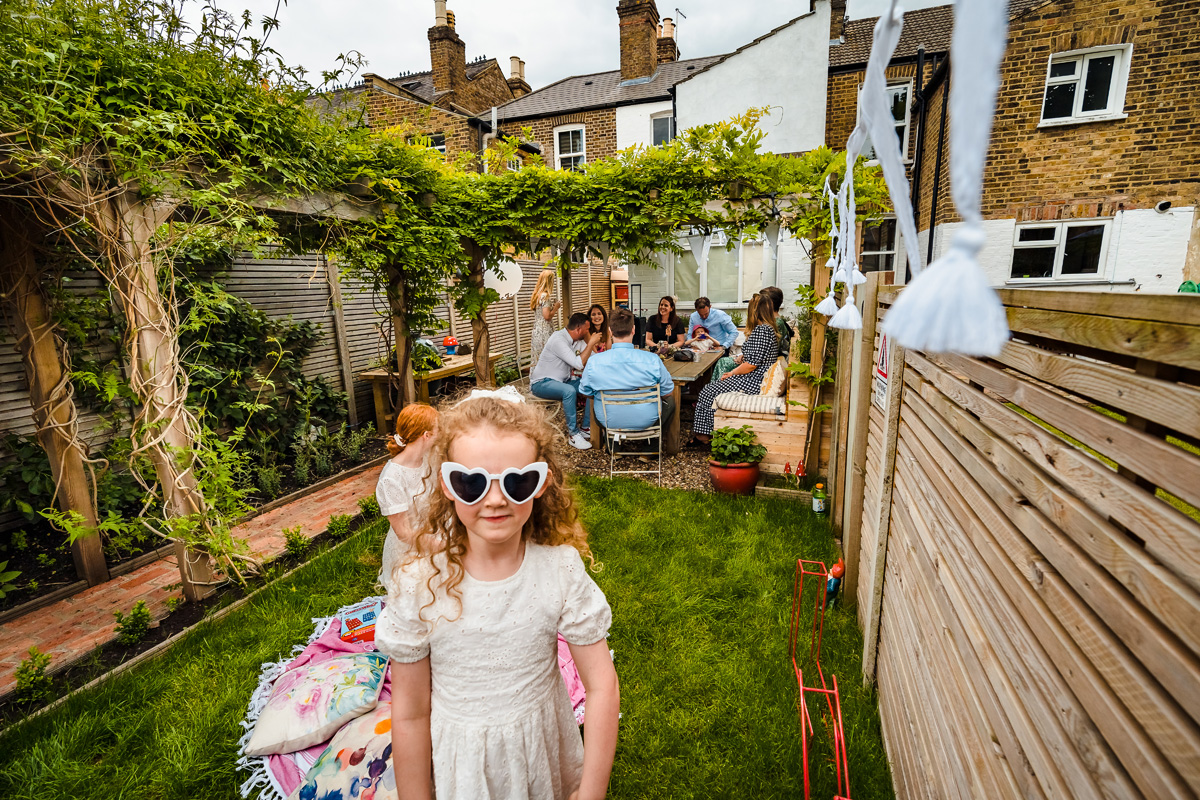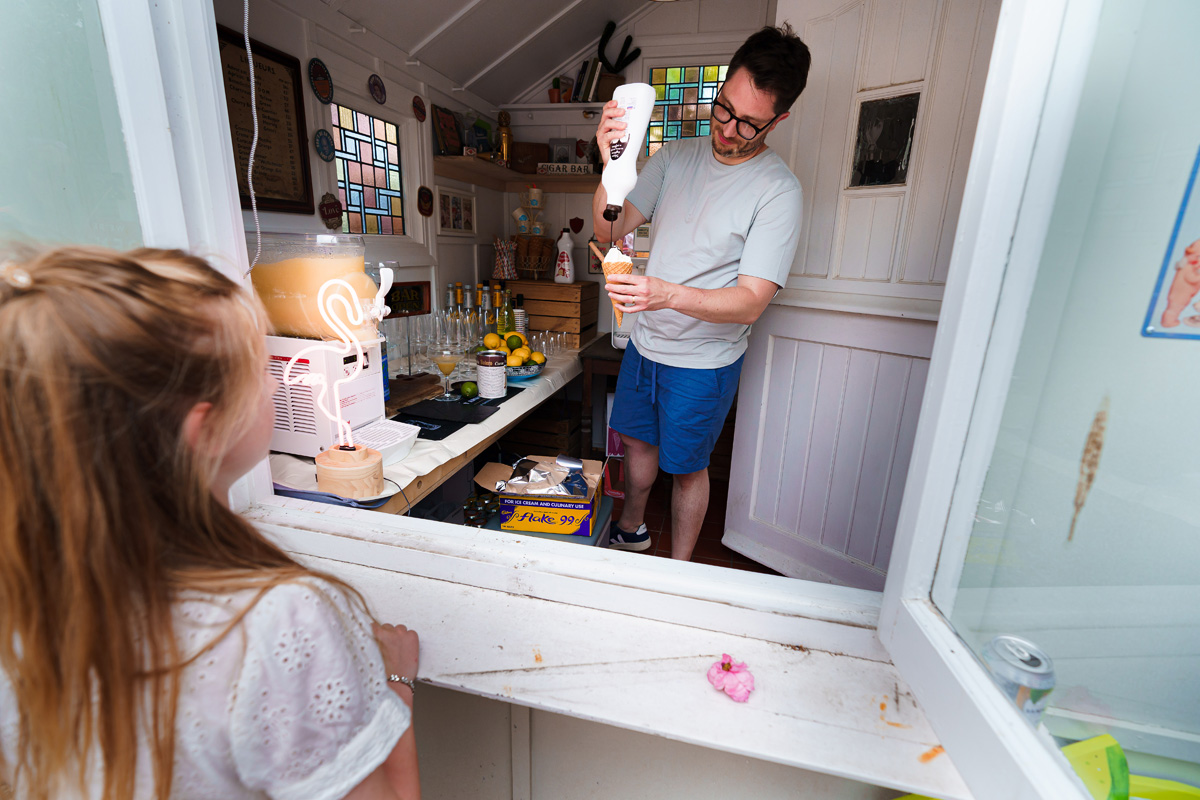 "I created all the wedding programmes, and had practised my calligraphy for all the tiny details."
"I had decorated the house with a few small business simple decorations, ones that I will treasure as keepsakes or use again for future celebrations. We had bunting, balloons, and lots of forget me not flowers."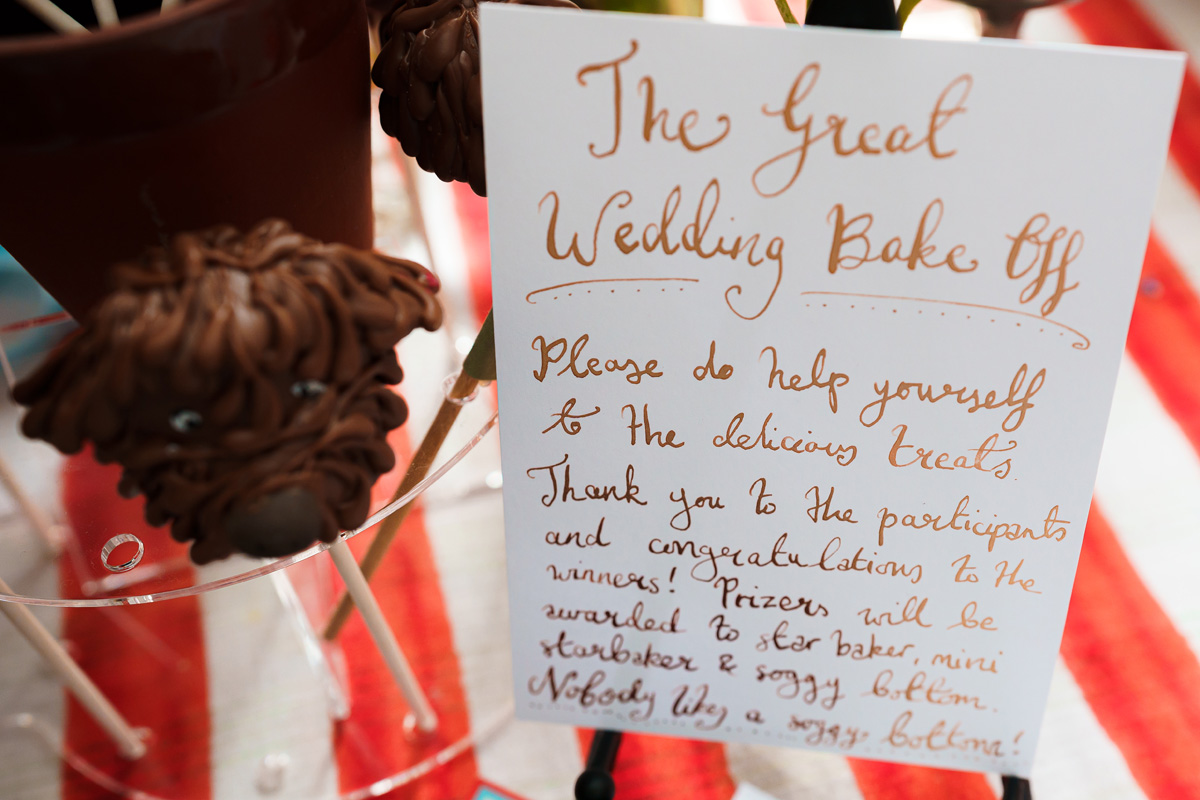 "I made piñatas of our own heads, which I filled with custom love hearts and sweets, which my nieces had great fun whacking and then eating!"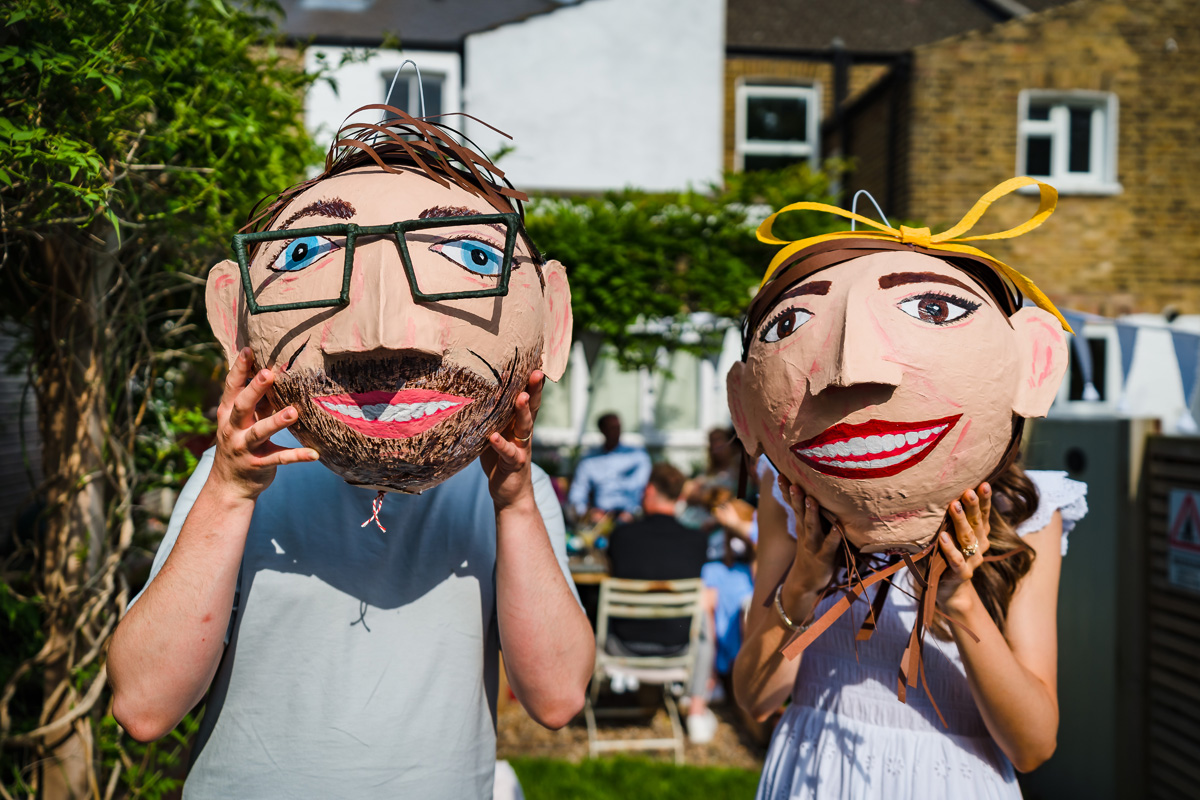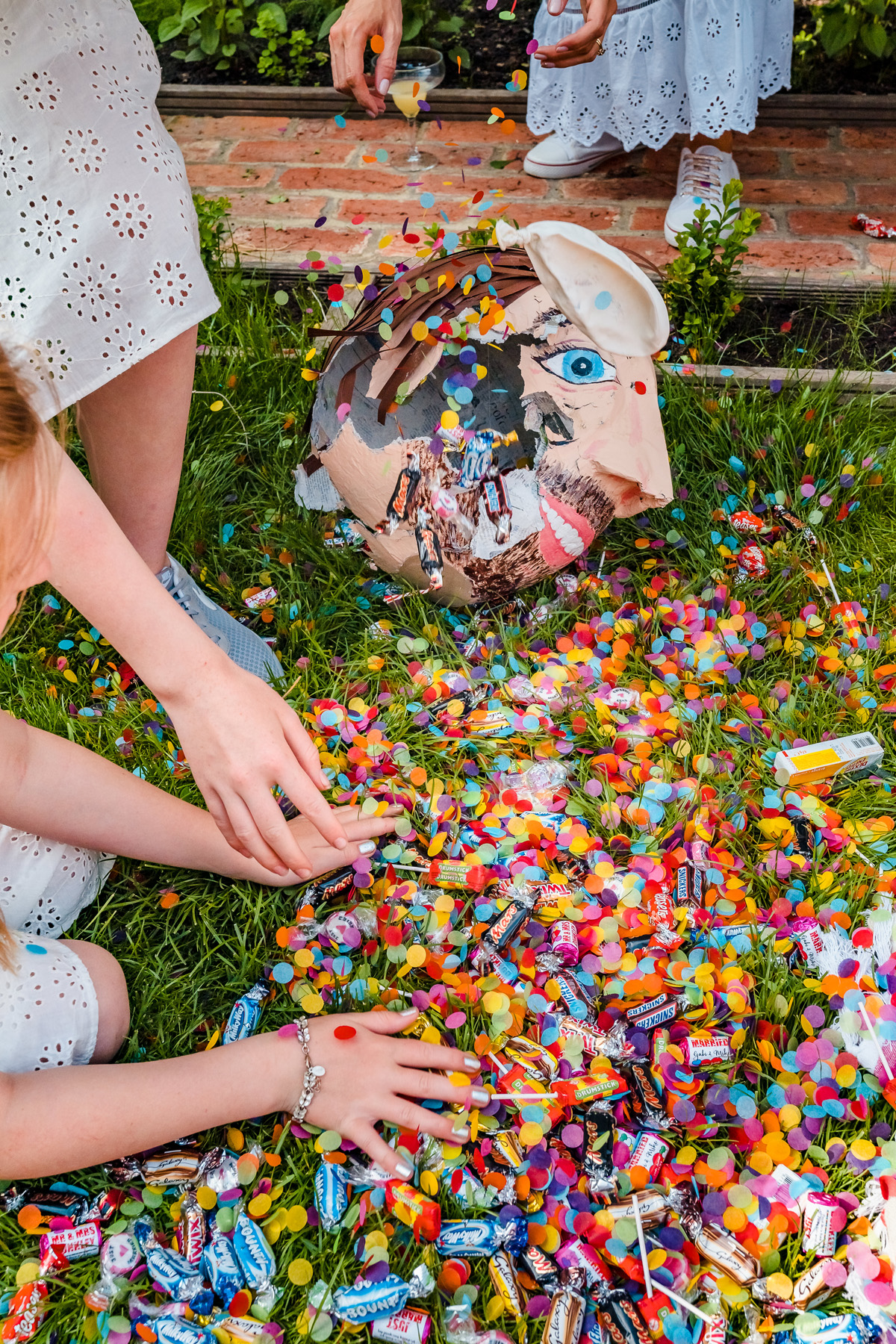 "Mike's dad was DJ! Him and Mike's step mum Suzie are professional jive dancers (named Spinnin Jim & Swingtime Suzie so they warmed up the dance floor too!). Our playlist was so brilliant that all our neighbours were asking for it after the wedding."
"Usually I think people would complain about the music playing loudly in the garden, but as it was Covid, all our neighbours said it was so lovely to hear people laughing and having a good time. Some neighbours said they were out in the garden enjoying the music with a glass of wine!"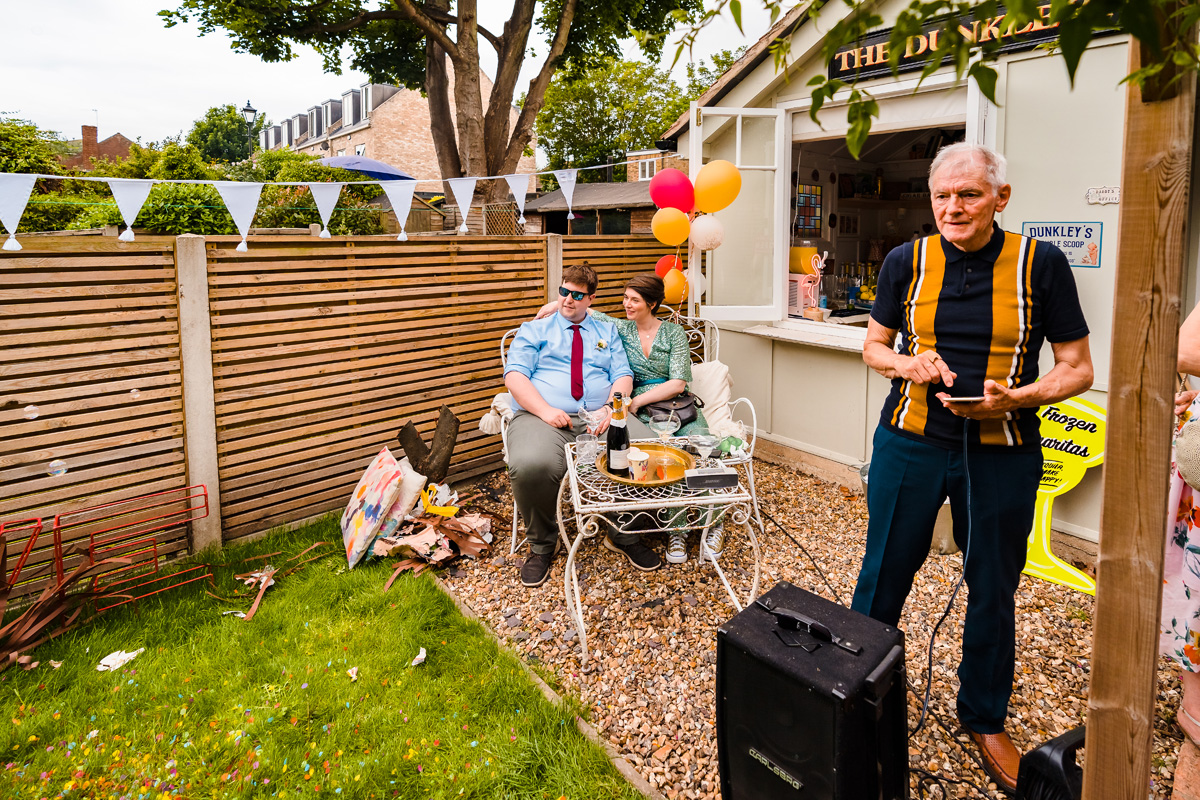 The couple danced to 'I Only Have Eyes For You', by the Flamingoes; "It was a song that we fell in love over. We both love vintage music, and the first present Mike gave me was this song on vinyl."
"We are vinyl enthusiasts so for our wedding gift, we asked everyone to bring a record for our record collection. One that they loved or something they thought we would love. We included a sticker for them to write the reason why they had bought it for us."
"They were the best gifts as they were all so thoughtful – they all represented our stories and we had great fun reading through them and playing them in the days after the wedding."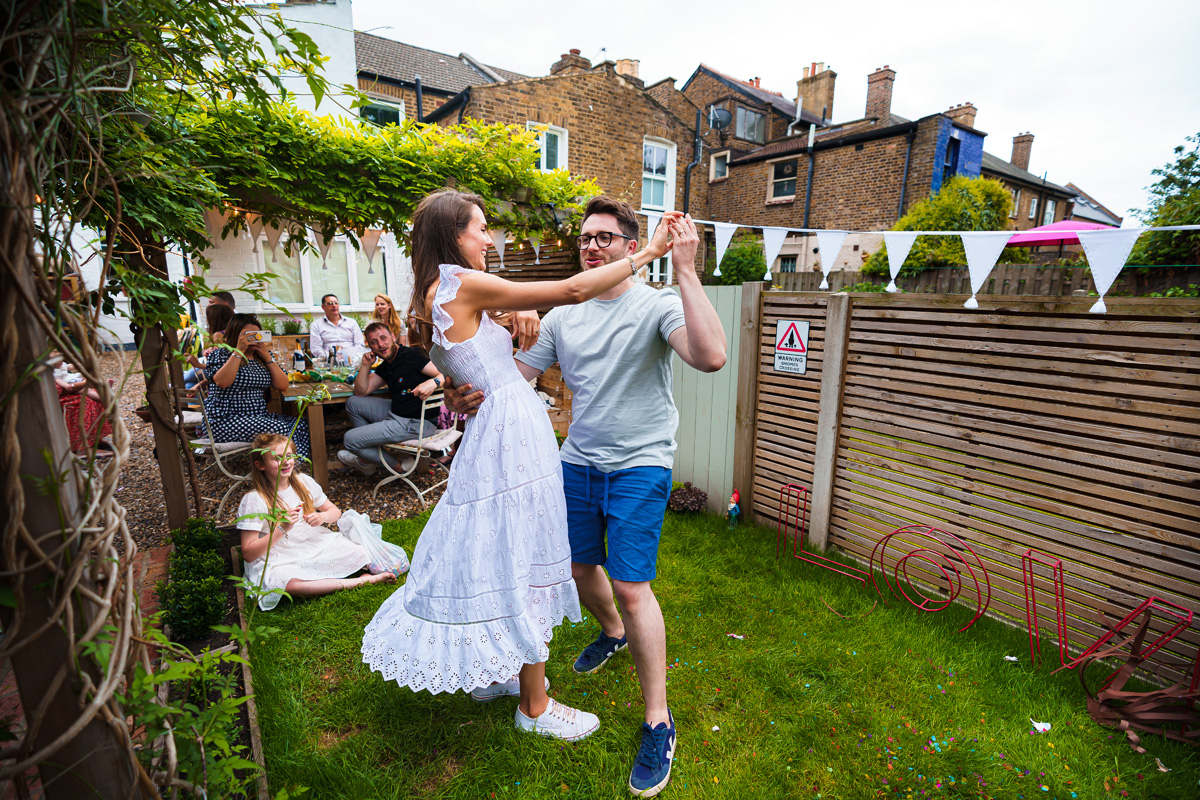 "We bought all our alcohol from Bookers, we had pizza for dinner and we had a wedding Bake off where everyone bought something to enter in our competition."
"We had prizes for star bakers and soggy bottoms! This meant we had plenty of food to go around too, everyone had lots of cake to take home with them."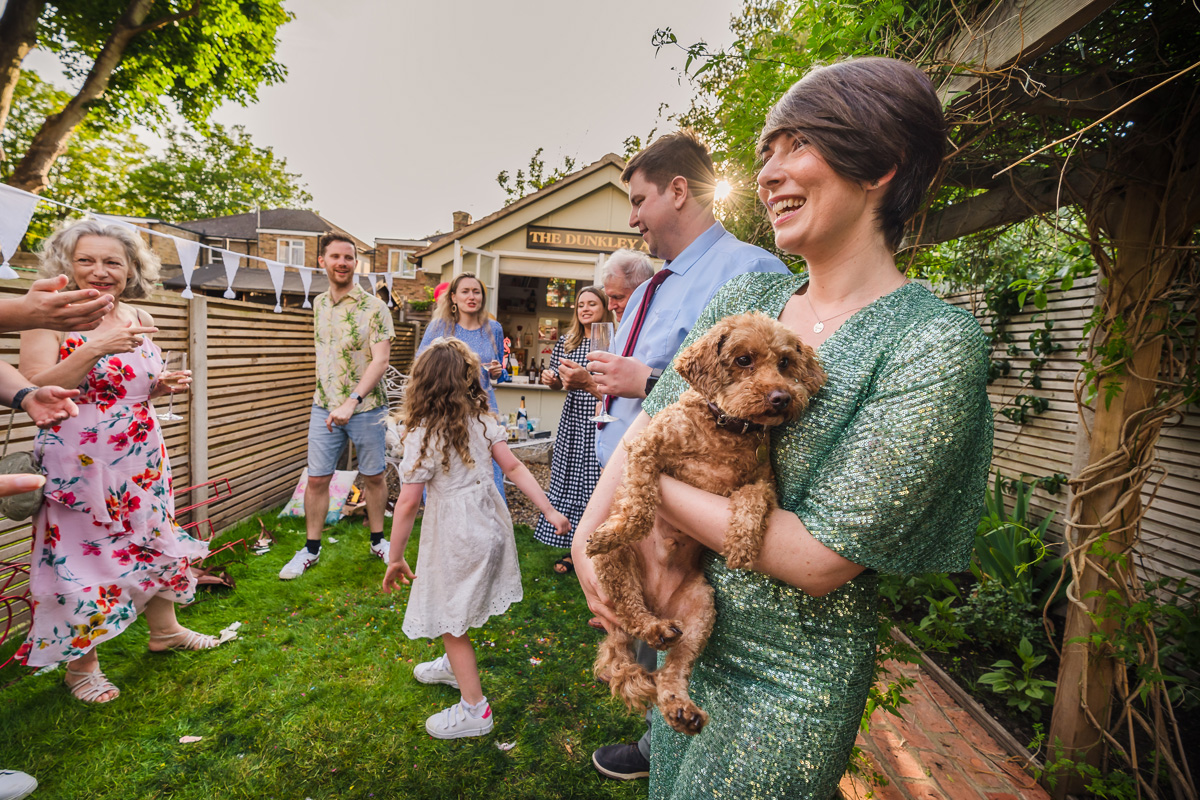 "Mike works in the catering equipment industry so managed to get a frozen margarita machine and a soft serve ice cream machine to serve up delicious if not dangerous treats throughout the day. I love to create a logo so had fun designing up stickers, signs and tubs for the occasion."
"Mari Bakes, another female founded small business and friend, made our wedding cake. I wanted something that was fun and represented us! I have a love of Gnomes!"
"So suggested we have a gnome wedding cake, which she made come true. She even made a bark log for them to sit on with our initials carved in the middle of it."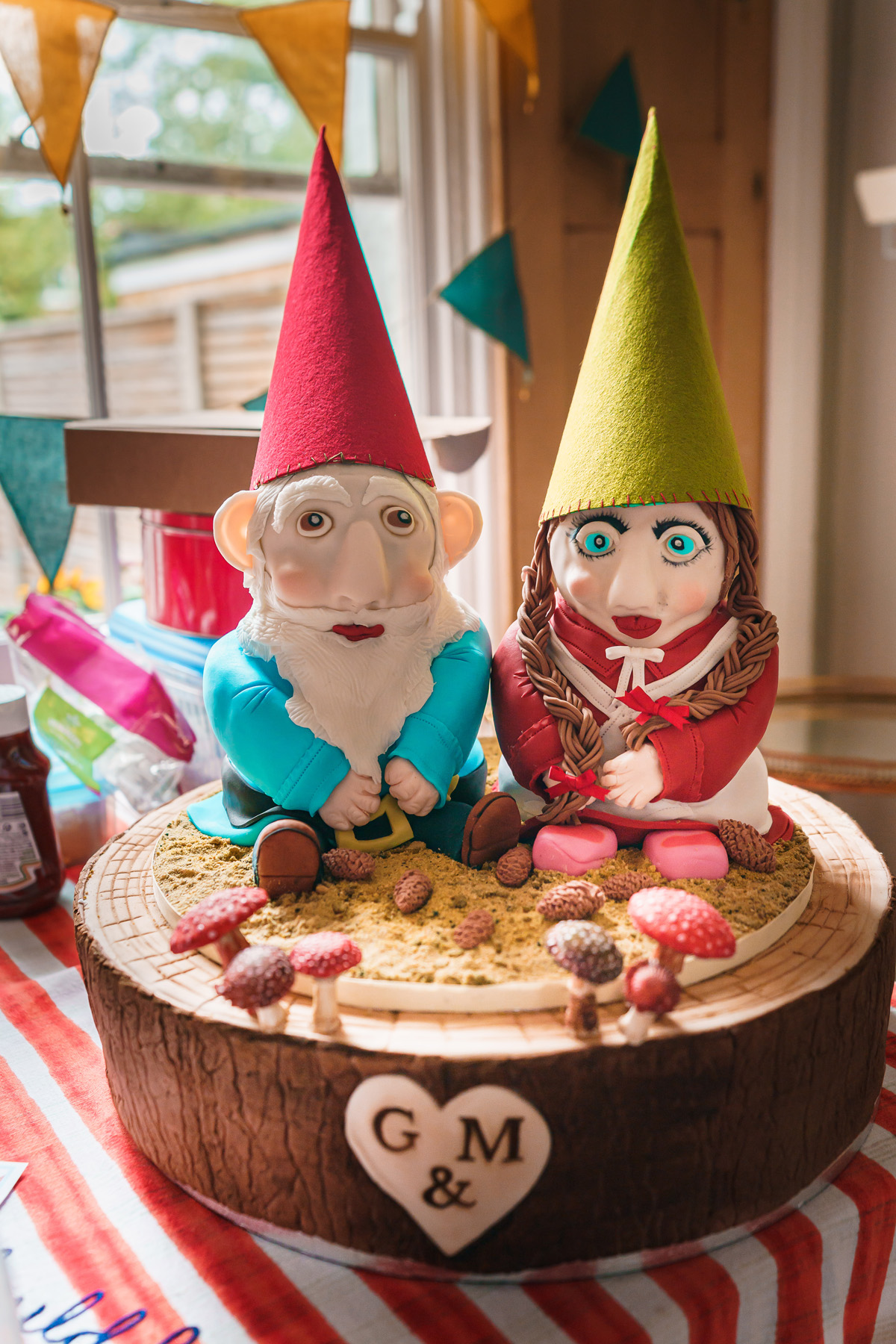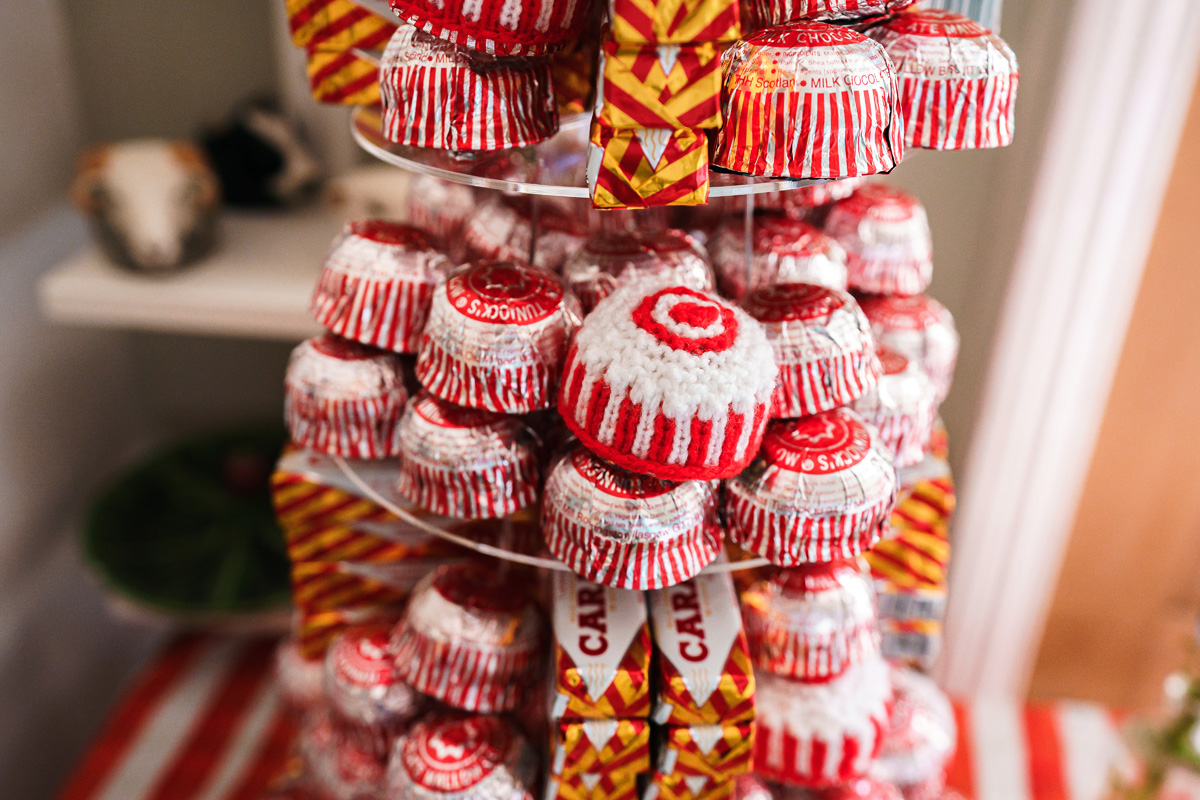 "We asked female founder small business Mrs.P's Cake Pops – to create some Gnome cake pops and Harry Dog cake pops too. My nieces (and the adults) loved them!"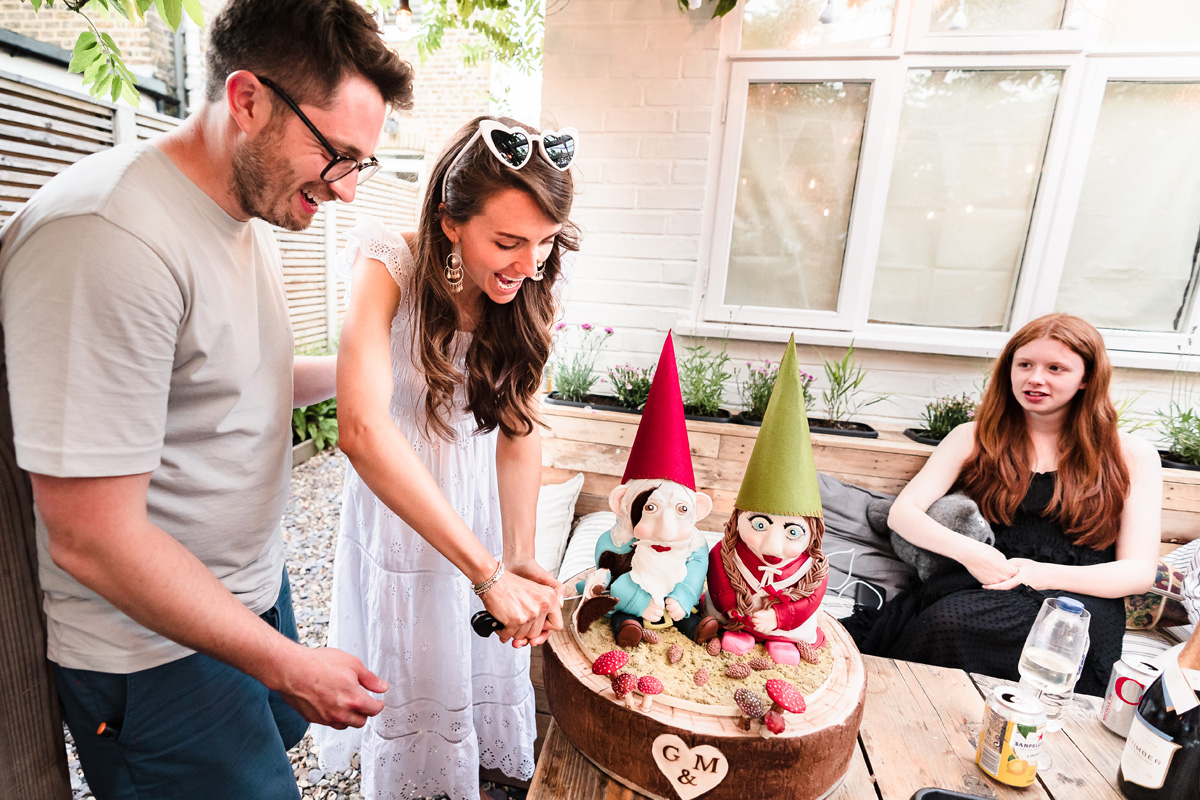 Words of Wedded Wisdom
"Pick your favourite location in the world, your favourite food, what you would wear to your very best party, and who you would most like to spend it with."
"Ignore tradition, and do things your way. And don't feel pressure to impress, just do things your way."