In the coming few weeks, we're going to be showcasing as much work as we can from our talented Little Book members (that's our beautiful and super helpful wedding directory for those of you new around here).
I love and am very proud to work in the wedding industry. In November, Love My Dress will be 11 years old, and I will never, ever take this wonderful place on the interwebs we have created, for granted. It is thanks to suppliers like those whose work you see on this page today that we exist in the first place. They supply beautiful images for us to inspire our community and I will forever be grateful for that.
There is no denying that our entire industry is going through an incredibly difficult time right now, unable to work and do what they love and know best due to so many weddings being postponed and government restrictions limiting capacity to work. It's deeply important to my team and I that we support these suppliers at this time and show the world how talented they are.
Creative wedding planner and stylist, Sophie Warren Weddings is one of our newer Little Book members and today, I feel very proud to be sharing some of her work. Sophie's words follow….
"My wedding planning business Sophie Warren Weddings offers bespoke wedding planning and design for the romantics and adventurers with a styling approach that blends all forms of modern day inspiration to showcase weddings through a new lens."
Rebecca Searle Photography

+ Follow
"The concept for this shoot was inspired by the ambition to fuse modern day style with the classic charm of the quintessential English countryside. The juxtaposition of the modern styling aesthetic enveloped within the rustic backdrop of sweeping grass meadows embodies the sophisticated elegance of a British wedding celebration."
Join our mailing list for occasional but vital updates around the work we are doing to support couples and suppliers/venues throughout the pandemic.
"This shoot has been a great opportunity for me to showcase my creative skills, taking charge of curating and creating the concept and overall styling with the support of some fantastic collaborators to bring the vision to life."
Sophie Warren Weddings

+ Follow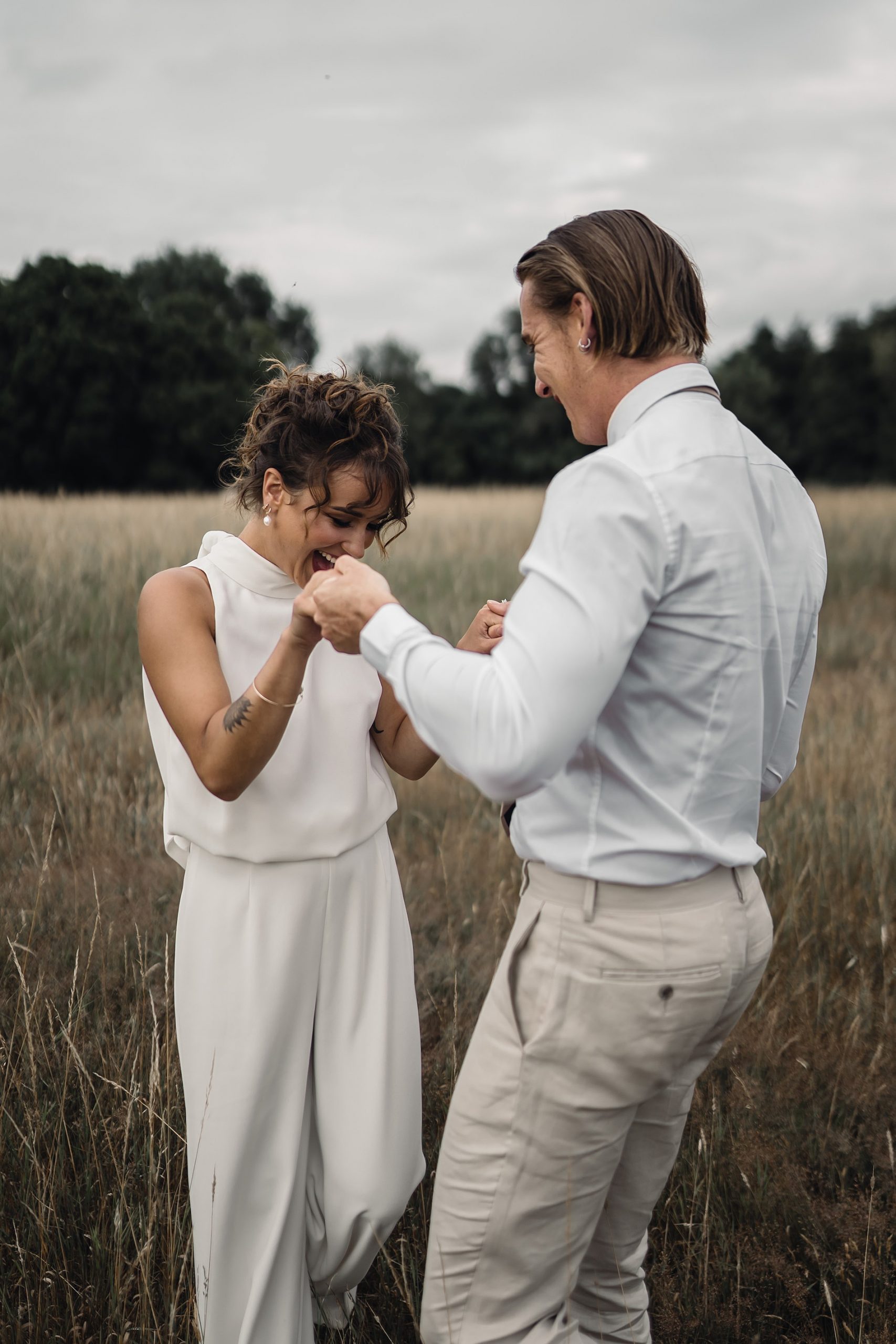 "For the overall styling aesthetic, I wanted to create a contemporary romance with a sense of feminine fluidity and free flowing silhouettes, and, located in the heart of the Garden of England on the Kent and Sussex border, I chose the stunning Chafford Park Estate for the shoot location."
"This country estate is set amongst 300 acres of enchanting lawns, woodlands, lakes and corn fields and is only an hour from London, making it the perfect destination for countryside weddings."
"The venue boasts two converted modern barns and elegant accommodation for the bride and groom in a grade II listed Queen Ann Manor house which has been tastefully restored with many original period features throughout."
"The shoot was captured by Becca of Rebecca Searle Photography . I have followed Becca's work for some time and have become completely in awe of her beautiful and mesmerising work. What's fantastic about Becca is that she captures those intimate and natural moments between couples so perfectly."
"Pippa of The W Collection was the perfect partner to provide modern and stylish furniture. For the tablescape, I paired Victoria ghost chairs with a reclaimed trestle table from Pippa's collection. I then intertwined two silk runners from Cfleursdesign and complemented the table with contemporary glass candle holders, glass vases and linen coloured candles."
"For the place settings, I layered a side plate and dinner plate and set an imperfectly placed silk napkin (also from Cfleursdesign) complemented with crystal glassware from Ellen of Harriet's Table."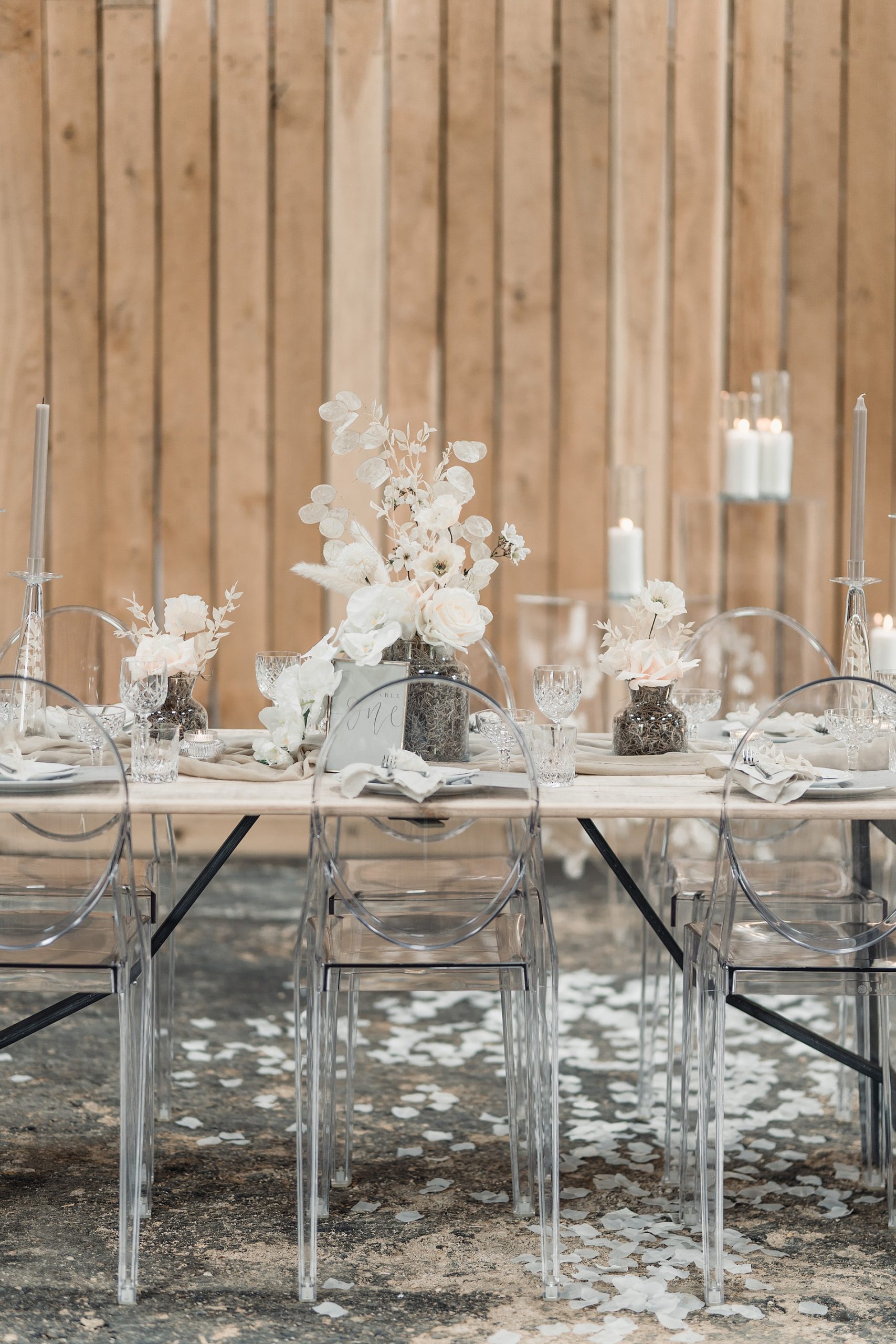 "To finish, each place setting had a personalised place name, handwritten in gold by Louise of LouPaper Wedding Stationery and a beautifully designed plant based menu in dove grey. The ceremony set up again featured the Victorian ghost chairs against a 3D white block backdrop, acrylic plinths (all from The W collection) with dried lunaria placed inside and an assortment of silk flowers, pillar and tea light candles to finish."
"I chose to create two looks for the shoot, both a day and evening ensemble for the bride. Both outfits are from The Own Studio , a modern and sustainable bridal aesthetic created by founders Jess Kaye and Rosie Williams. Their ambition is to create modern bridal wear that lives beyond the wedding day."
"For the day look, the model wore a stunning off-white slip, fully lined with silk and boasting a striking back."
"This was paired with a pearl covered veil from Story of my Dress and pearl drop earrings, necklace and bangle from the home of pearl wedding jewellery, Lily & Roo."
"To finish, the look was completed with a chic low hair bun and stunning makeup by award winning makeup and hair stylist Tamara Tott of Wedding day MUA."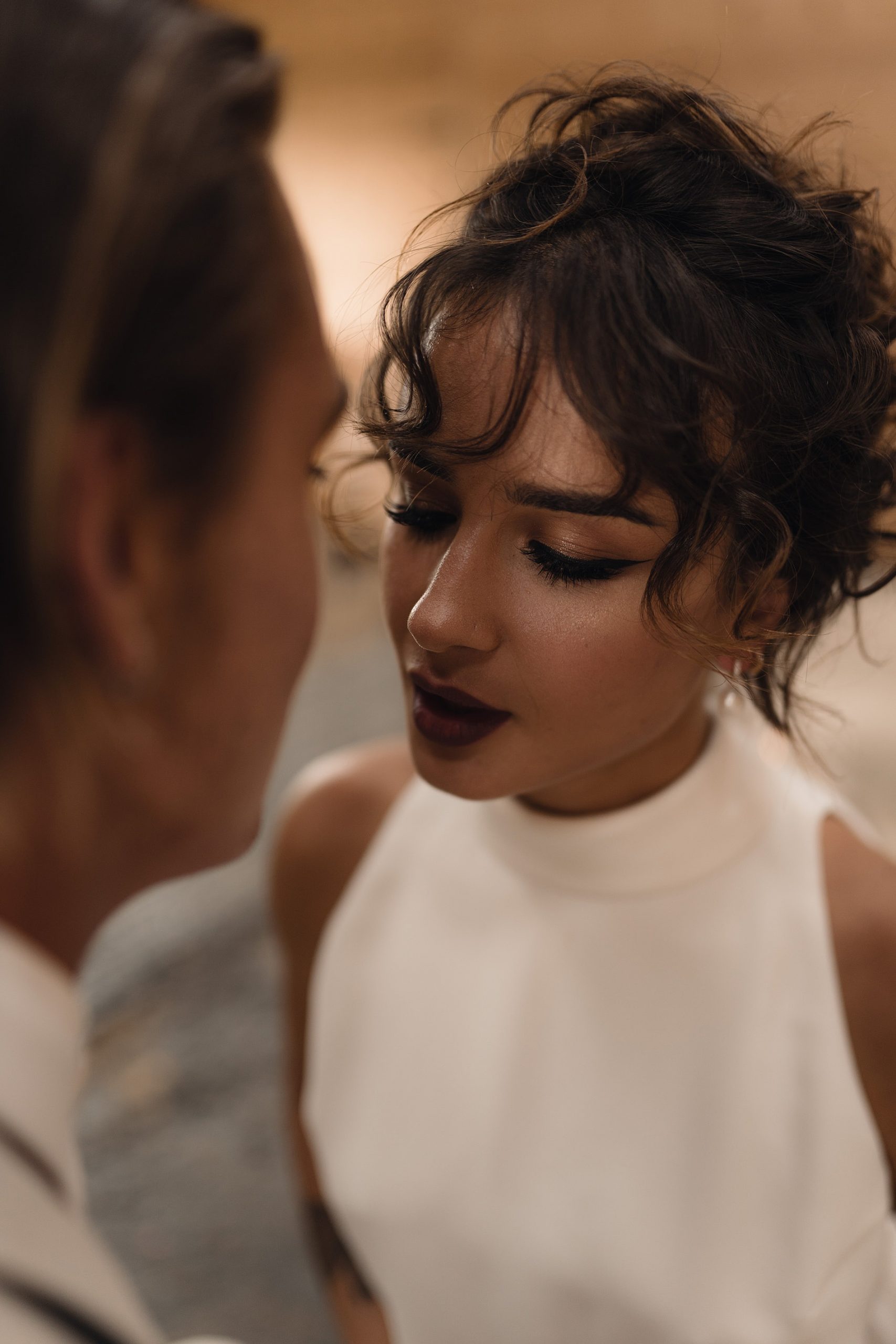 "For the evening look, the model wears an open back, wide-leg crepe jumpsuit (again, from The Own Studio) paired with the same accessories and finished with tight curls and bold eye and lip makeup."
"The groom wears a stone three-piece linen suit, complemented with dark taupe tie, handkerchief and dark grey loafers."
"To elevate the shoot further, I chose to feature a classic Mercedes 190SL from Mark of Webbs of Weybridge . To give the shots an elegant and vintage vibe, the bride wore a classic white headscarf, 50's style!"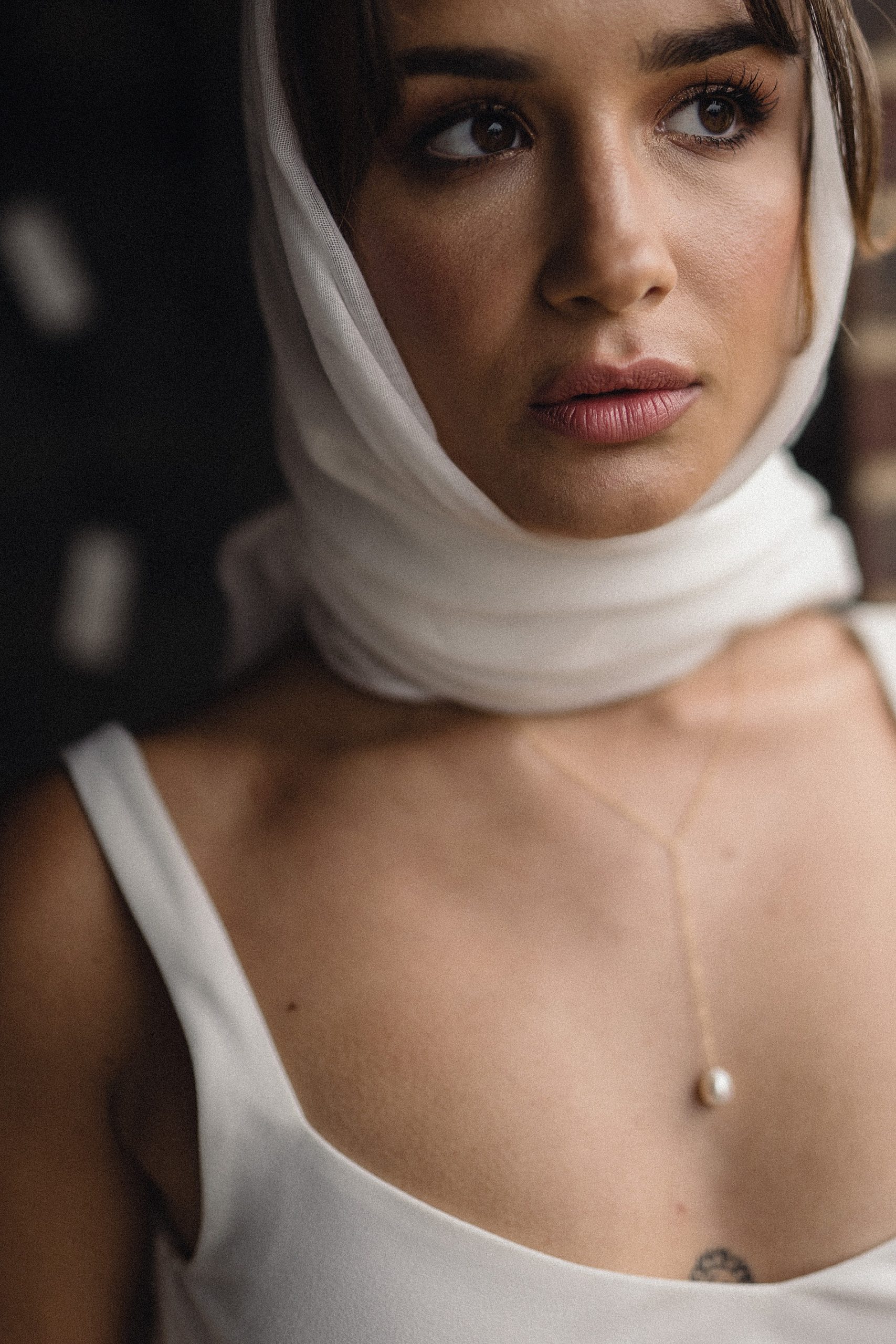 "Invitations and signage were crafted by LouPaper Wedding Stationery . Simple, modern and chic – we opted for a minimalist design in soft taupes, white and grey, which perfectly paired with the overall style of the shoot."
"Artificial flowers are set to play a very important part in the modern world and Gwenda of Bohotanical created a beautiful arrangement of silk florals and foliage in feminine and muted tones of soft taupes, creams and whites for both the bouquet and styling arrangements throughout."
"The silk flowers brought together a mix of assorted roses, orchids, tweedia, poppies, pom pom chrysanthemum, dried lunaria, bleached ruscus and pampas."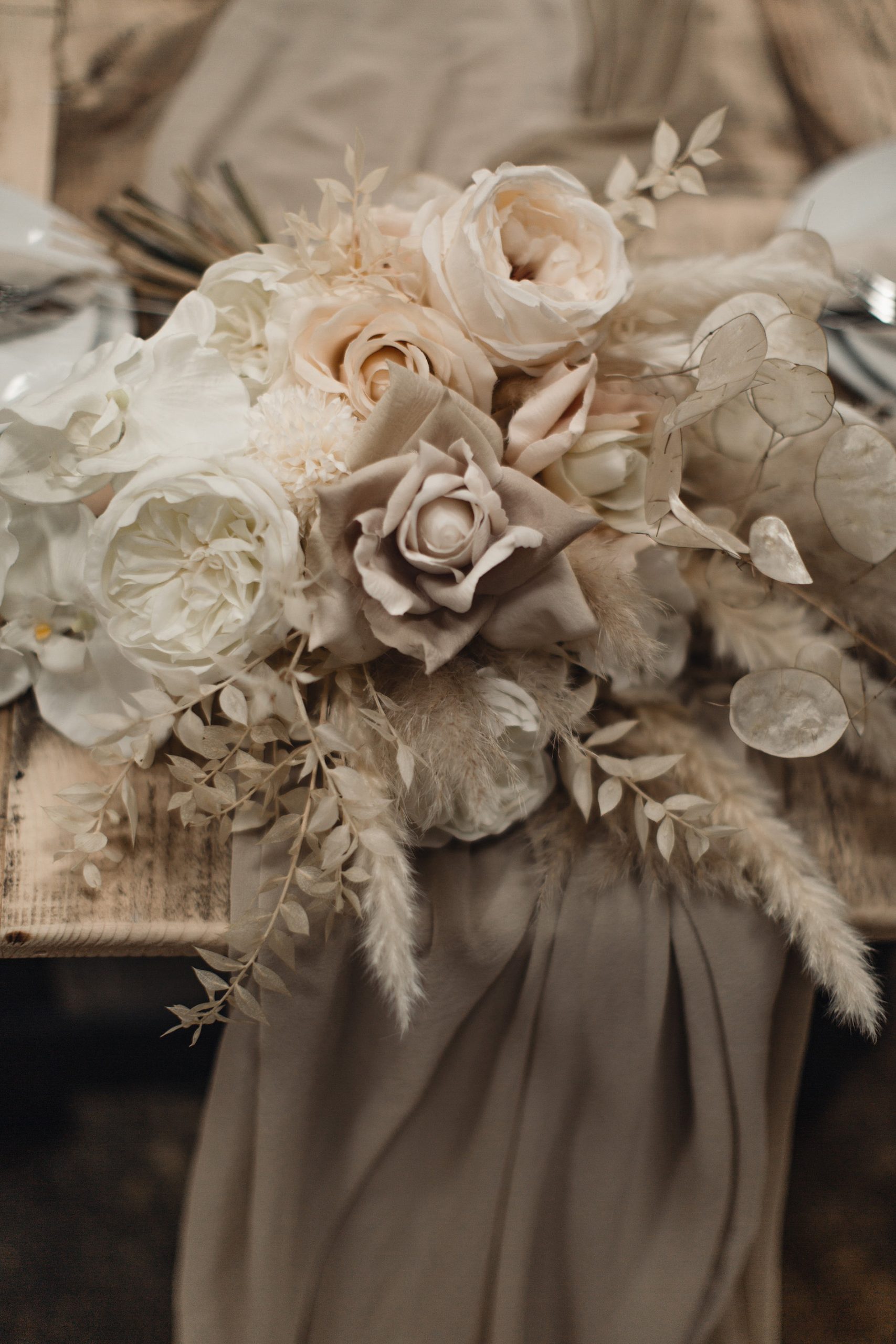 "Like the photographer, Chris of Toastfilms is the king of his craft, effortlessly capturing natural and intimate moments that make for a stylish, modern and unforgettable wedding video."
"The three tiered contemporary cake by Serena of Cobi & Coco was designed using subtle textures and muted warm colours, styled with handmade sugar ranunclus and orchids and finished with a floating silk ribbon."