It might still be January, but we're all very much looking forward to spring already, and with that in mind, there's a lovely springtime wedding I have the pleasure of sharing with you today.
It features a bride wearing a sweetly ruffled daytime look, as well as a lace trimmed blazer mini-dress in the evening. This is a day filled with timeless black tie elegance, adorned with pastel hued flowers, inspired by the romance and beauty of Tuscany.
Meet our couple, Sarah and Edd. Sarah works in fashion, and Edd works in automotive operations, and they celebrated their marriage on the 26 April 2019 at the spectacular Tithe Barn, Hampshire, in the heart of the South Downs National Park.
Lovely Sarah found Love My Dress to be a great source of inspiration when it came to planning her and Edd's day. Here, she found a real wedding captured by RL Films. Although they were not available on the couple's wedding date, they do run regular workshops with like-minded videographers and film-makers, and put Sarah in touch with Ryan from Rolling Film.
"We could not recommend Ryan or Rolling Film more. He was amazing from start to finish. He worked seamlessly with our photographers, and his stealth approach made everyone so comfortable, and therefore he was able to capture the most natural footage."
Wesley & Emma Photography

+ Follow
There throughout the day to capture every charming detail were photographers Wesley & Emma, who both bring a light, joyful touch to their beautifully composed work.
"We can't thank our photographers enough for capturing our day so perfectly. They were an absolute joy to have around, and their process was completely seamless, from directing everyone on the day to providing the images in a timely manner through a very easy platform. We have had so many compliments on our photos."
Sarah looked like a dream in Rime Arodaky's gorgeous 'Otis' dress, with its one perfectly ruffled shoulder, which cascaded all the way down to the floor, and looked beautiful combined with the sexy leg split and low, scooped back. Sarah discovered her dress at The Mews Bridal Notting Hill, after being inspired by seeing lots of lovely Rime Arodaky brides on our pages.
"I couldn't recommend The Mews Bridal more. It's a super relaxed boutique with the most stunning selection of dresses. Having a few select designers to choose from was a lot less overwhelming than standing in a room full of hundreds and hundreds."
"It was a classic moment of going for something I really didn't think I would, purely as I'd always imagined something more boho, and I was 100% set on long sleeves."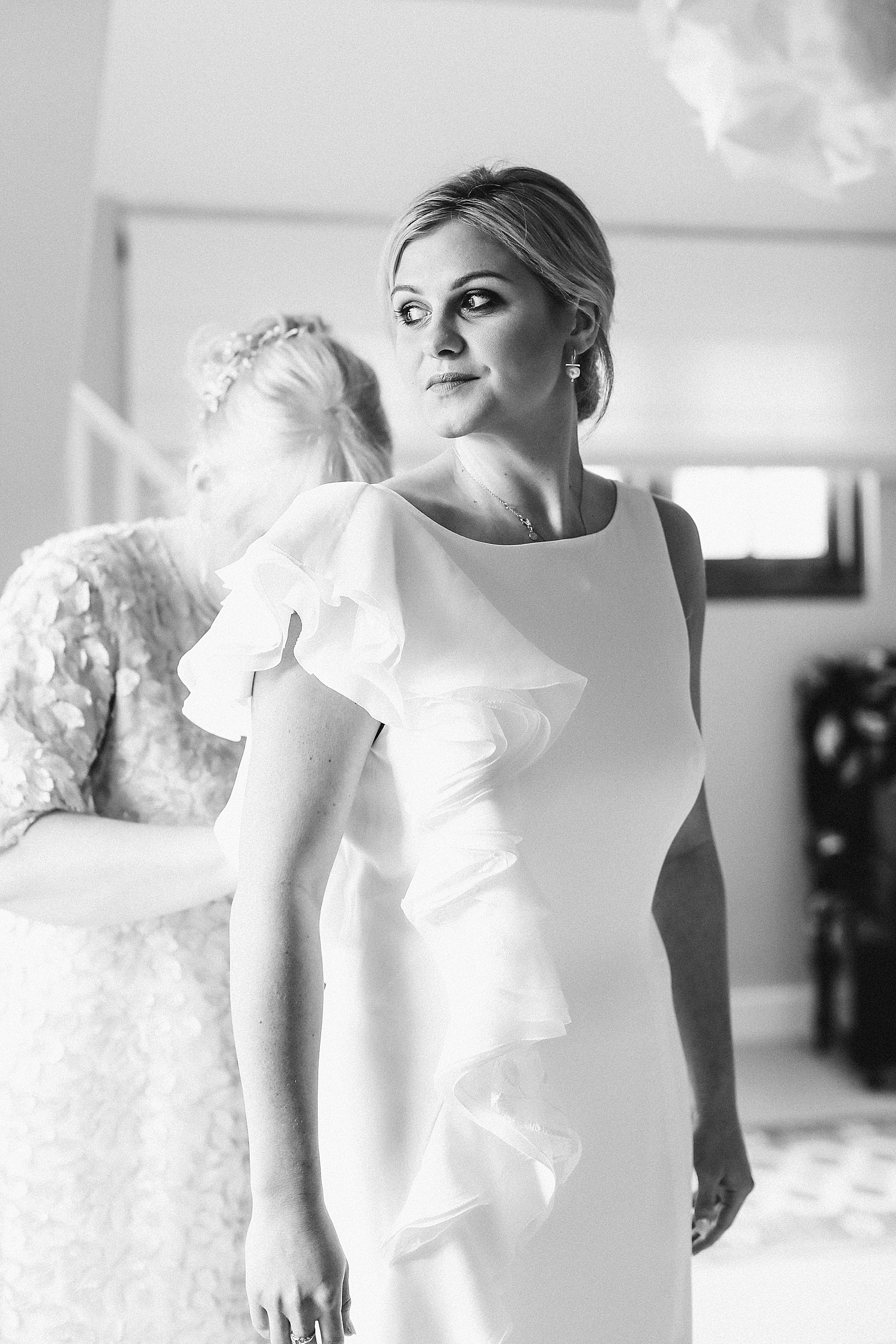 "With my mum is tow, I think I tried on every dress in London. Just when we thought we were going to have to have one made, I attended my last appointment with my mum and Maid of Honour, who were both amazing at advising me along the way."
"As soon as I put the 'Otis' gown on, we were all instantly wowed. The classic elegance, the way it fit my body shape, and the extraordinary couture style ruffle made this dress completely unique and different to any I'd seen before. The tears of happiness in the room spoke for themselves; I was in love."
The bridesmaids wore long, cowl neck dresses in cream by Maids to Measure, which looked lovely paired with their own choice of shoes, hair accessories from Oliver Bonas and ASOS, and as a thank you gift from Sarah, triangular semi-precious stone rings by Carrie Elizabeth Jewellery.
"I got them all the same one, but with a slightly different coloured stone. The girls loved them, and teamed them with their Oliver Bonas bracelets I had gifted them with when I had asked them to be my bridesmaids."
"I gifted them and my mum handwritten cards featuring an illustration of themselves in their wedding attire, but with elements that represented their personalities – these were by Baldhead Designs. I also bought them beautiful robes from Little Locket Brides (now House of Harman Wedding) on Etsy, which I had personalised with the date and their role (bridesmaid/mum) and then their initials on the front."
"I gifted my mum an Astley Clarke locket with a picture of her late father and grandma, so that they could be with us on the day. It was a special and emotional moment when I gave it her the night before."
"Our make-up artist was Corinna Hooper. She's amazingly talented, and made us all feel like queens on the day. She was also very calm, which was definitely appreciated. My cousin, who was also one of my bridesmaids, kindly did all of our hair for us – Jenni Rose. We had so many compliments, she does loads of weddings and she is crazily talented, can't recommend her more!"
Sarah finished off her look with earrings and pearl hair clips from Oliver Bonas, an elegant tulle veil, which she sourced, pre-loved, from an old work colleague, and finally, a little perfume – Myrrh & Tonka, by Jo Malone.
Together with her dress, Sarah wore a pair of amazing silver cut-out peep-toe boots by Jimmy Choo, which she paired with a Missoma anklet gifted to her by Edd on the morning of the wedding.
Edd and his groomsmen looked incredibly smart in their black tie attire, with suits by Moss Bros., and Edd's black velvet jacket by Kin at John Lewis. Sarah also gifted Edd a watch belonging to his grandfather, which she had reconditioned and repaired with a new battery and strap, as well as a pair of Newcastle United cufflinks!
"The Best Man was an old friend of both of ours, which made his speech very personal to both of us. They all looked incredibly dapper in Moss Bros. suits with velvet lining (to match Edward's velvet jacket) and were on hand the whole weekend to help with last minute venue dressing, and holding umbrellas for any rainy spells on the day."
Sarah's dad works for Rolls Royce, and one of the incredible perks is that should you ever wish to, you have the use of a chauffeur driven wedding car. As well as the brand new Rolls to transport Sarah and her dad, Sarah also arranged for a vintage Rolls Royce for the bridesmaids, too.
"One of our groomsmen did a reading for us, and another acted as our wedding MC for the day, which worked perfectly in organising and introducing everyone during the speeches. It was a great idea by our DJ."
"The Tithe Barn in Hampshire turned out to be the perfect spot for our long-awaited nuptials. My parents relocated to the south coast pretty much as things started up between Edd and I 10 years ago. Since then, we've spent a lot of time at the coast, and in the beautiful Sussex South Downs, so we knew immediately that was the area for our big day."
"I always liked the idea of having a barn wedding, but some of them were a little too rustic for me! This dreamy venue brought together modern elements with a little flavour of Tuscany, with its exposed brick and beautifully tiled floor."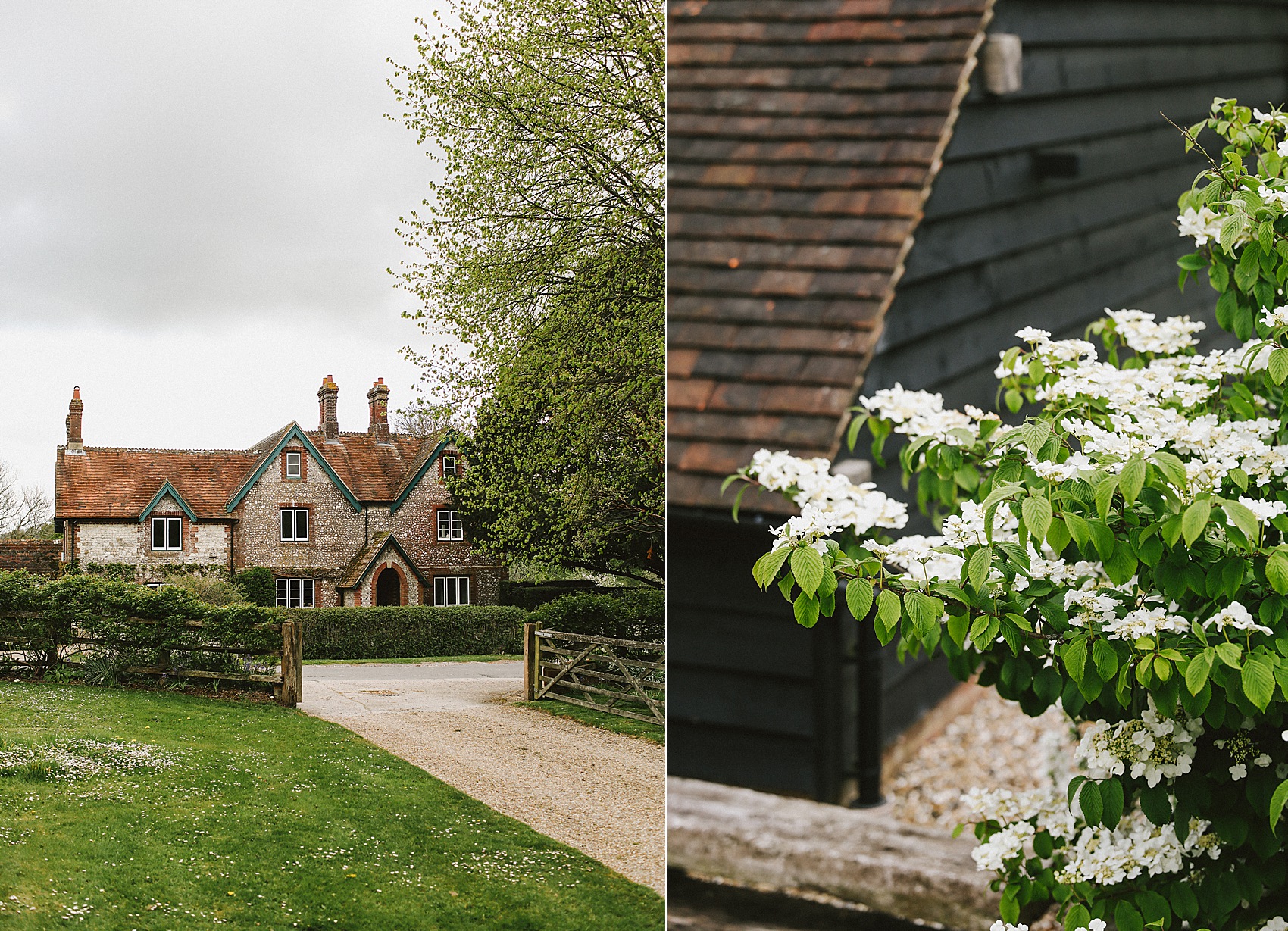 "The venue ticked all our boxes: a completely blank canvas that was rustic and romantic, but simple and chic at the same time."
"The colossal arched ceiling blew us away, to the point where we gasped. Even having only viewed one other venue, we were sold immediately."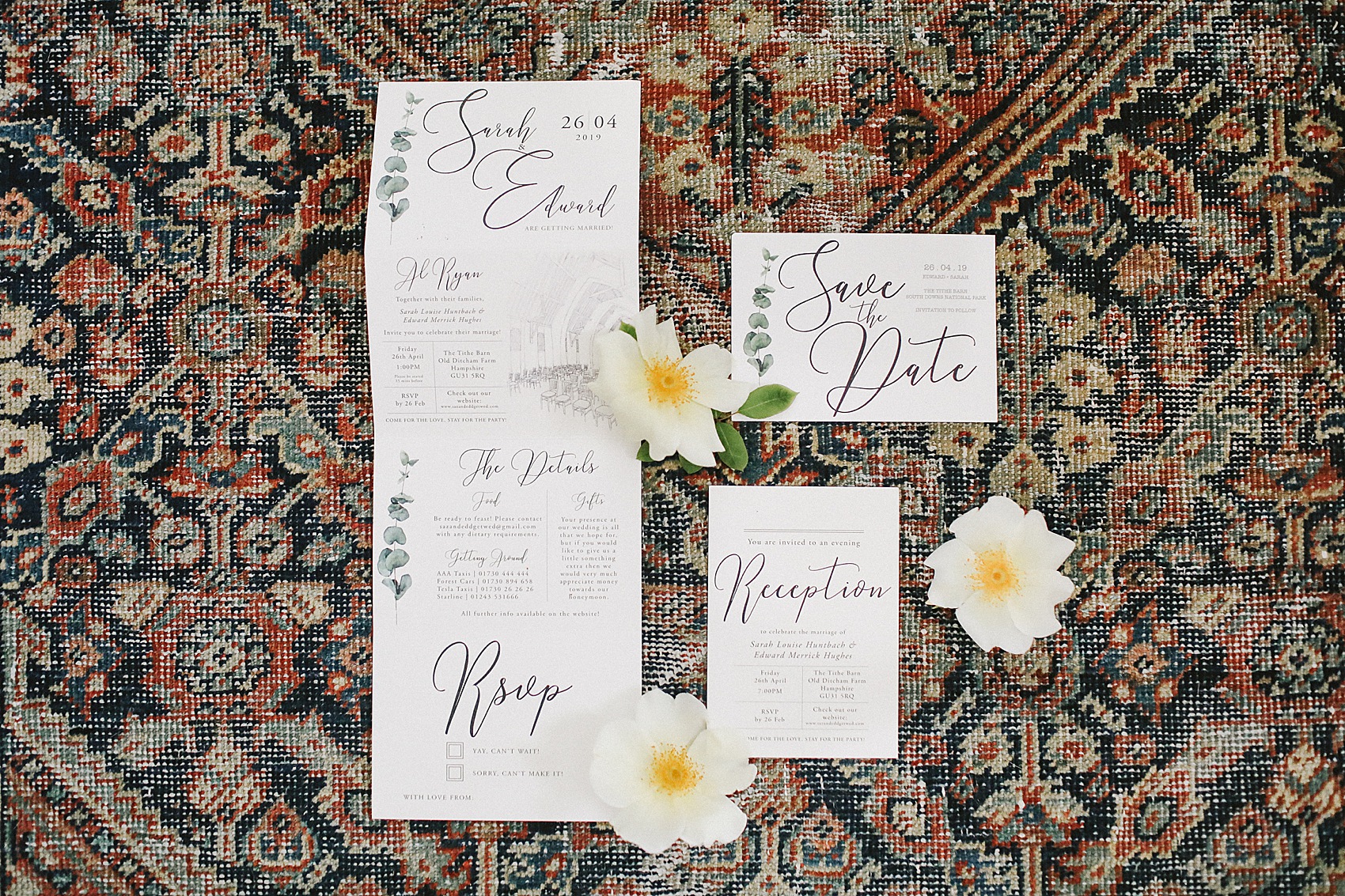 The magnificent Tithe Barn was transformed for the couple's reception, with its soaring arches and weathered brick providing the perfect backdrop for Sarah's Tuscan inspired styling.
"My dad built us our very own wedding arch, which complemented the shape of the roof arches. I then placed candles all around the windows and by the arch itself, and placed a blush pink Persian rug in front of the arch to create a warmer, more boho feel."
All of the exquisite flowers and foliage arrangements, including Sarah's romantic bouquet of creamy peonies and blushing pink garden roses, were created by Cheshire-based florist (and parents of one of the groomsmen), Julia Wynne Flowers.
"They did an incredible job; dressing the venue to perfection, and the bouquets were everything I wanted and more. They were actually guests at our wedding, too, so it was super handy having them there to help turn the room around whilst we had cocktails!"
"I've always been drawn to a Tuscan wedding, with light, bare brick contrasting with neutral flowers and plenty of greenery – it's always been my vibe. I also loved the idea of layering that theme up against a sophisticated black tie event, to give it a more timeless feel."
"I just wanted the day to be completely stylish and chic, but with a few very personal elements that would make the day uniquely ours."
Sarah's uncle played All of the Lights by Kanye West as she and her dad made their way down the aisle together.
"We have always loved the song, and it reminds us of our earlier years together. Edd is also a huge boxing fan and his favourite boxer Kell Brook has this as his entrance song, so it was a cute, funny touch that I walked to it."
The couple first met at high school, and remained close friends through college, where they went from friendship to something more on a night out together.
"April 2019 marked 10 years since making it official. We thoroughly enjoyed just over a year of engagement bliss, being completely wedding obsessed (Sarah!), and the whole planning and lead up to our day was pretty much painless, I absolutely loved every minute!"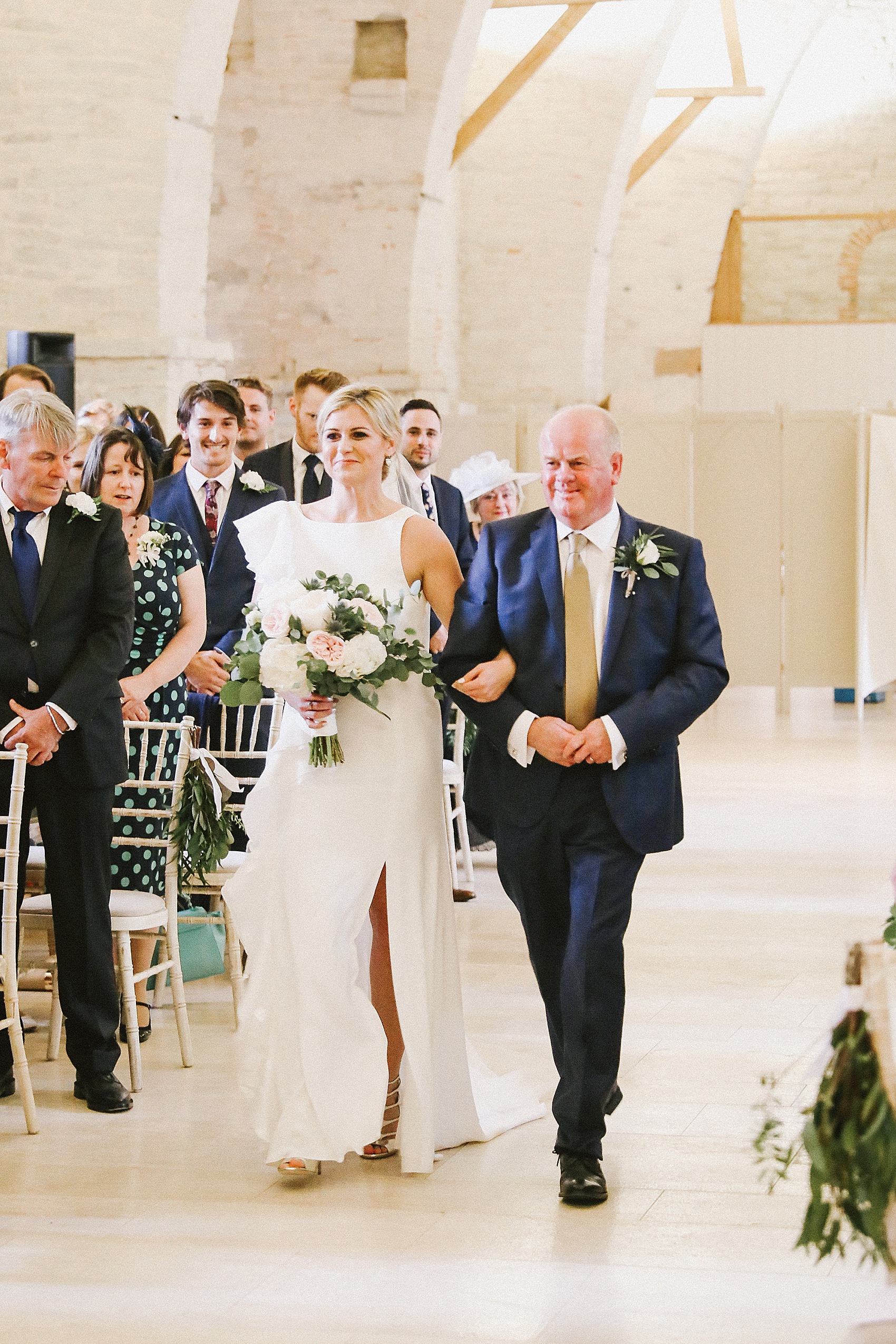 Together they made their vows, with certain parts personalised upon a suggestion from their registrar. Below are part of Edd's lovely vows to Sarah:
"I promise to love you wholeheartedly and unconditionally, no matter what life may bring. I promise to support you in whatever you may do, and provide comfort in troubled times. I will cherish, honour and care for you for the rest of our lives together."
The first piece of jewellery that Edd gifted to Sarah was a Missoma bracelet with coloured stones, which he chose at jewellers Timothy Roe in Chichester, and as the couple returned again and again over the years, they knew they had to go back for their wedding rings.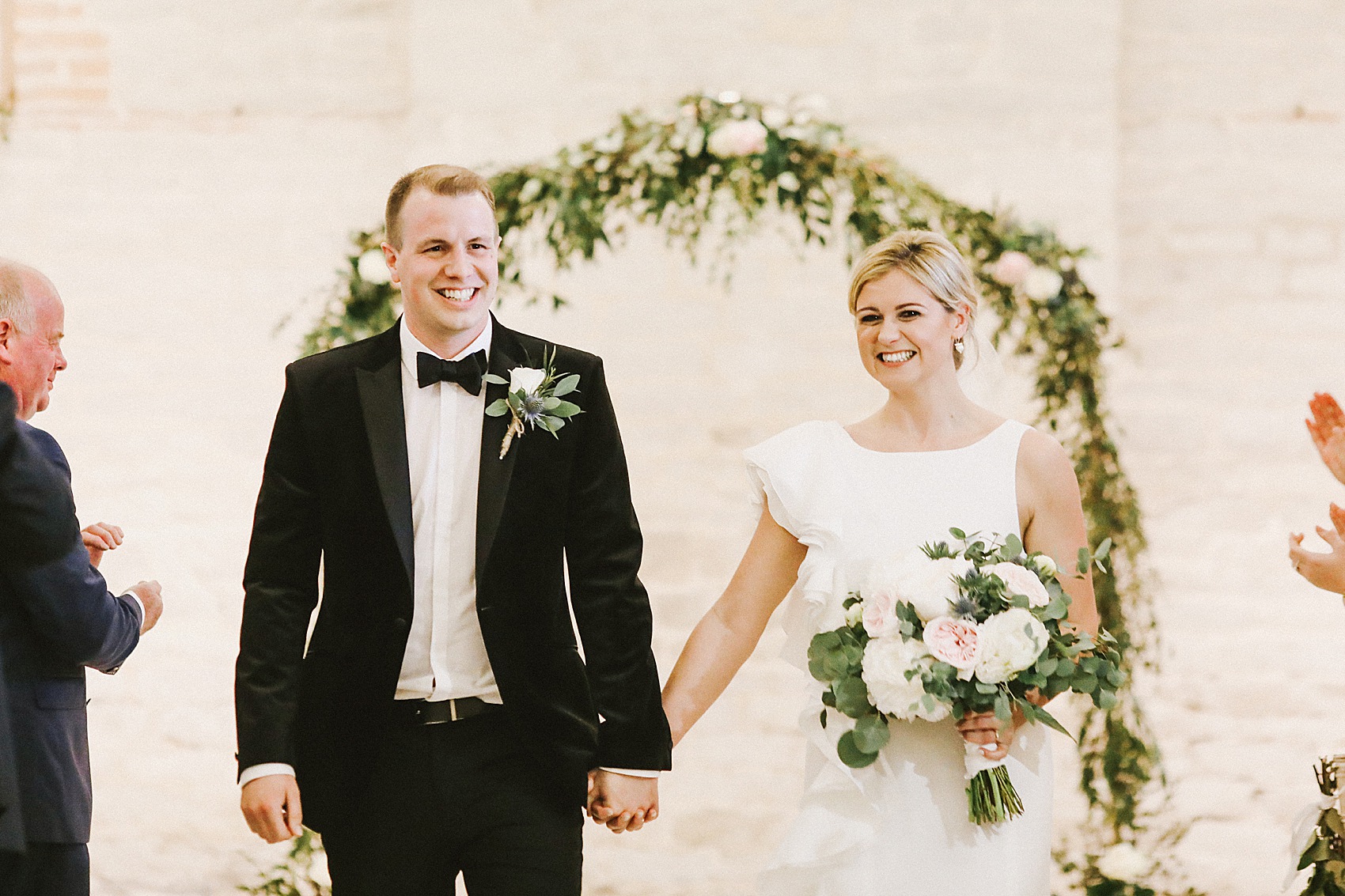 "The service for both of us was sublime. Edd chose a thick, gold band with a slight bevelled edge. I went a little extra. I wanted the ring to complement my unusual hexagonal Satomi Kawakita engagement ring, rather than just sit next to it. With Tim himself, Edward and I created a beautiful stacking ring to sit around the hexagon, made up of tiny little hexagons that sit within a similarly thin band. The whole process was just amazing, and there isn't a day I go by without looking at my rings with a smile."
For their ceremony readings, Sarah and Edd chose the lyrics from two of their favourite songs: Baby I'm Yours, by Arctic Monkeys, and Come What May, from the Moulin Rouge soundtrack.
"These were read out by two members of our wedding party, which was really special. We felt the words really captured how we feel about one another and were taken from sources that relate to our relationship."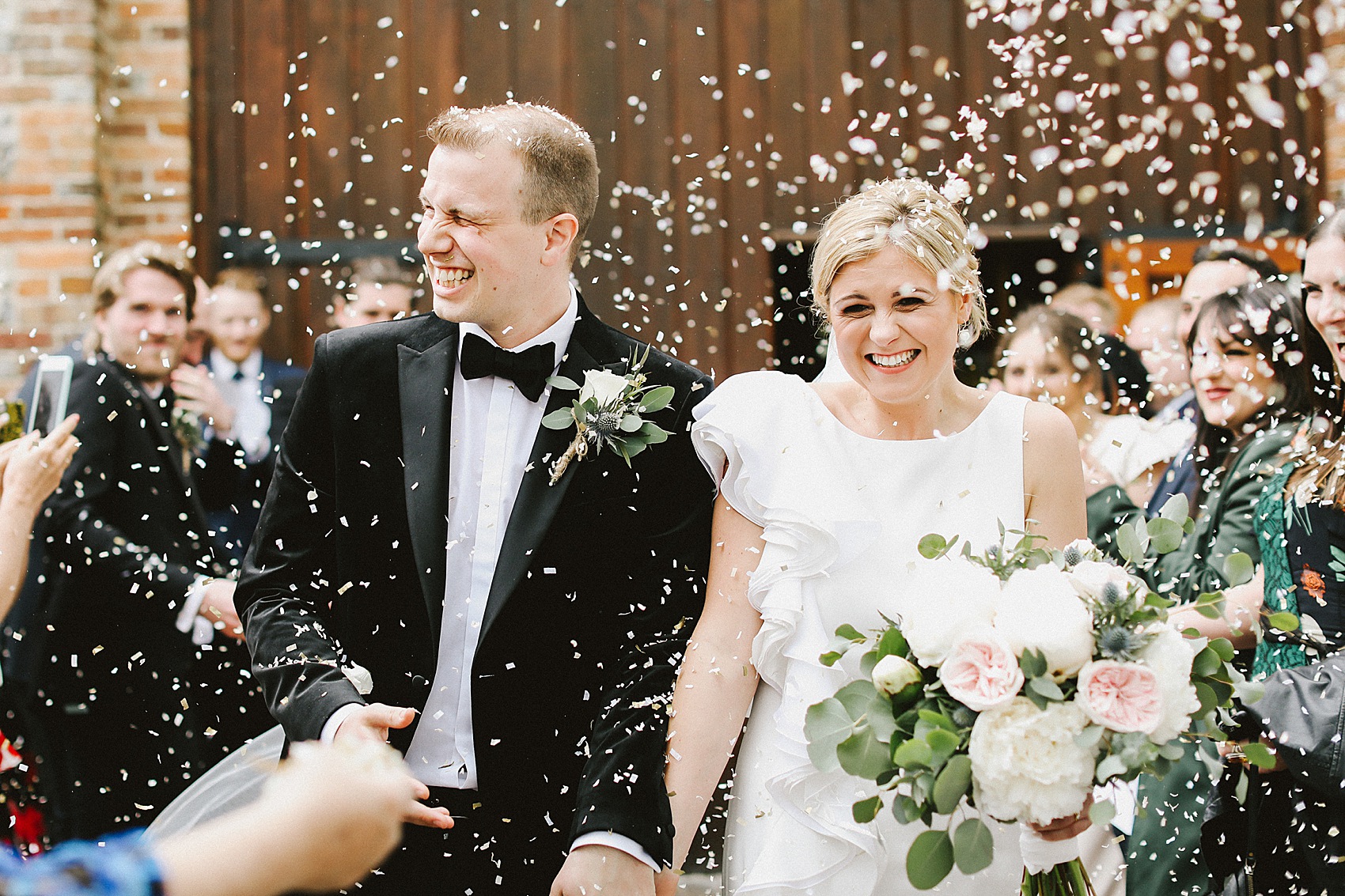 The ceremony was closely followed by a stylish cocktail hour, with elderflower gin cocktails and long Old Fashioned(s!), as well as prosecco and specially homemade 'Hughes Brews' beer, all served by an old friend of Sarah's, who now runs a mobile bar service – British Beverages.
Outside in the garden, there was a cool, boho seating area set up on the grass, with scatter cushions, rugs, and even tables to rest drinks upon.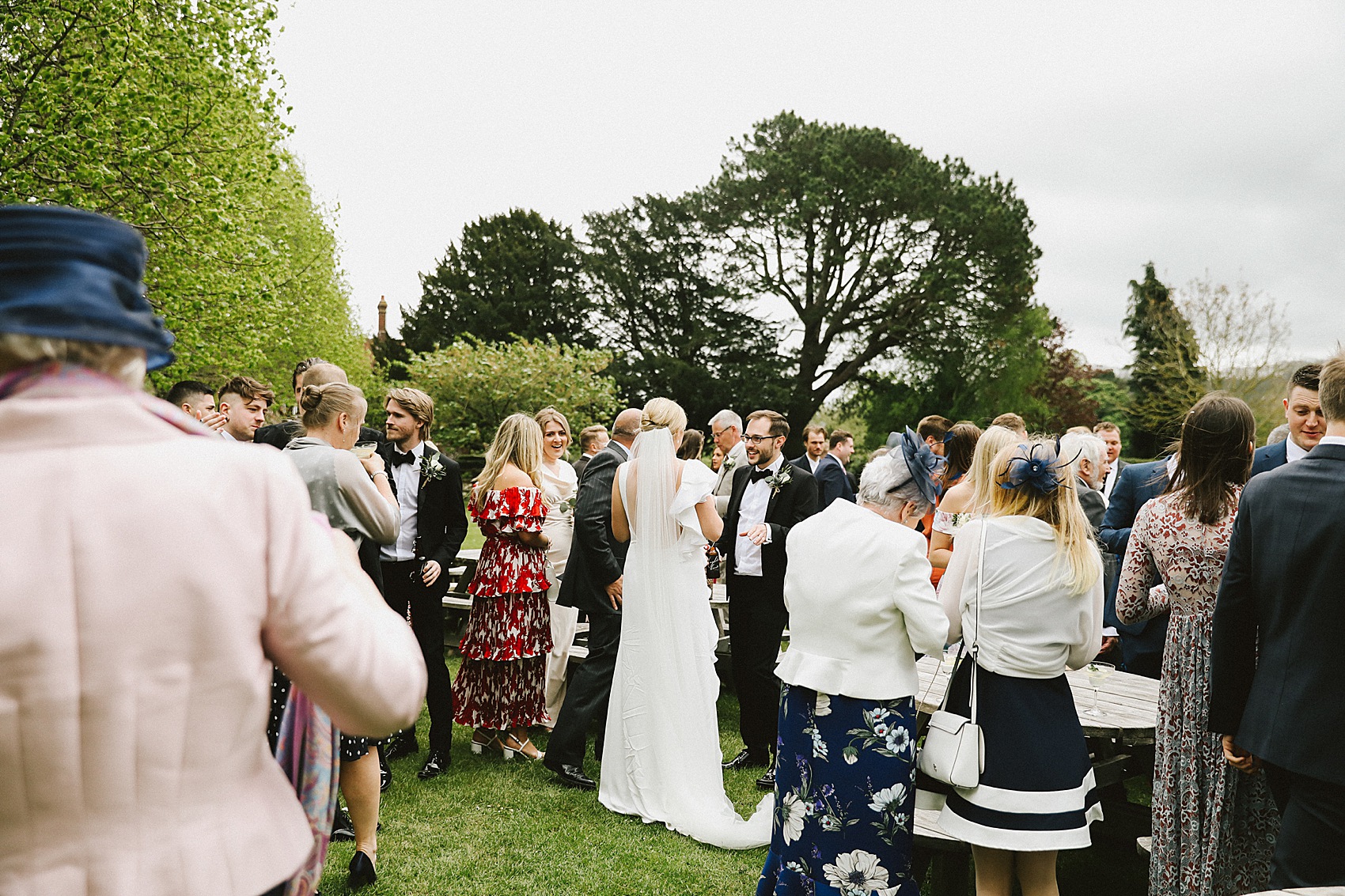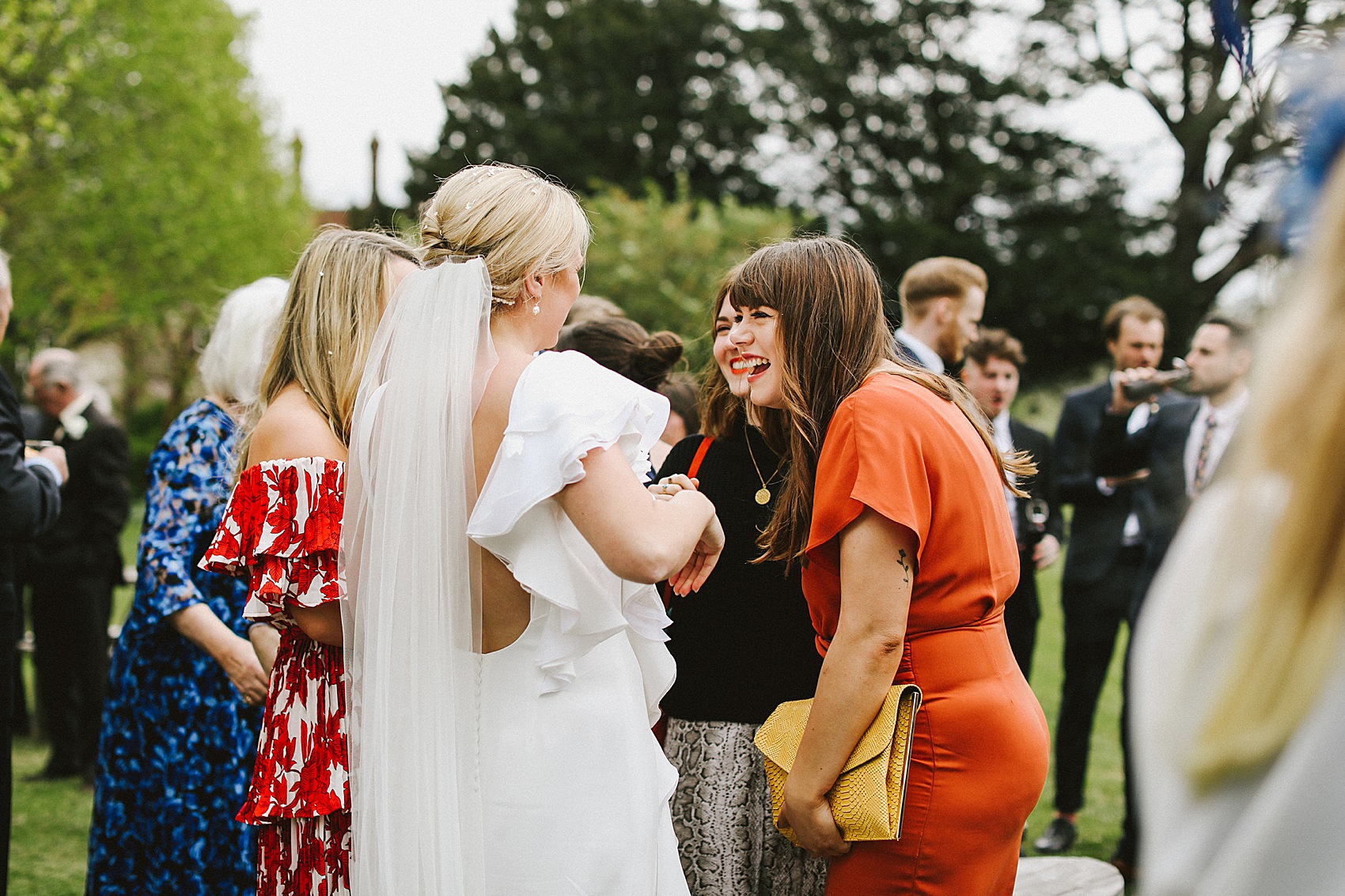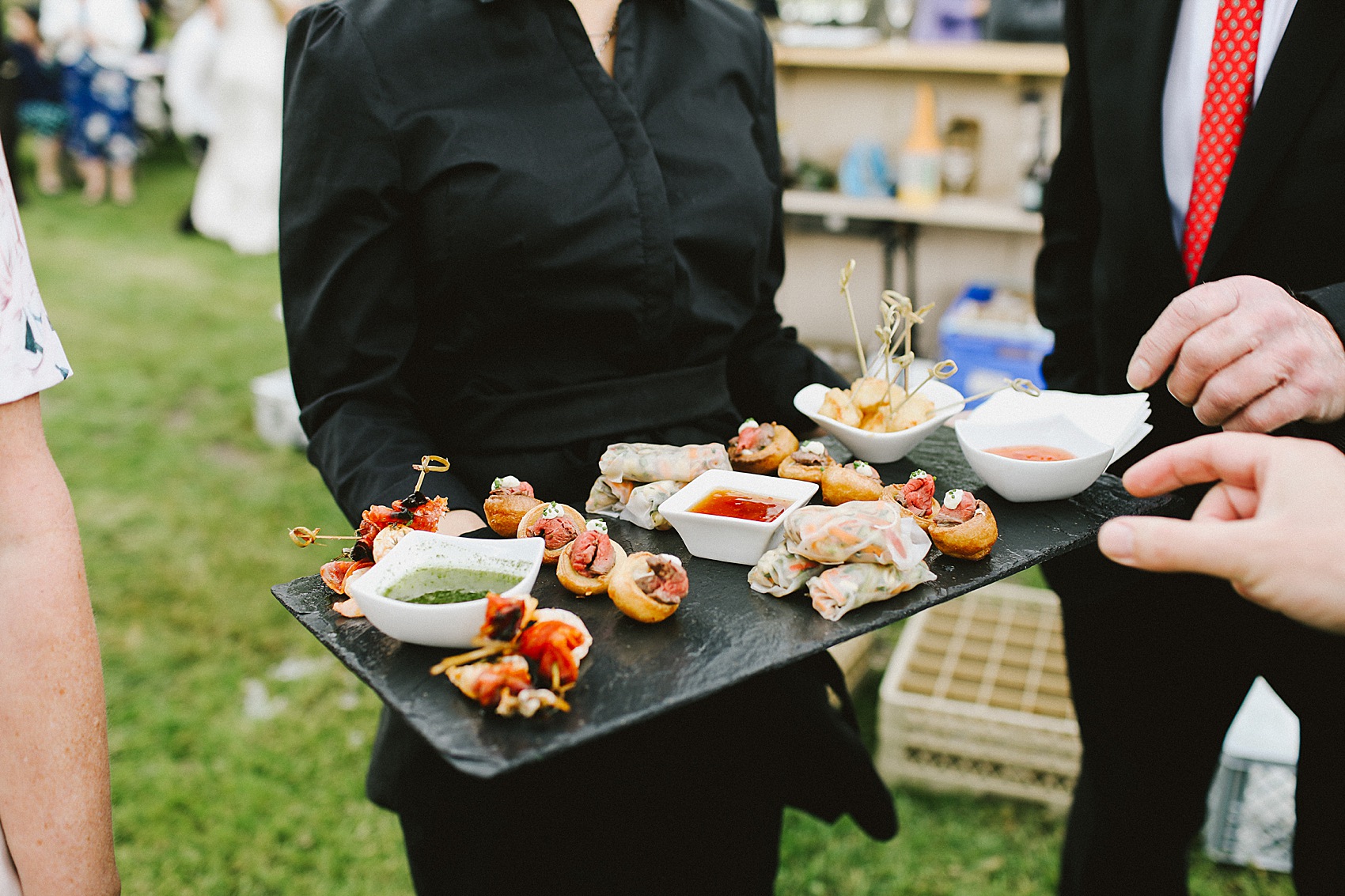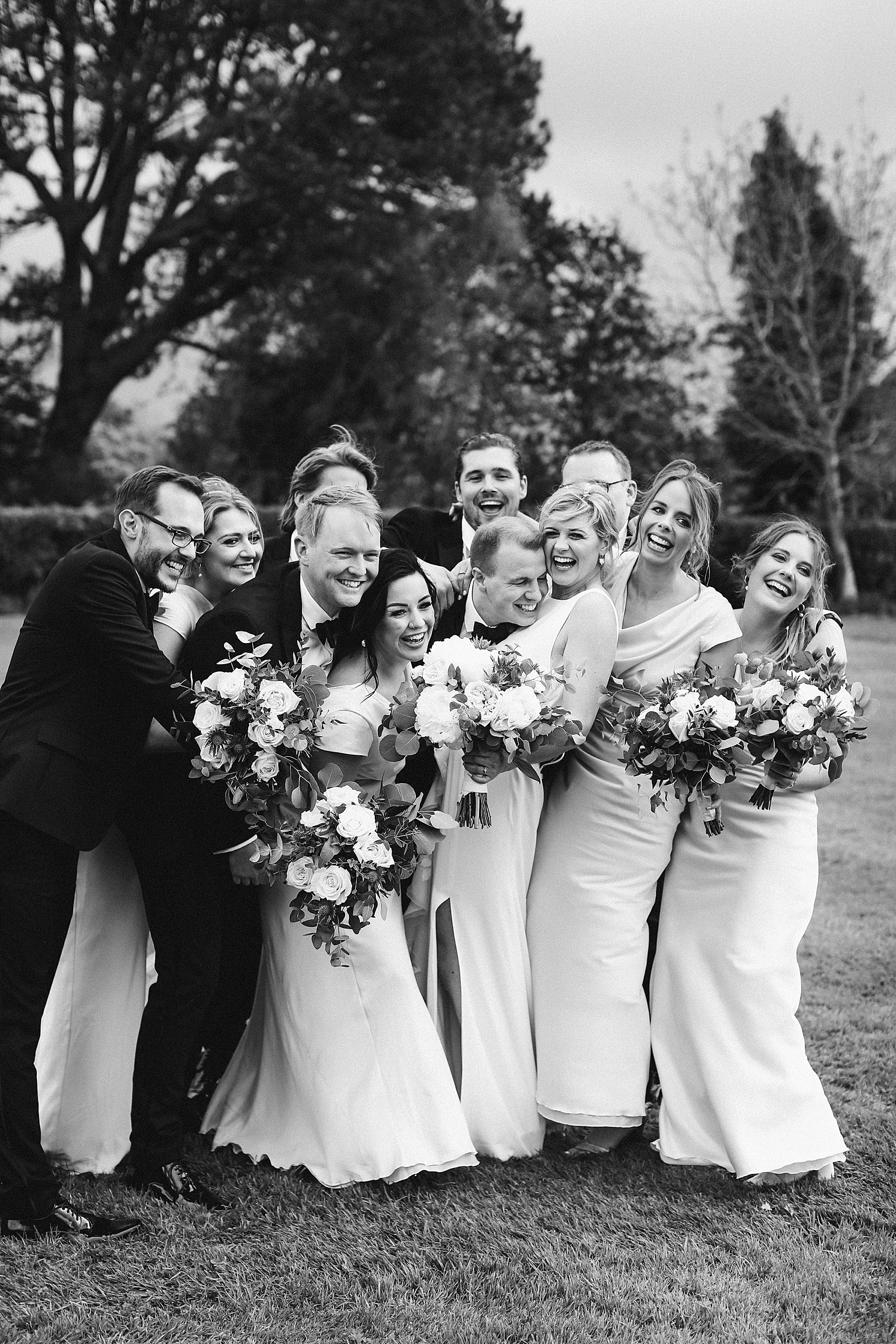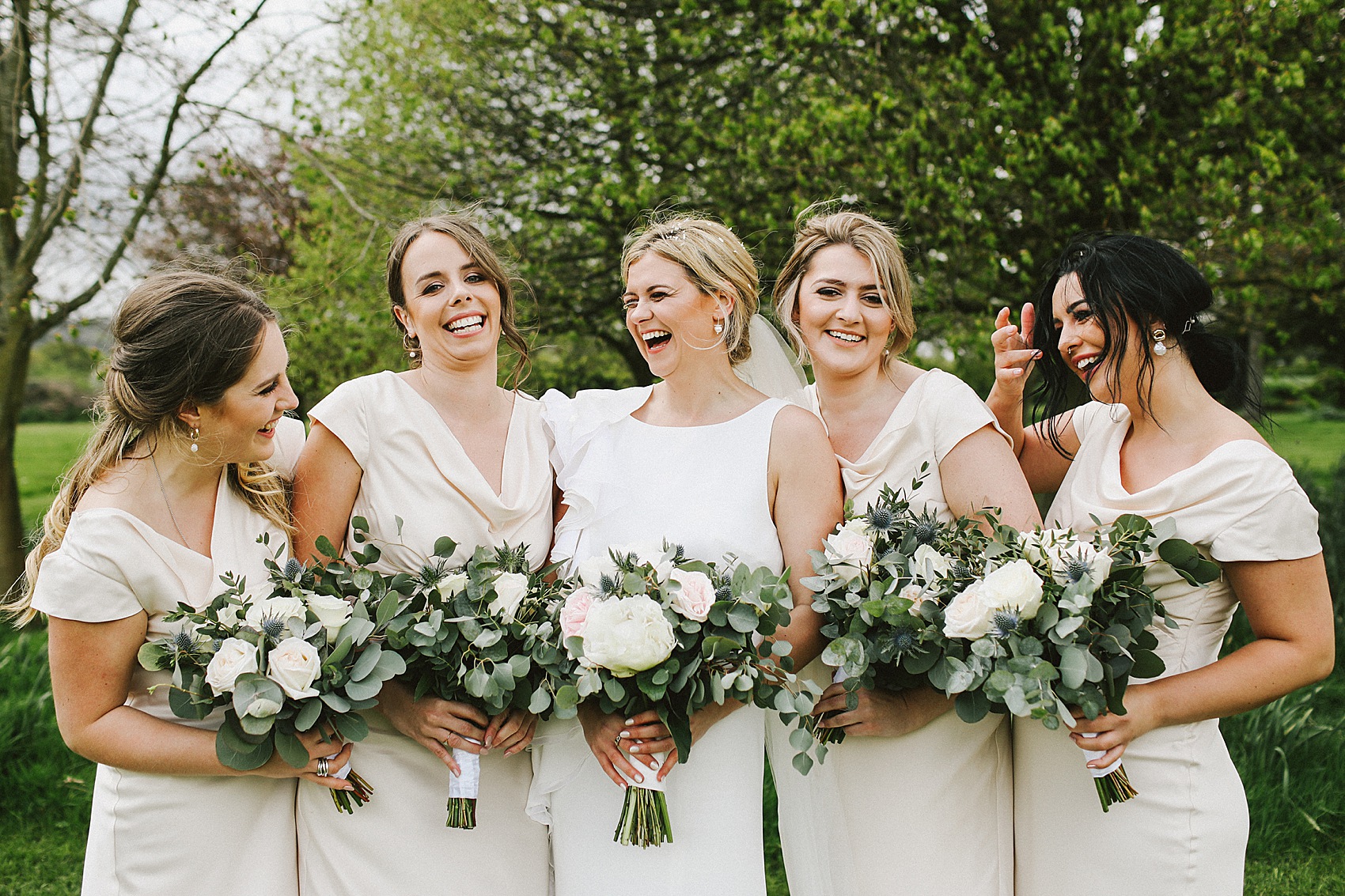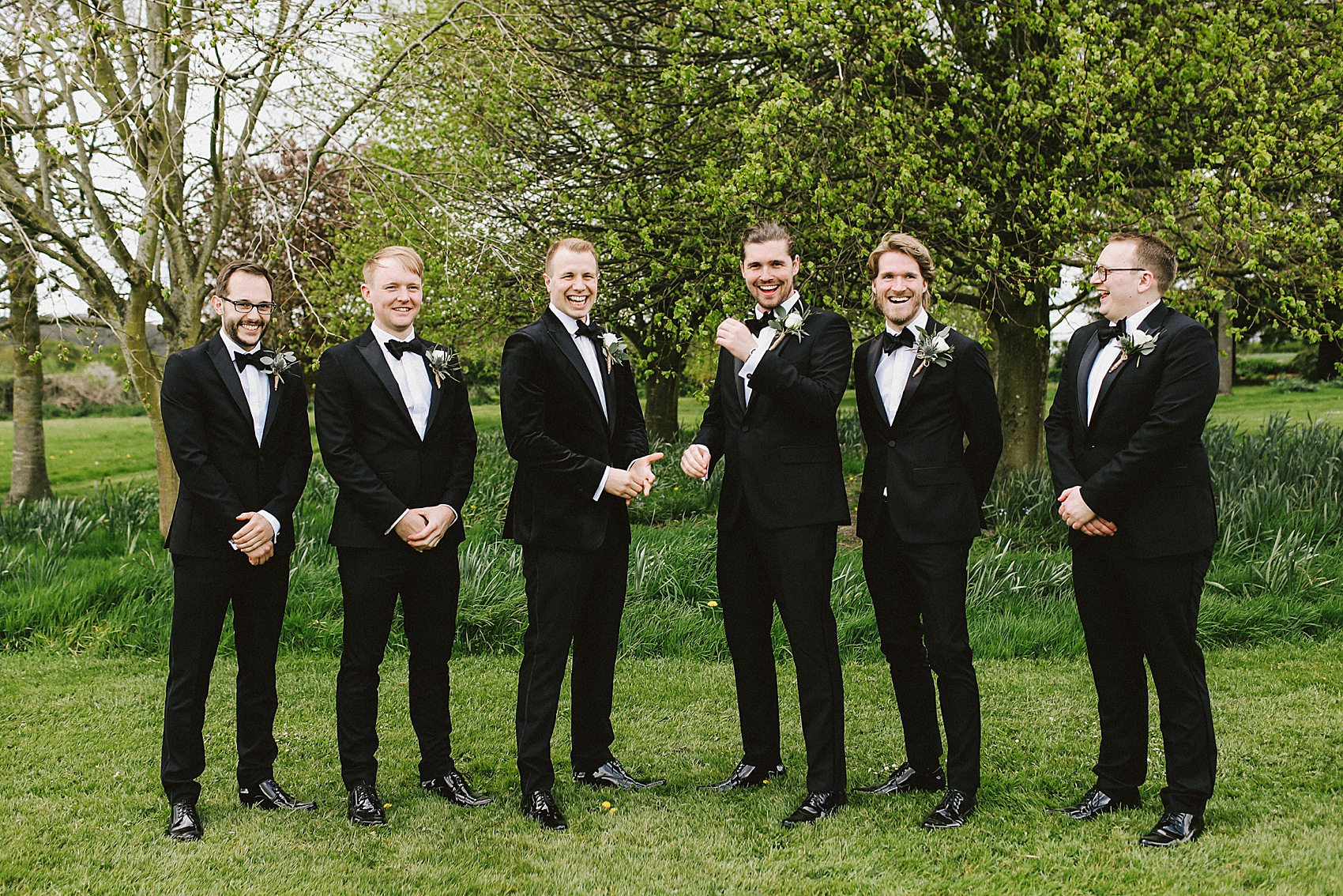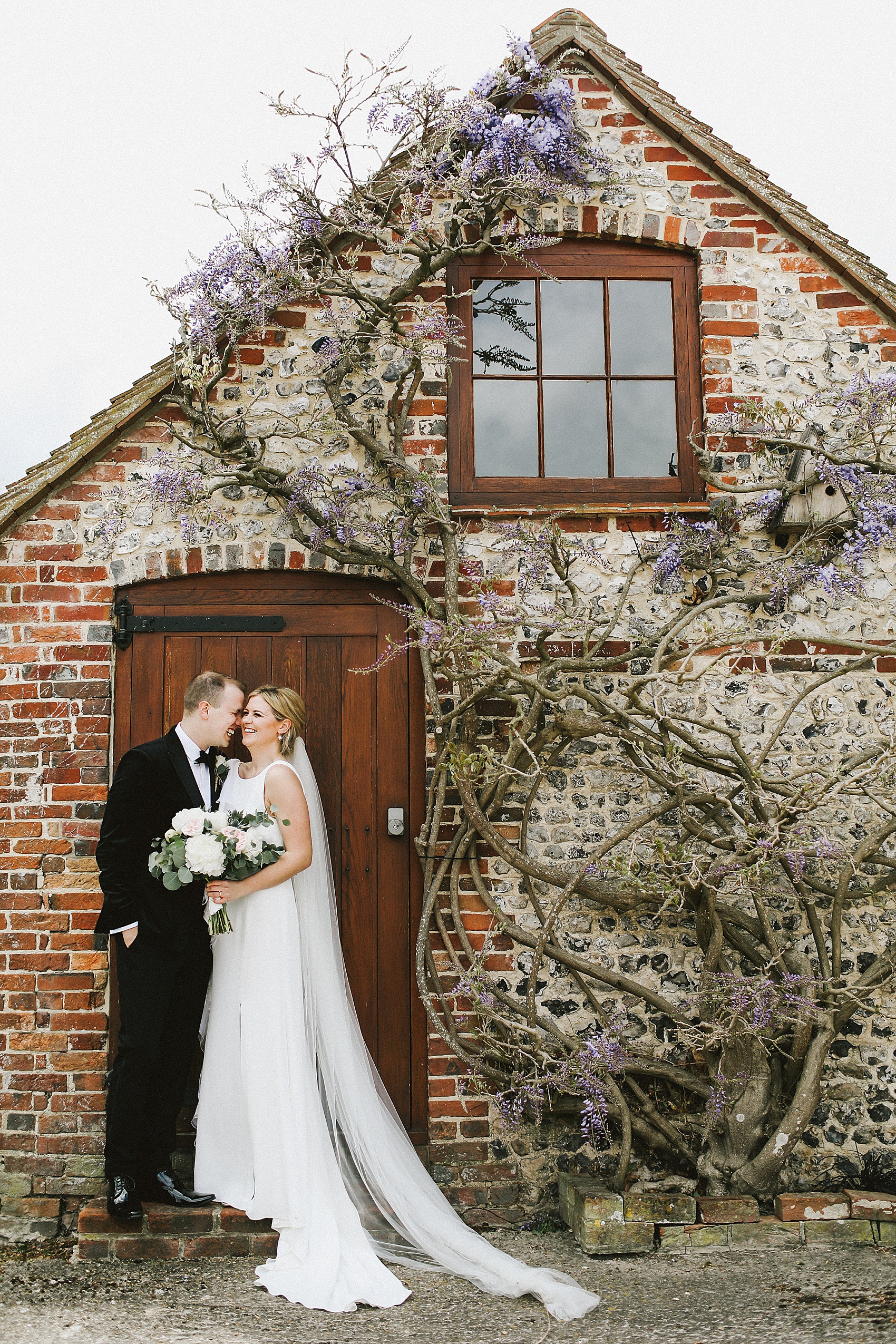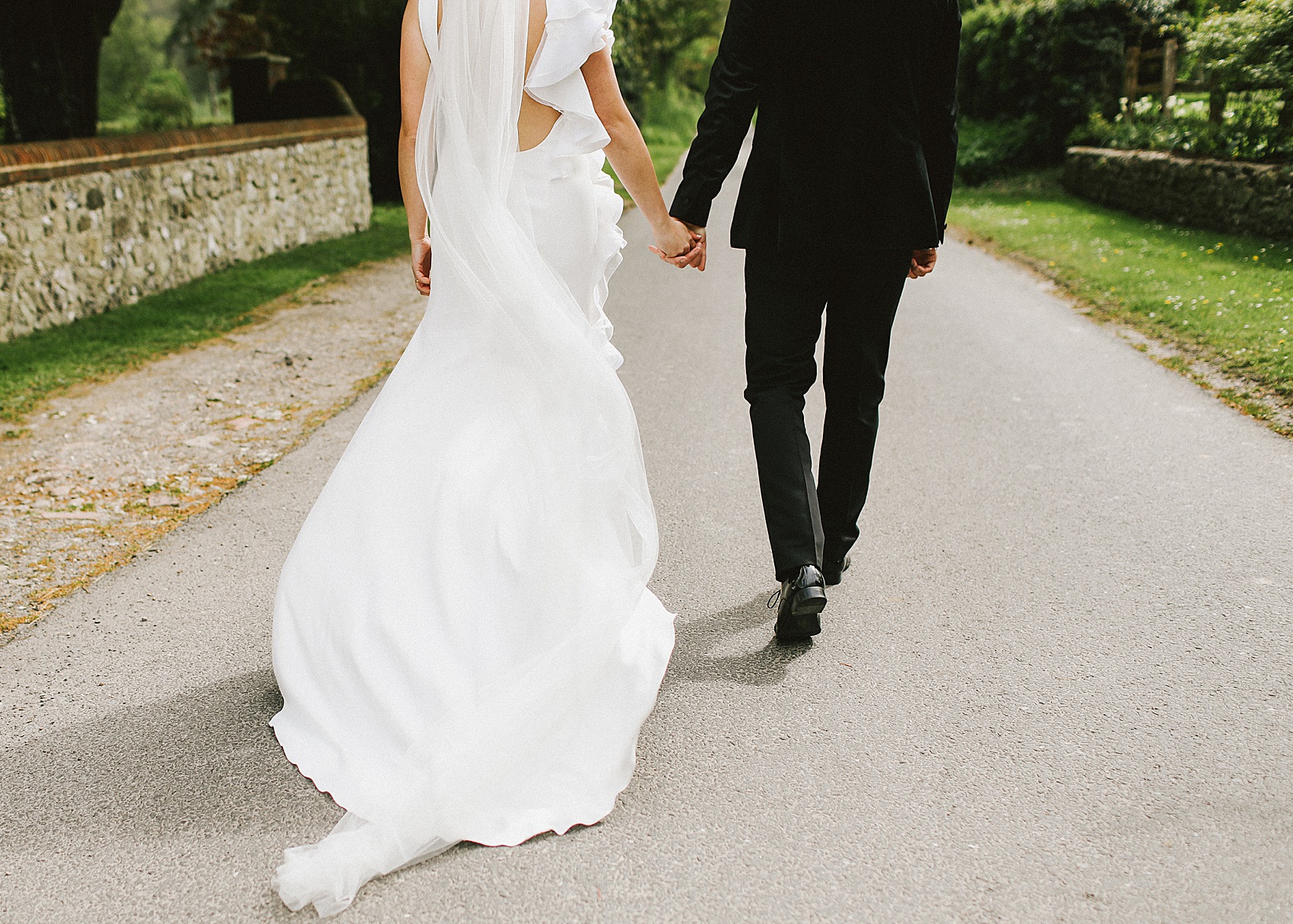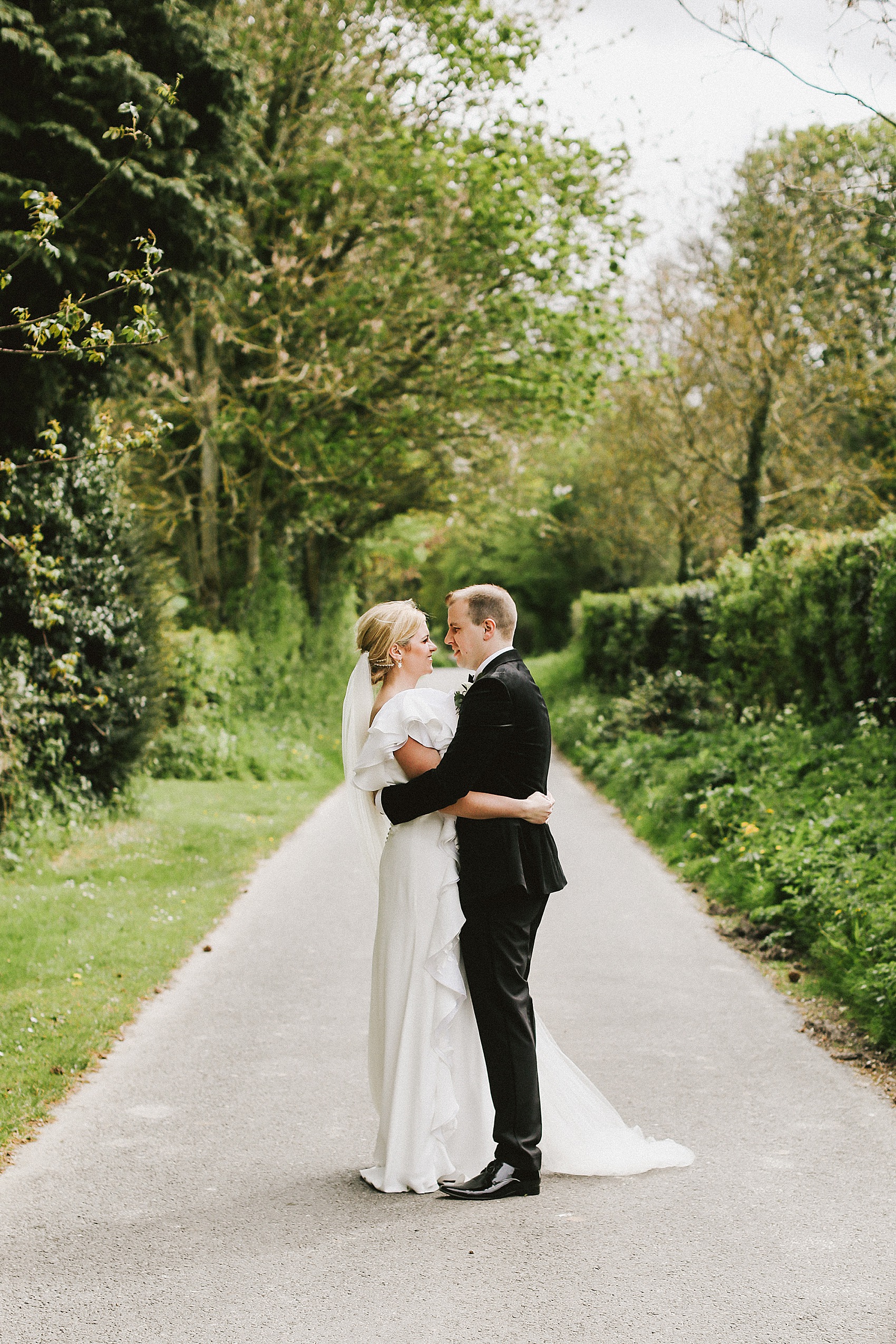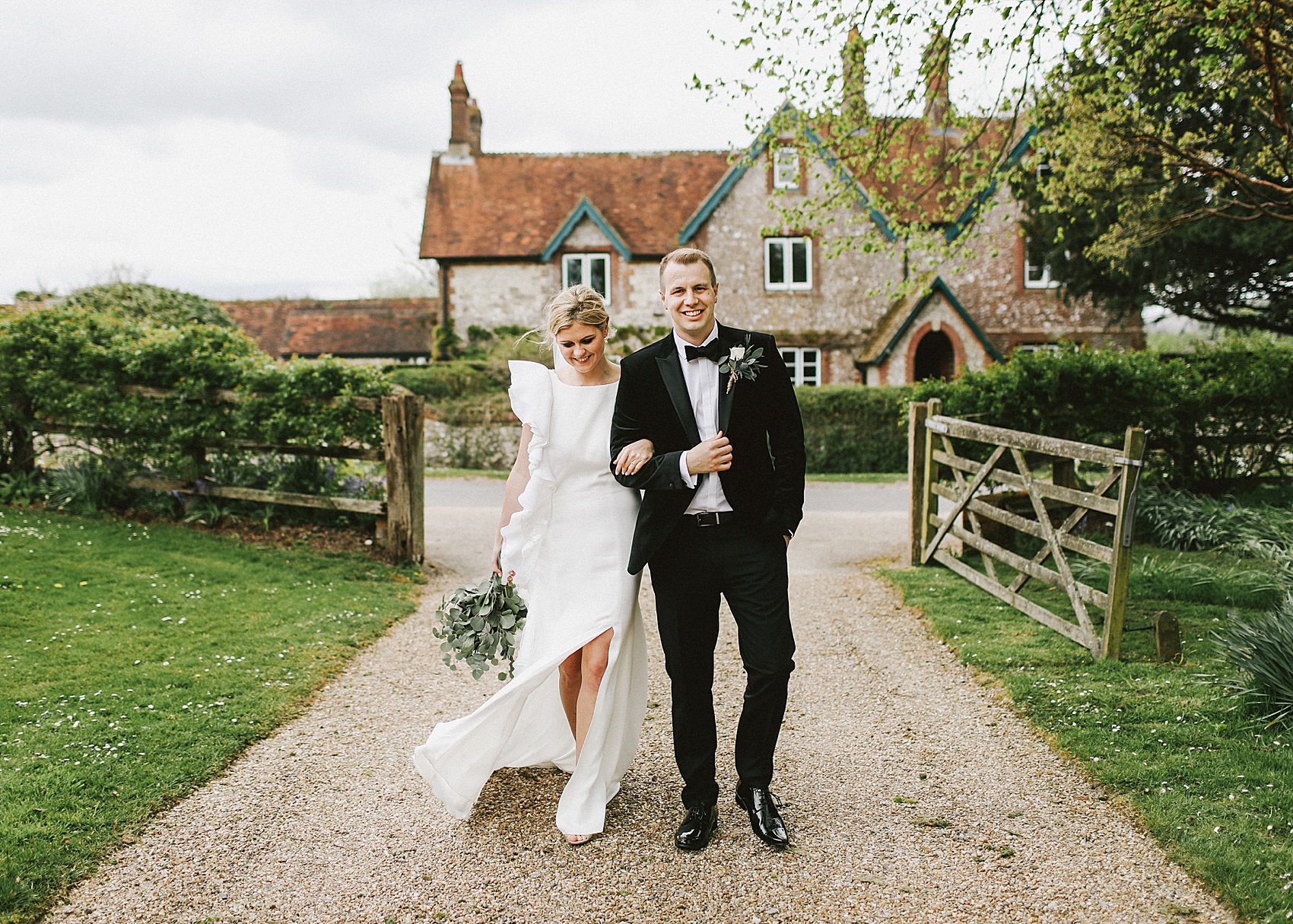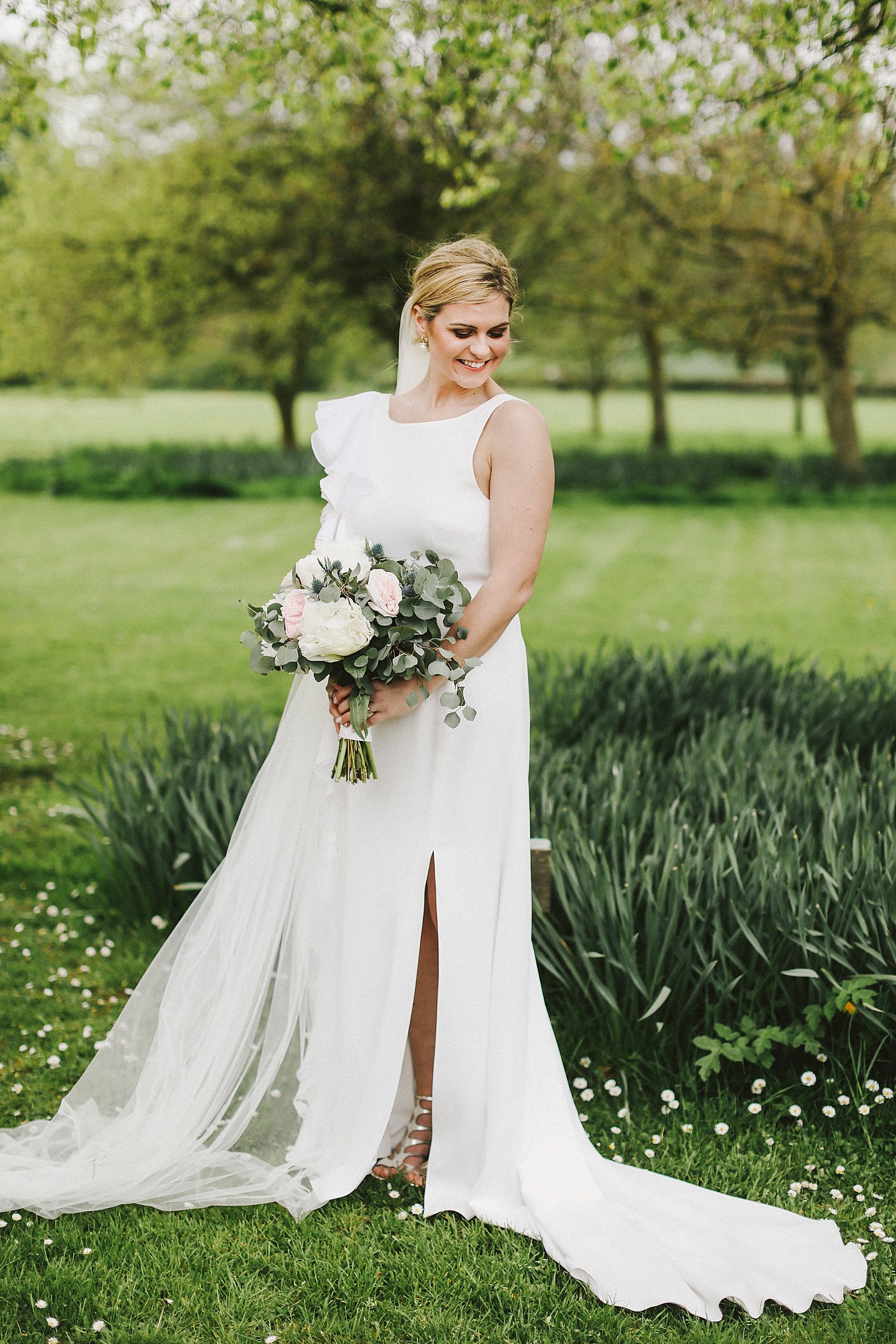 Stylish stationery and signage perfectly conveyed the light and elegant springtime feel of Sarah and Edd's day, and was all designed by Sarah herself, who does a great deal of graphic design in her job, and so put her talents to excellent use.
"I went all out with the venue styling, although I made sure not to overpower the venue as it's so beautiful on it's own, and it might have ruined it with too much going on."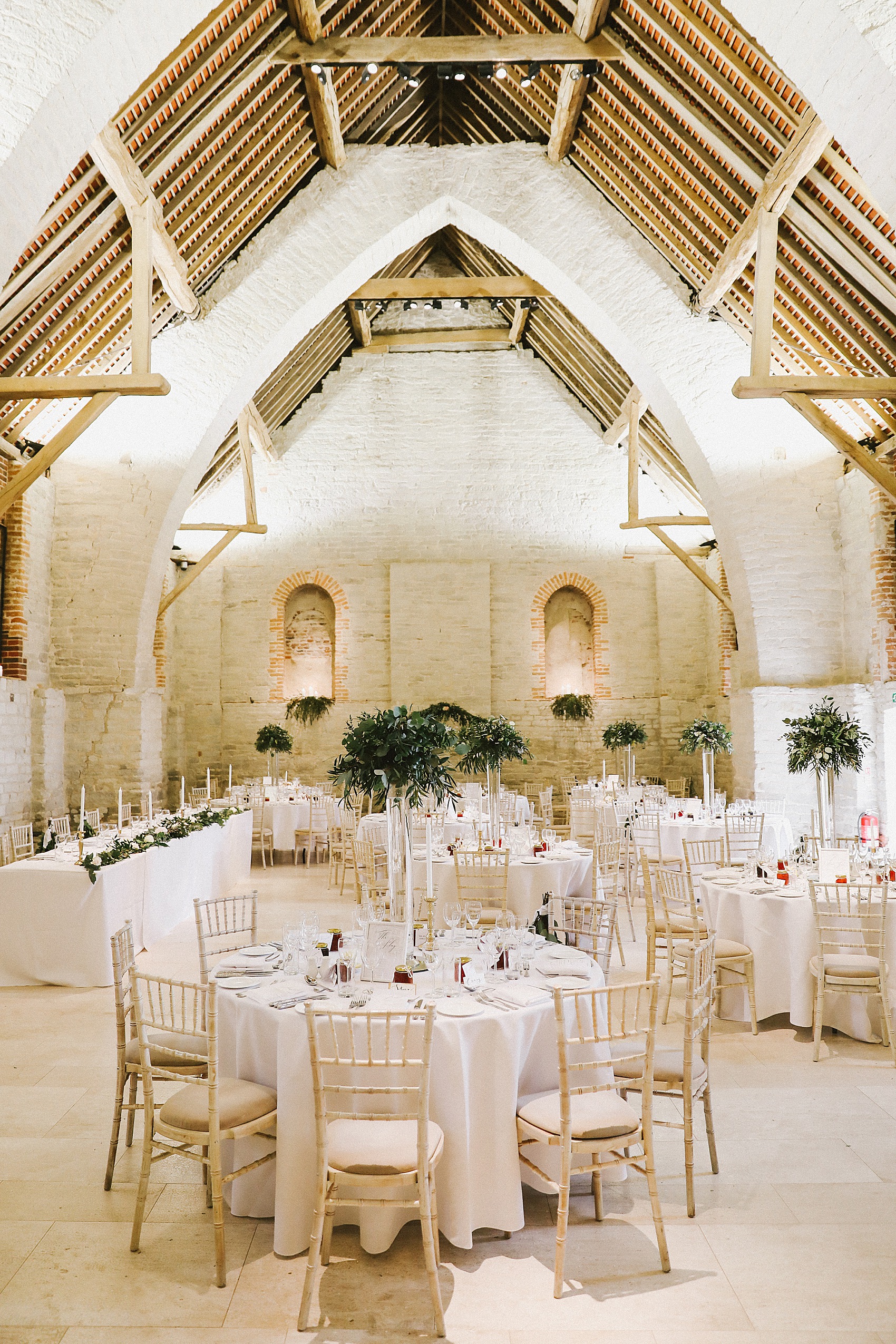 Table centrepieces were long, tall vases of greenery, with the vases sourced from various charity shops by Sarah's grandparents, as well as candle holders, which Sarah then spray painted gold and placed all around the venue.
"The table plan was my pride and joy. Each table was named after one of our favourite pubs, so it only seemed right that we presented these on wine bottles. My brother helped source a bulk supply of old red wine bottles from his local pub. I then designed and had stickers made, which had a sketch of each pub and everyone's name. My bridesmaids then helped me create a beautiful display using some old wine crates I had sourced locally, and we finished the display off with some artificial white roses. It looked even better than my vision, and a few guests have even kept some of them, which is a nice keepsake."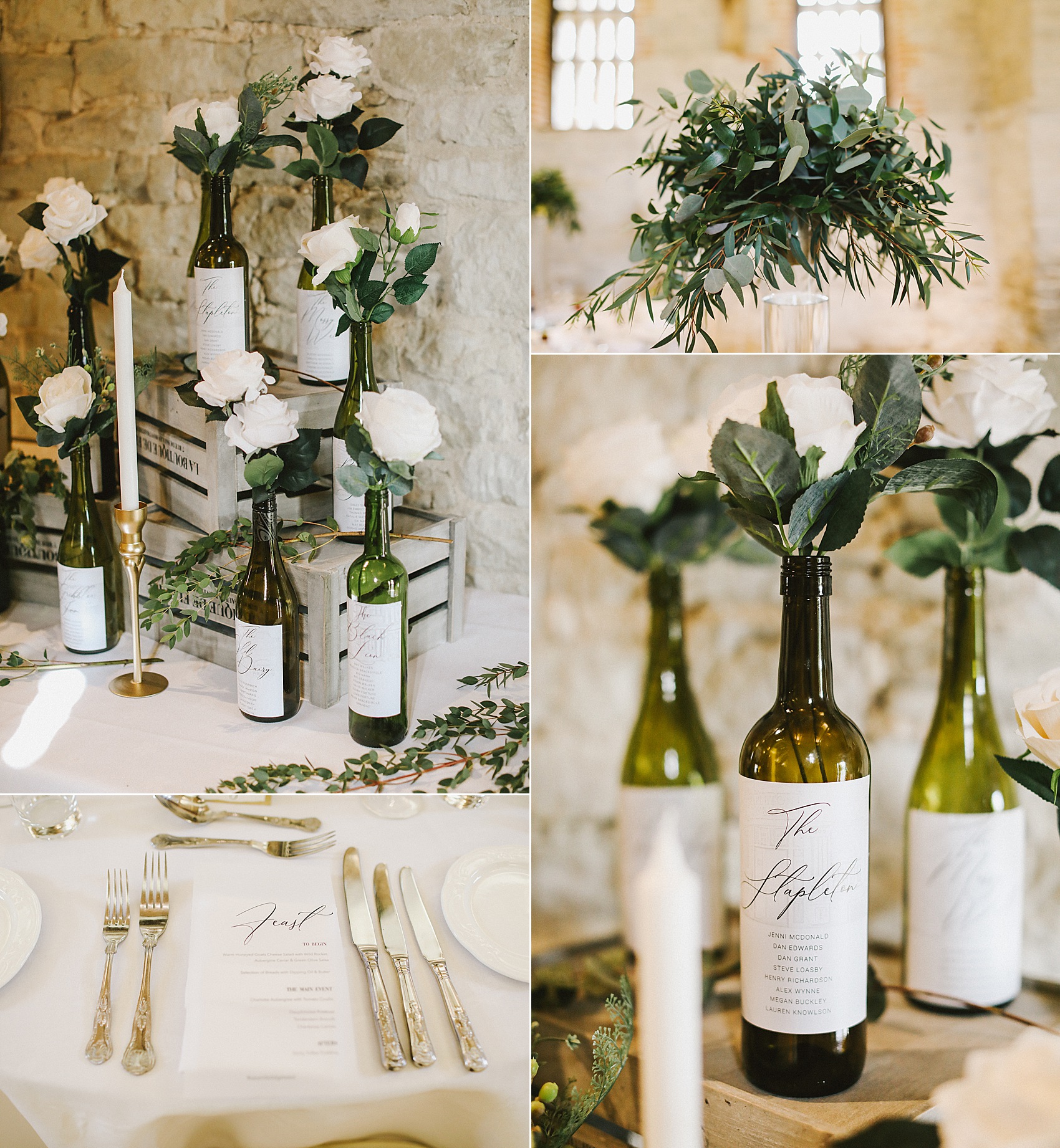 Other props and items of decor were sourced through Gumtree and Facebook, and the bar was built from an up-cycled shelving unit, which Sarah's dad then added legs to!
"In the entrance I also had some hoops filled with old photos of the two of us, right from the first date to now. It was really nice to remember our journey and also a bit of a laugh for our guests."
"Our florist then placed greenery along every other chair, in some of the window bays, and all around the arch, which she then finished off with white and blush roses. The room looked incredible."
Gold edged place cards were hand lettered by a good friend of Sarah's who had recently taken up calligraphy. These were put next to miniature jars of chilli jam and chutney, homemade by the couple and Sarah's parents, complete with labels which said 'Preserve the day.'
Edd's sister is a talented baker, and made the couple's delightful, three-tier cake decorated with rippled icing and fresh flowers.
"We've always had the pleasure of getting to taste all the amazing creations, and it felt right that she made the cake. The bottom layer was raspberry and white chocolate, the middle layer was lemon and buttercream, and the top was ginger and rhubarb, which was my absolute favourite. We served the cake in the evening, and took all the leftovers to the pub the next day, which everyone enjoyed."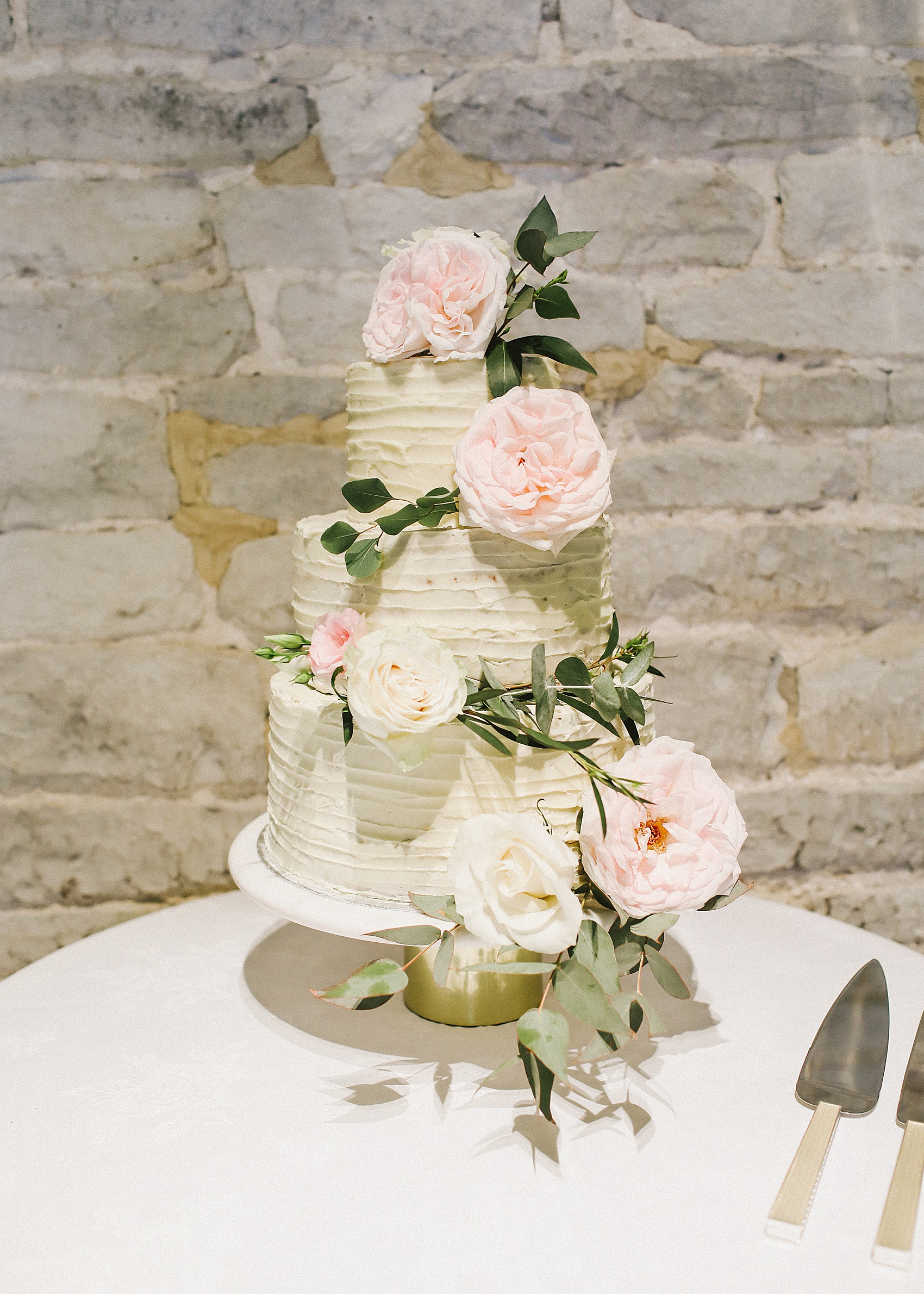 Cocktail hour was followed by a delicious dinner by Tourelle Cuisine, who served an elegant, three-course meal, as well as tasty evening food, too.
"We did a tasting a few weeks after getting in touch, and were completely sold. The company were great at accommodating our needs, even coming up with new ideas for us when needed. In the evening, we served up pizza and chip butties (complete with vegan and veggie options) which were served alongside homemade brownies from my mum's colleagues. Delish! Couldn't recommend more, and we had plenty of compliments on the food itself by all of our guests."
In the evening, Sarah and Edd danced in a cloud of glitter confetti to This Is The Girl, by Kano, featuring Craig David. Amazingly, Sarah managed to get in touch with Craig David, who sent along a video introducing the song and giving his well wishes!
"Edd has always been a huge fan, and this song reminded me of driving around in his (not very cool) car in our early days."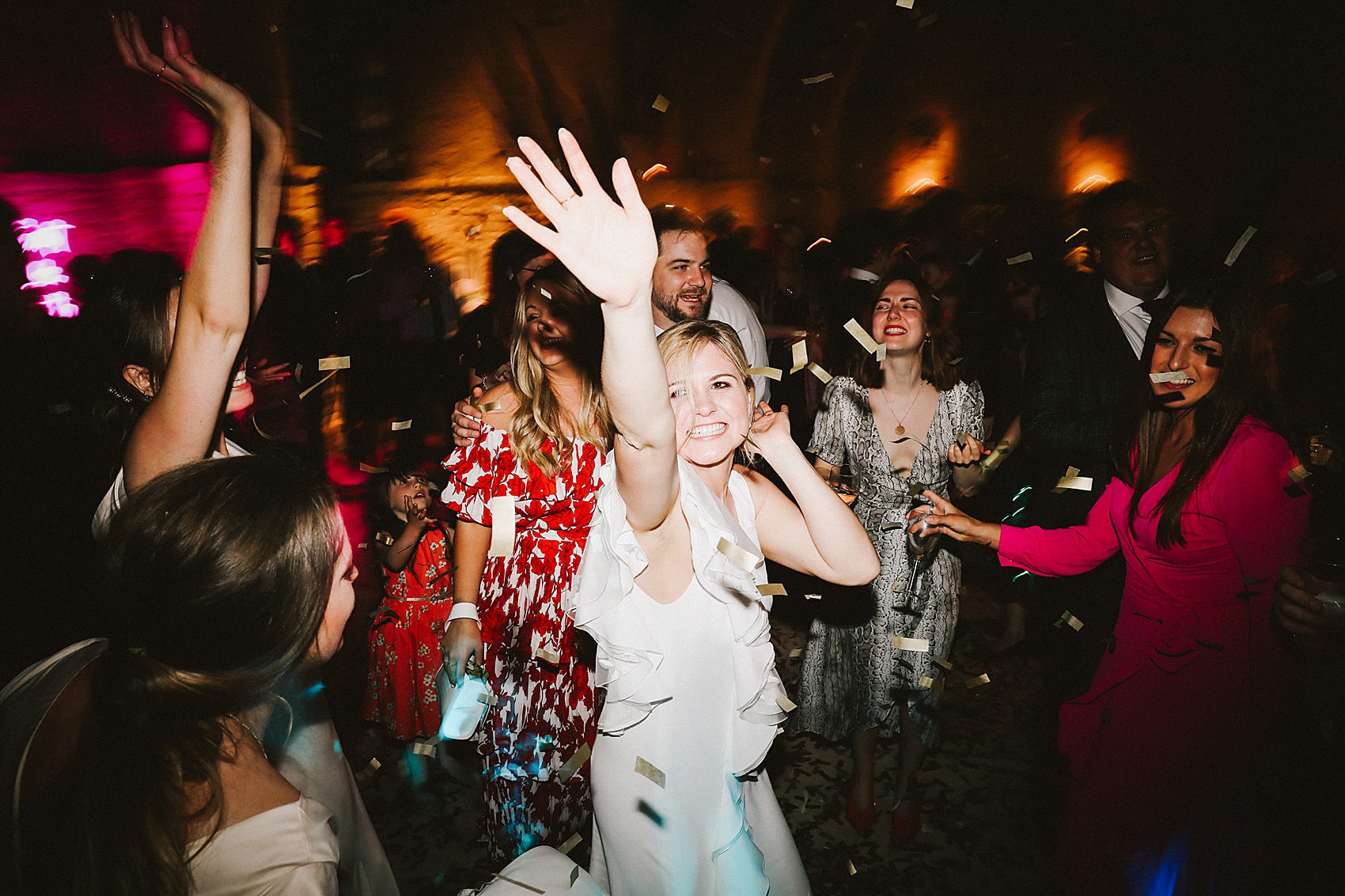 "We then chose a second song to get everyone involved, which was I Bet That You Look Good On The Dancefloor by Arctic Monkeys, which got everyone in the spirit. I also managed to source a bright pink neon light with the lyrics, so this was a great theme for the day."
Favourite Moments
"Sarah: Oh wow, this is incredibly difficult! I guess nothing really beats being announced as husband and wife. A surreal and exciting moment supported with Hounds of Love playing as we exited the aisle."
"Runner up to this one would be receiving the letter and my anklet from Edward in the morning, revealing my dress to my dad and the bridesmaids (they all cried) and of course, seeing Edd's face at the end of the aisle."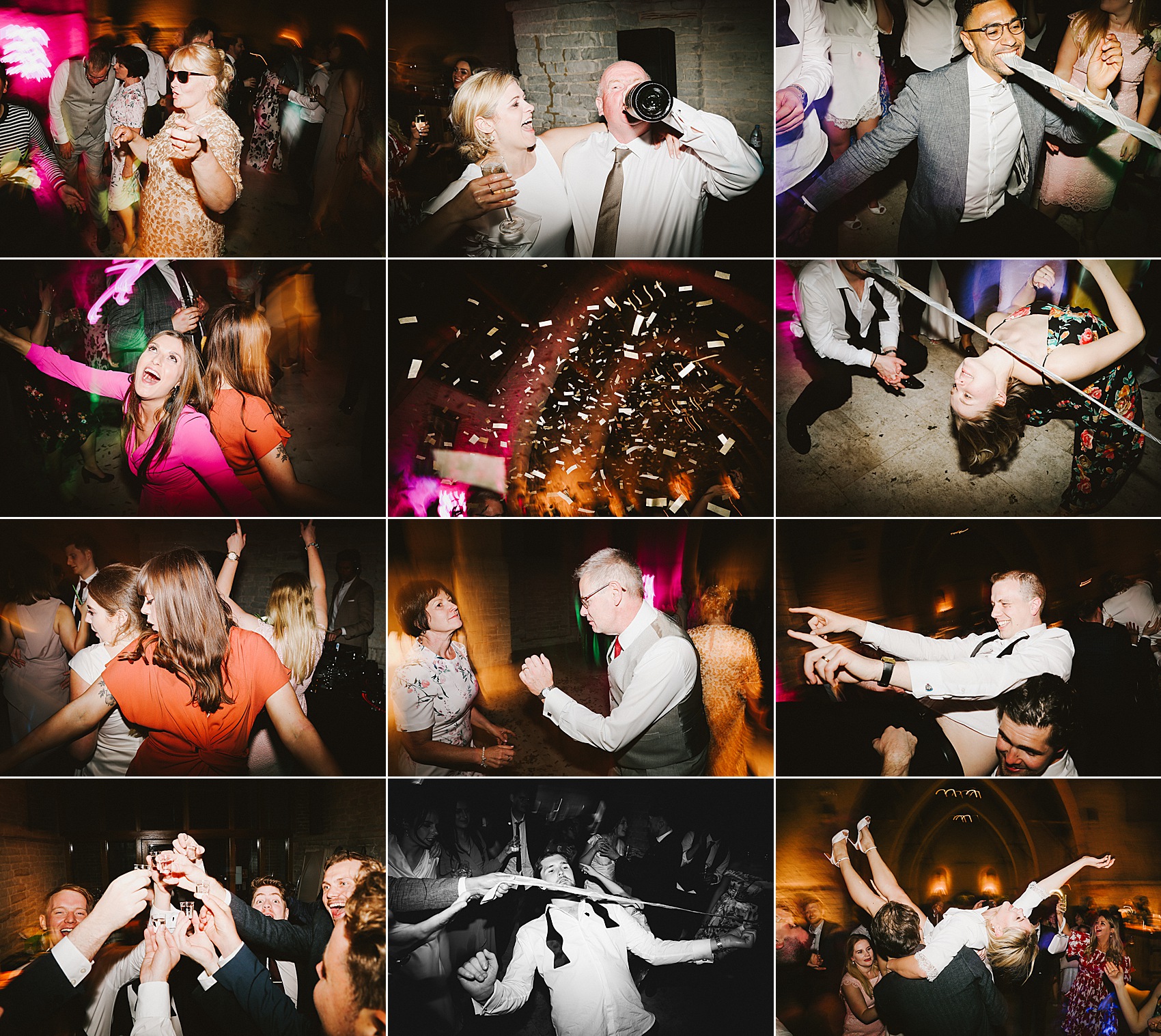 "I bawled my eyes out all the way down. I also had a little special moment with my mum, dad and brother outside the venue just before I went in. We were all looking very excited but emotional, and it was just a little calming moment before I went in."
"Edd: It has to be Sarah walking down the aisle. It's a cliche, but nothing can be compared to that moment. She looked absolutely amazing in that dress, and the excitement on her face definitely brought a tear to my eye."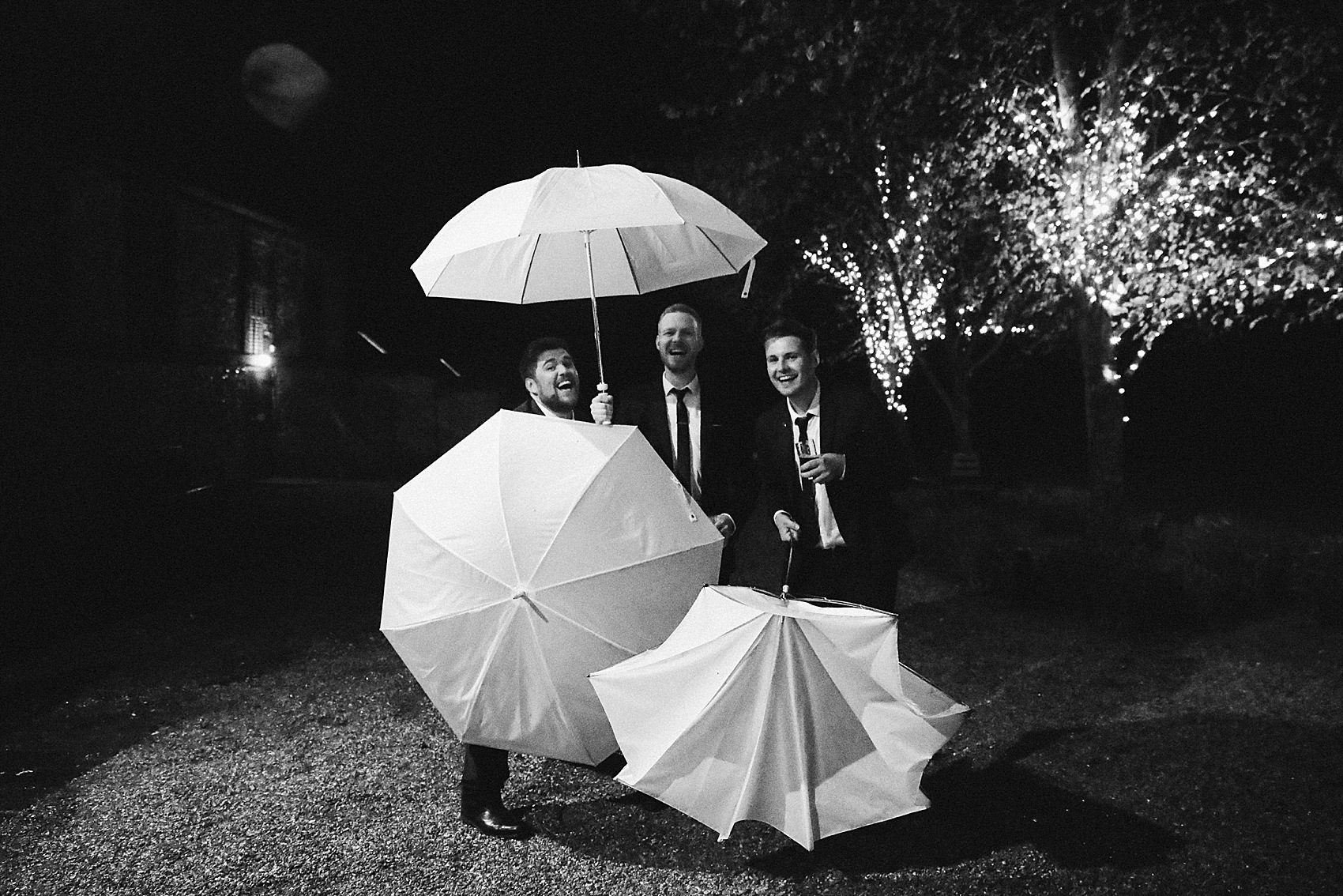 "I changed later on in the party to my evening dress of dreams; a lace edged blazer dress that my super talented friend, Lauren-Audrey designed for me, using inspiration from some other evening dresses I'd seen but didn't have the budget for. It was incredible!"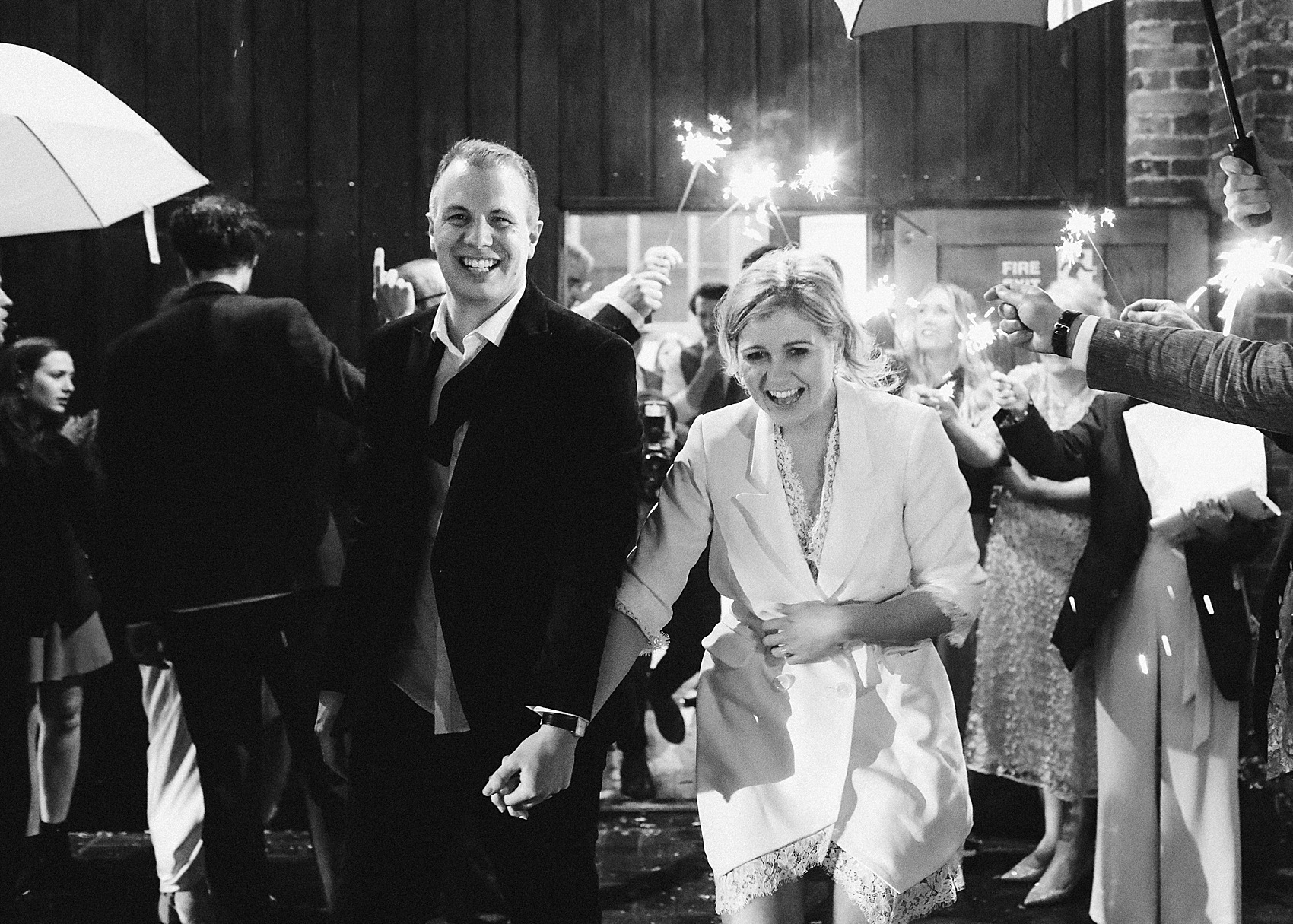 Words of Wedded Wisdom
"Utilise your amazing family and friends – we couldn't have done it without all the support we had from them."
"If budget allows, do get a videographer. Having a video is really precious and captures moments you would have forgotten about."
"Don't fret about the songs you choose – just go for what reminds you of you both, and not what pleases everyone else, even if it is a mix of Craig David, Elton John and the Courteeners!"
"Most of all, soak up every single minute; it really is the best day ever, and I made sure I had moments where I just looked around and enjoyed the moment."
"Also don't feel pressure to do a speech. Nowadays it's quite popular, but after considering hard, I decided I didn't want the added pressure as well as all of the organising I did. My Maid of Honour did one instead, and it was amazing. Between them all they said everything I wanted to say, and I put the rest in a handwritten letter to my husband on the morning of the day anyway."
Well, wasn't that just the loveliest day? The Tithe Barn is an incredible space, and Sarah, Edd and their family and friends did a brilliant job bringing all their talents together for the decor and styling. Sarah and Edd, thanks so much to both of you, and also to Wesley & Emma, and to Ryan from Rolling Film for the beautiful way they captured it all.
With love,
Laura